Aceland Royal Garden Hotel Ejigbo Lagos,Bounces Back To Full Unequal Hospitality Center Services ,As It Restores Non – Stop Electricity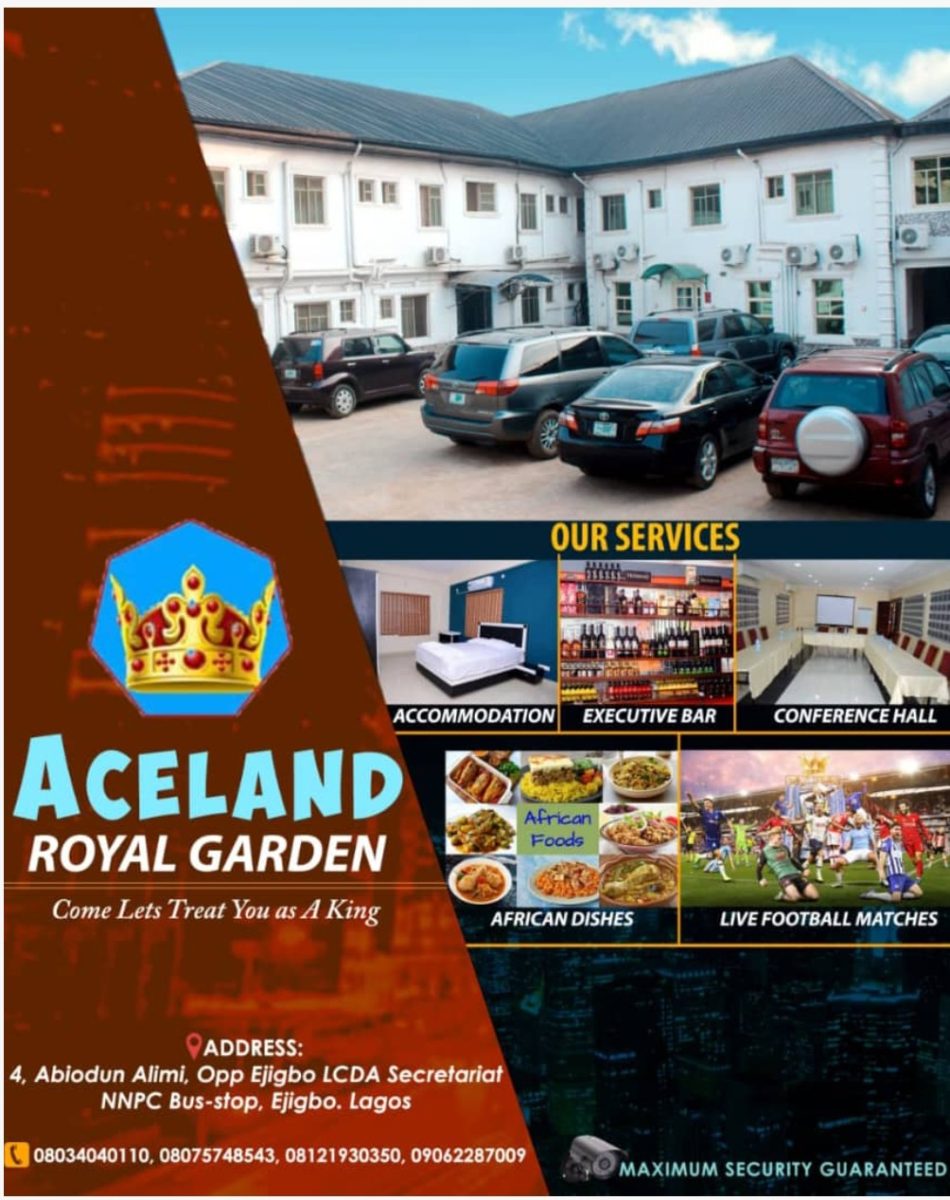 Share this Post
To the delight of its numerous die- hard customers, top hospitality and prime fun cum relaxation Center , Aceland Royal Garden hotel, located at 4 Abiodun Alimi Street,NNPC bus stop, Ejigbo, Lagos,has announced full restoration of electricity power supply to it's facility, for the enjoyment of its patrons.

Recall that there was short outage in public power supply at Aceland Royal Garden hotel recently due to transformer issues, leading the management to resort to it's Generators.
The hotel known for its appetizing cusines, fresh palmwine, high life cruising music thrills, where it's numerous fans, customers attested to enjoying scintillating high life music,had in a recent statement appreciated it's customers for their patience, support and understanding throughout the power outage.
Appreciating it's customers, the management said thus:"Our dearest customers, we want to thank you all for your incredible patience and your continued patronage as we have dealt with a power outage problem at our hotel.
"We understand the frustration and difficulty in providing full services and we use this opportunity to tell you that our services have been fully restored and we are available to offer you the best in hotel services.
" We thank you once again for your patience with us and we continue to look forward to your patronage. God bless you all".
Besides usual crowd pulling line up of music artists, comedians and DJs, Aceland Royal Garden had a high point of its August, September events, where it show cased and hosted the famous son of legendary Oliver de Coque ,who is popularly loved and known as Ichie Maxi E and his Trust Band Of Africa,aka "Nwa Oliver ".
Music lovers were said to have been on top of themselves at the entertainment hub hotel during the event.
While guaranteeing top security and affordable lodging accommodation, the management of the hotel led by Eze Alex Nwoye, invites lovers of good life to come and have a taste of their fresh palmwine, Nkwobi, BBQ Catfish, cow tail pepper soup, isi ewu and other cusine
Share this Post