Adron Homes Focusing On Reducing Housing Deficit In Nigeria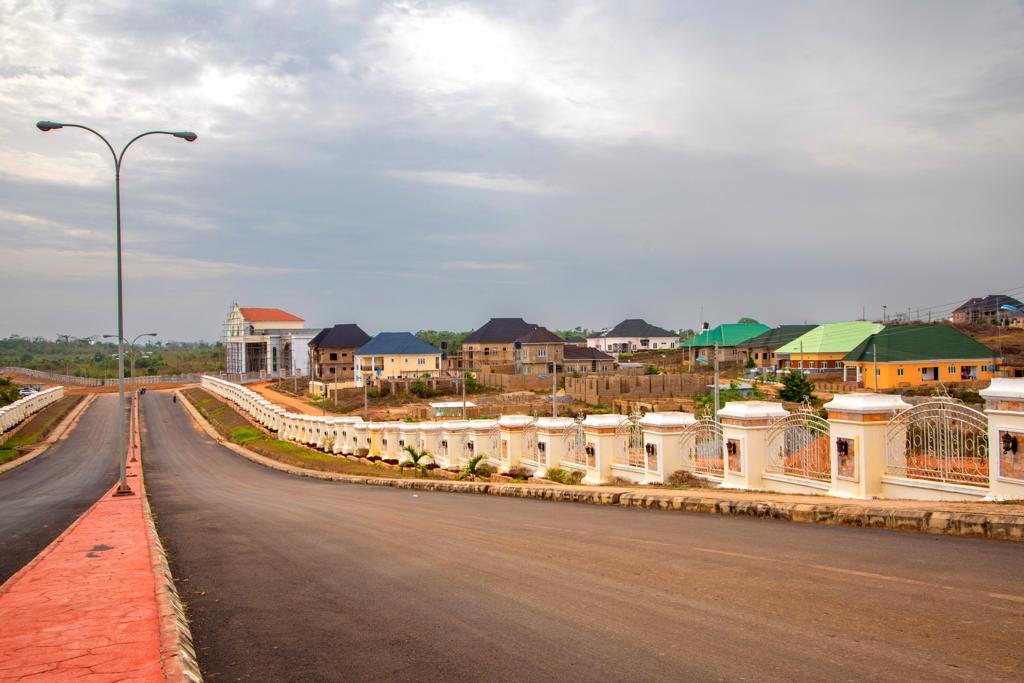 Share this Post
In its quest for excellence in the Built Industry and Housing sector, Adron Homes has been focused on actualizing it's vision and goal of providing affordable and durable housing for the teaming population of Nigeria.

Some of the problems confronting government and it's bid to deliver good governance perennially is on how to curtail and proffer a lasting solution in delivering basic amenities such as housing, portable good water, food, clothing, and other basic needs for human survival.
In Nigeria, the housing deficit is quite on the high side owing to some factors bothering on increase in population, increase in poverty ratio, and increased migration from the rural areas to the urban areas.
These and many more factors contributed to the stunted growth in the housing sector.
As the newly ratified unified minimum wage is still begging to be signed and paid by some states, the poor living condition has affected so many because they earn far below the means to get them all the basic needs of life.
This also makes housing mortgage hard to be actualized in a country like Nigeria and due to the dwindling prices of building materials, it's almost impossible for many to build homes.
In other to support the government in actualizing it's sustainable development goals in the area of housing as a basic need for human survival through private partnership and other means; Adron Homes and properties came into existence to bridge the gap and consolidate the government's efforts in delivering housing to the general populace with its low income earners target.
When Adron came into existence; they had a very big dream which is to give affordable homes to middle and low-income earners.
They met their target audience with a mission and vision statement to create affordable housing with flexible payment plans.
This idea looks disruptive as it took many by surprise how Adron was marketing their lands and packages.
While many laughed at the payment plan, which is as low as 500Naira daily like a thrift contribution, some didn't believe such an idea would work.
But trust Adron Homes under the leadership of its Group Managing Director GMD, Aare Adetola Emanuel-King, turning every impossibility into possibility was not hard for him.
The idea worked perfectly as planned as many people took it seriously and started the payment plan which today many of them have built and become homeowners all thanks to Adron Homes for giving such a platform.
Foresight is one thing that stands Adron Homes out; also it's ability to turn a wilderness into a city with jaw-dropping modern infrastructure such as; roads, lighting, a massive gatehouse, security, drainages, a central sewage system, recreation parks and the rest.
Adron Homes today have opened new estate that many never believed would be opened to development in the next 20 years.
Lately, Adron has been celebrated for its ingenuity and generic way of doing things differently not joining the crowd.
Despite the pseudo-Adron who copied the marketing style and payment structure of the brand, they have refused to stay afloat just like the popular parlance; 'If e no be Panadol E no fit be like Panadol'.
Those who attempted to copy their style are today nowhere to be found. What has been Adron's staying power is it's quest for quality over quantity. It's constant evaluation and strictly leverage based on trust, longevity laced with sartorial elegance.
Those who reside in their estate often confess that they get 5 times the value of the money they paid with the level of infrastructure renewal they witness daily.
You won't believe getting a concrete road and drainage with a massive gatehouse comes almost free for those who purchased lands at give away price.
While many brands have tried to study their success code and how they make these things work because they have not been able to get a magic wand. Those close to the Adron brand, often say; Adron does not mind spending proceeds made from sales of land to ensure it's habitable and attractive for their numerous customers.
They believe customers are Kings and royalty and they must be treated as such with state-of-the-arts facilities. Having invested years into the business, it's not about profit for them but the sustainability of the brand's ethos and what it stands for which is to give affordable homes to low-income earners.
Thriving in the saturated real estate industry in Nigeria, you need the heart of Hercules, the fearlessness of Achilles, the grace of Terpsichore, the memory of Macaulay, and the hide of a rhinoceros. You must remain firm like the proverbial cat with nine lives.
Adron has remained tall above its arch-rivals and competitors giving a lot of real estate companies a run for their money. Just like the air we breathe, their Advertorial have taken over cyberspace.
You can hardly go a day without being hit by its advertorial materials either billboards, Newspapers, radio, TV, Social media posts etc. For Adron, the hype is real and it's not by fluke but by sheer dint of hard work and resilience by the members of staff and solid management board.
Excellence is not served ala carte, it's earned and today, Adron Homes has earned its space as a real estate firm that has the love of the downtrodden at heart. More reason they have continued to thrive excellently well winning several laurels as a sign of appreciation with estates littered across the length and breadth of the country from Lagos, Ibadan, Ekiti, Abuja, Nasarawa, Ogun State, Akure and a host of others the estates.
At the just concluded Real Estate Conference and Recognition Award held at the Civic Centre, Ozumba Mbadigwe, Victoria Island, Lagos on Sunday the 14th of May 2023, the coy was adjudged the Biggest and Best Run Real Estate Company of the Year. Just like the popular parlance the reward for hard work is more work, Adron is committed to putting more effort toward its goal to keep building and to keep giving the Landlord status to many willing individuals across class strata.
Adron is intensifying it's effort to ensure more work is done in a bid to sustain its growth and also continue to soar higher like an Eagle. In its quest for excellence; Adron is a moving train that is not stopping anytime soon.
The company is in competition with itself to outdo itself and will continue to work assiduously well to achieve such a purpose.
Share this Post