Breaking !!! Panic in Igando, As Unknown Gunmen Abducts A Soldier In Lagos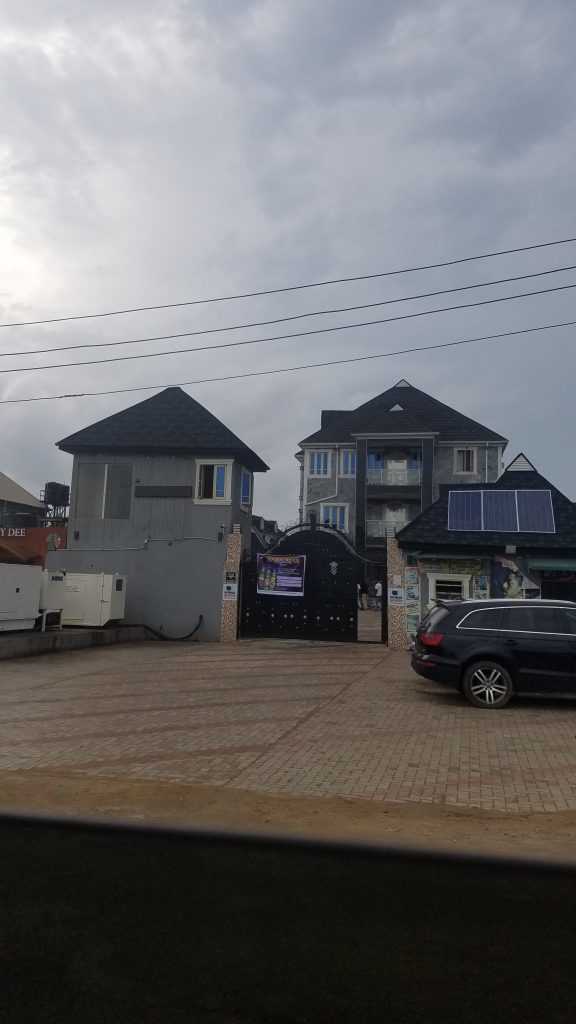 Share this Post
Despite recent assurances of Residents safety and his Command's restratigized model to provide watertight security to all law abiding residents , which was given by the Commissioner of Police, Lagos State, CP Hakeem Odumosu, following reported increasing spate of kidnapping in the State, unknown Gunmen yesterday, were said to have abducted a Soldier in Igando Area of Lagos.

The incident which occurred in the evening of September 29th, 2021, was said to have panicked Fun seekers and business owners around Ewediokpo bus stop , igando area of the State.
Eye witnesses said some residents who witnessed the Commando style Operation , are yet to come out of the shock , following the forceful abduction of the Soldier, said to be attached to a popular newly opened hotel known as Owaza24.7 Suites.
According to our source , the gunmen were earlier in the day noticed to be surveying the area in their get away vehicle, before they finally struck in the evening.
When the chairman of the hotel popularly known as 'Gburugburu ' , High Chief Michael Nwachi , was contacted by our Correspondent, he confirmed the abduction, lamenting that he was confused as to the larger motives of the gunmen.
His words: " we noticed the movement of a particular vehicle that was moving to and fro our vicinity. Suspicious of their intentions, I had to escape in a customers car before they abducted one of my soldier security guards. I have reported to the people that assigned them to me. Iam just confused, " he said.
The State Police Command Spokesman, Mr. Ajisebutu Adekunle , a Chief Superintendent of Police, CSP, did not respond to enquiry sent to him via test message as at the time of filing this report.
It would be recalled that News trends in the social media are awashed with reports that Kidnappers are on the prowl as Lagos was said to had witnessed 3 kidnapping incidents on 27th September, 2021.
Online Trending news reported that Air Vice Marshall, Sikiru Oladimeji Smith (rtd) was kidnapped at a worksite near Blenco Mall in Ajah Circa by 6pm and taken away in a speedboat towards Ikorodu.
while another victim was alleged to have been kidnapped at Admiralty Way Lekki on his way from work and whisked away to an unknown destination.
This is even as a prominent RCCG Pastor and his wife were said to have been kidnapped while returning from a function at Dopemu-Agege, and whisked away in their car. The gunmen later were said to have released the wife to source for a N50m ransom (brought down from the initial N100m demanded).
These were sequel to the alleged kidnapping of Mr Kingsley Ogbuagu at the Roman Catholic Church of Visitation, Festac Town, on the previous day (Sunday).
Mr Ogbuagu, reportedly was about to enter the church after parking his vehicle, when he was forced into an unmarked Lexus SUV by masked gunmen and driven away.
However, the Police Public Relations Officer PPRO, in a press statement stated that the online reports were exaggerated.
while announcing successful rescues and ongoing efforts to free other victims, he hinted of on going synergy between the police and other sister security agencies to tackle criminality in the state.
CSP Adekunle, in the release dated 29th September, 2021, further quoted CP Odumosu as having enjoined residents not to panic as their safety was guaranteed.
See PRESS RELEASE 29th September, 2021
'DON'T PANIC. LAGOS IS SAFE', LAGOS CP ASSURES RESIDENTS
The attention of the Lagos State Police Command has been drawn to a trending post on the social media about obviously exaggerated kidnapping incidents in Lagos State recently.
The Lagos State Commissioner of Police, CP Hakeem Odumosu wishes to assure residents that Lagos State is safe, and that they should not panic on account of the viral post or the recent security infringement in Ajah where AVM Sikiru Smith (rtd) was abducted on 27th September, 2021.
The assurance becomes imperative in view of the unnecessary alarm and concerns being raised on the social media about isolated security infractions in some parts of the state.
The victim who was kidnapped in Festac on Sunday 26th September, 2021 has been rescued and reunited with his family. Operatives of the Command are being tactical so as not to jeopardize the lives of the AVM and the pastor. Concerted efforts are ongoing to rescue them and arrest their abductors in due course.
In view of the foregoing, the Commissioner of Police wishes to state that the isolated incidents notwithstanding, Lagos State is, and will remain one of the safest states in Nigeria.
To allay the fear of the people, therefore, the Command has restrategized to provide watertight security for all law-abiding residents of the State. The Commissioner of Police has given standing order to all field Commanders, tactical unit Commanders, other uniformed and plain-clothed police officers to intensify visibility Policing, vehicular patrol as well as intelligence-driven raid of all flashpoints/blackspots and identified criminal hideouts to smoke out men of the underworld hibernating in them.
The CP also wishes to state that the Police Command is conscious of its statutory duties of protecting lives and property among other duties, and would not for any reason or at any time abdicate these important duties.
While still pleading with members of the public to believe in police's ability to protect them at all times, the Commissioner of Police once again solicits the support of the public, sister agencies and other strategic partners by giving prompt but actionable intelligence that would further decimate criminal elements and their nefarious activities in the state.
SIGNED:
CSP ADEKUNLE AJISEBUTU (ANIPR),POLICE PUBLIC RELATIONS OFFICER,LAGOS STATE COMMAND.
Share this Post