Chief Solomon Aguene Exposes How Onowu Everest Ozonweke's Untamed Greed, Ambition Set Him On Mission To Destroy Ohanaeze Ndigbo, Betray Past Presidents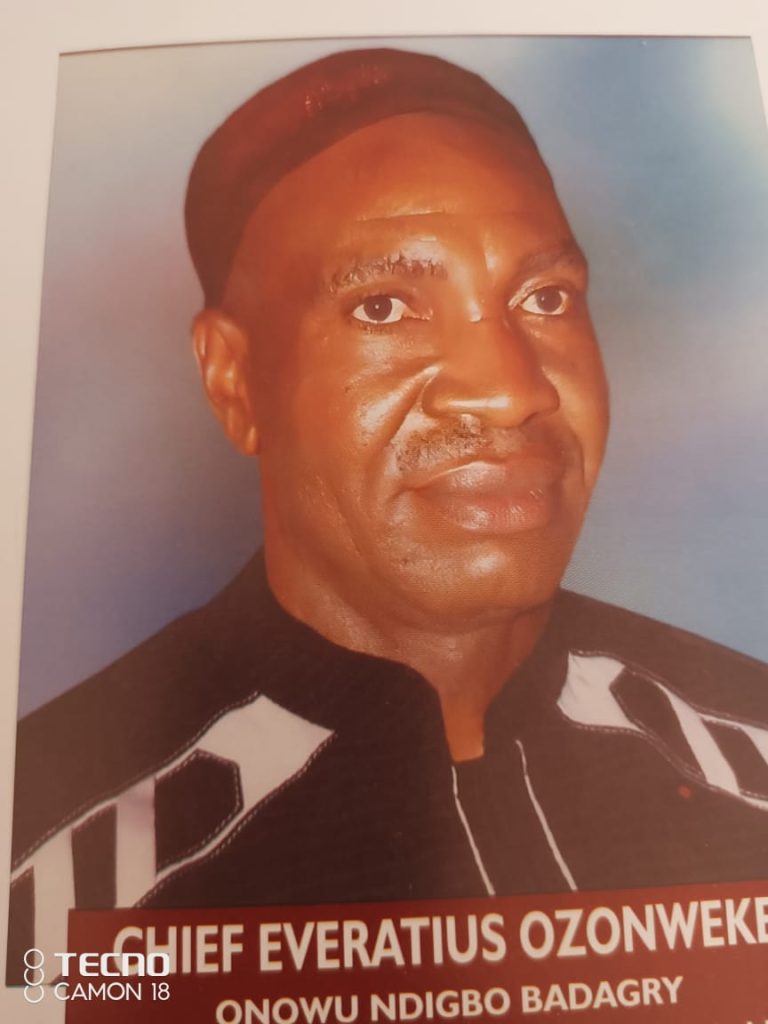 Share this Post
By Daniel Ohamadike

In an unbelievable expose and revelation, Ohanaeze Ndigbo President ,Lagos State Chapter, High Chief Solomon Ogbonna Aguene, in an exclusive interview with News Planet International, unveils and bare out the hidden reasons why a former Secretary of Ohanaeze Ndigbo, Lagos state, Onowu Everest Ozonweke , set out to destroy the existence of the Pan Igbo Socio -Cultural Organization, Ohanaeze Ndigbo and betrayed past presidents.
Chief Aguene stated that Ozonweke's ambition to become Ohanaeze Ndigbo President led him into double dealings and betrayals of past Presidents . Excerpts :
INTRODUCTION
"My name is Chief Solomon Ogbonna Aguene, the authentic president of Ohanaeze Ndigbo, lagos State, i was elected in June ,2018, to succeed Barrister Fabian Onwughara, the immediate past president .
FIRST MEETING WITH ONOWU EVEREST OZONWEKE
"It is very important to State here that Ohanaeze Ndigbo bye laws in Lagos state, states that the immediate past president should be the one that will conduct the election that will bring his successor.
"We have our brother called Everest Ozonweke called Onowu, he is also a member of Ohanaeze Ndigbo ,who was also a member and Vice president from Enugu state during Onwughara's regime.
"Immediately he came into Ohanaeze, I mean the first day Ozonweke came to Ohanaeze Ndigbo meeting in Lagos State ,was at AP Club and someone introduced him to my present Chief of Staff , Mr Thompson Ohia , he was introduced as his neighbor because Thompson Ohia was residing at Badagry then. My Chief of Staff ,Thompson Ohia welcomed him that day and they started moving together .
"Ohia informed him that the then President General of Ohanaeze Ndigbo World Wide, Chief Nnaa Nwodo is from Enugu State , same state as Ozonweke, and subsequently at Ozonweke's request, Ohia introduced him to Chief Nnaa Nwodo in Enugu.
The same day , Ozonweke began to discuss with Ohia on the possibility of him becoming the next president of Ohanaeze Ndigbo, which Ohia immediately cautioned him on such ambition .
OZONWEKE'S AMBITION
Ozonweke went ahead and approached Fabian Onwughara,who was the president then, Onwughara gave him assurance that he was going to hand over to him if he meets his demands and Conditions, which Ozonweke agreed.
However, before the election ,Onwughara found out some of Ozonweke's dirty characters, his kind of behaviour, his cunning ways and tricks and decided within himself that he cannot hand over to that kind of person , or else he would be completely detached from everything that concerns Ohanaeze Ndigbo in Lagos state.
Ozonweke continued Associating with Onwughara as Ohanaeze Ndigbo Vice president from Enugu State, but realizing that Onwughara was no longer going to hand over to him as President, Ozonweke out of his own bad conscience ran to Enugu and poisoned Chief Nnaa Nwodo's mind against Onwughara , Lying that Onwughara wanted to extend his tenure, urging Nwodo to stop him, arguing that it was the turn of Enugu State people.
When he came back from meeting Nnaa Nwodo in Enugu, he tried to brain wash people, claiming that he had discussed with Nnaa Nwodo , who he said had agreed that he would hand over to him the leadership of Ohanaeze Ndigbo in Lagos state , as Onwughara tenure then was still counting days .
INCOMING PRESIDENT In his bid to take over Ohanaeze Ndigbo leadership, Ozonweke made himself known to all the Executive members of Onwughara government and all members of Ohanaeze that Onowu Everest Ozonweke is incoming,then he changed his name from Everest Ozonweke to "INCOMING ", then nobody knew him then as Ozonweke or EVEREST, what everybody was calling him was " INCOMING".
When Ozonweke campaign to take Over Ohanaeze Ndigbo leadership by force became very serious and Onwughara began to see Ozonweke threats as real, knowing that this guy wants by all means to get that position ,he was just waiting until the time of our Ohanaeze bye law provision which indicated that it is the president at the end of his tenure , that will conduct election and hand over to the next person that is going to take over the mandate leadership of Ohanaeze.
OBA OJOTO
Onwughara did so at the end of his tenure and brought Leo Okafor who is known as Oba Ojoto ,he was elected in a free and fair election and everybody was happy.
CONTENTION
Suddenly Ozonweke contended with Onwughara over the election and challenged him that he has no right to conduct any election, he went back to Ohanaeze Ndigbo National body in Enugu and made sure that the minds of all the National Executives members in Enugu were poisoned against Onwughara, thus Nwodo came to Lagos and nullified the election that brought Leo Okafor, alias Oba Ojoto into power as Ohanaeze Ndigbo Lagos state president.
DIG HILLARY OKPARA'S ELECTORAL COMMITTEE
Nnaa Nwodo set up another electoral committee team that conducted the election of lagos state chapter , which the chairman of the electoral committee was Assistant Inspector General Of Police, AIG Hillary Okpara , who retired as DIG from Imo State.It was DIG Okpara electoral committee that brought me into leadership as president.
He conducted the election and nullified the authentic one that Barrister Onwughara had conducted which brought Oba Ojoto into power .
OZONWEKE ANTICS / ELECTION THAT BROUGHT CHIEF AGUENE INTO POWER
Before the election, Ozonweke had told me that he was not going to contest election as President again ,due to the fact that he was completely financially incapacitated. He narrated that he was a clearing agent before he had problem in Cotonu with his Boss . He pleaded with me to assist and allow him go for the post of Secretary of Ohanaeze Ndigbo Lagos state, which I obliged him and i started to campaign for him for the position of Secretary of Ohanaeze.
OBJECTIONS AGAINST OZONWEKE
The first people that opposed and objected to Ozonweke's ambition to become Ohanaeze Ndigbo Secretary was the Enugu State Towns Union in lagos , led by one Mr. Agu Bata Offia , who vowed that instead of allowing Ozonweke to become the secretary of Ohanaeze Lagos chapter, Enugu State Union in lagos will pull out of Ohanaeze Ndigbo. I started begging him on behalf of Ozonweke but the Enugu State Union leader insisted they have their own candidate called Mr. Uche who was then the Palace Secretary of Eze Okpotemba .
Following the opposition from his Enugu State People,Ozonweke now braced up to the challenge, saying that he was not going to give any chance. That was when his Opposition had bought form for Mr Uche.
My Chairman of all Chairmen bought form for Ozonweke because that time he had no money , he even collected money from Eze Ekene Ajunwa who was his Clearing Agent master then in Cotonu but because of the way he betrayed Eze Ekene Ajunwa , they had to ban Ozonweke from doing Clearing Agent work in Cotonu.That was how Ozonweke ran back from Cotonu to where he resides in Badagry and that was why he joined Ohanaeze Ndigbo.
The worst thing Ozonweke did to his master Eze Ajunwa was betrayal, he goes to his Master's customers at his back and collect their way bills of the customers goods, meant for customs clearance and he will execute the work without informing Eze Ajunwa and when he found out his cheating, the Clearing Agent Union in Cotonu banned him.
In revenge ,Ozonweke made sure that during the time of Onwughara, they crowned another Eze to contest against Eze Ekene Ajunwa ,who is the Eze Ndigbo Olorunda in Badagry , just to make sure he made Ajunwa's Ezeship ungovernable .
Now pay back time came for Eze Ajunwa, when he heard that Ozonweke was contesting to be my secretary, he called me and warned that if Ozonweke was allowed to contest as my secretary, he was going to withdraw his support for my election.
I had to carry people with Thompson Ohia,who is living in Badagry and we went to Eze Ajunwa and begged him and the guy said okay because of the way he love me he will begin to support me from today and he will continue to support me and he is still supporting me .
OZONWEKE'S MULTIPLE ENEMIES
Despite that the people vowed that Ozonweke will not emerge as my secretary, but i insisted that Ozonweke will be my secretary because he has been following me. To make it work then, i went to Nnaa Nwodo and he also supported us to make sure that Ozonweke contested as a secretary and all of us every member that followed me won the election, Ozonweke became the Secretary.
Shockingly , the same night i was inaugurated , Chadon Charles Odonukwe (quote me ) called Chief Thompson Ohia,while we were in the hotel of late Barrister Guy Ikeokwu , he called Chief Ohia my Chief of Staff and said if Solomon is going to get problem with Ohanaeze Ndigbo,it is between you and Ozonweke that will cause the problem, he didn't know that Ohia put it on speaker and that is the enemity between Ohia and Charles Odonukwe till today, I mean the owner of Colonade hotel.
So, when he made that statement, it shocked me because for him to call that time not knowing i was there and these are the key players i have, Ohia and Everest ozonweke in my team.
The other person that was following us to campaign was Evelyn Okere , from Imo State,married to a calabar man, She said it to me from the first day that Ozonweke should not join my team. She told me one day that she was in Oba Ojoto Camp where Ozonweke made sure that they nullified Oba Ojoto election.
OZONWEKE'S CONFESSION
According to Ozonweke, he switched from there to my own camp because Oba Ojoto refused to give him the deputy president slot or the Secretary of Ohanaeze position in his own team, when he was contesting during Onwughara conducted election .
Ozonweke told me confidently that the reason he made sure that Oba Ojoto election was nullified was because none of the key role or position was given to him and i said okay no problem ,at least iam there already,
FACTIONAL PRESIDENT The day i was inaugurated as Ohanaeze Ndigbo President ,Lagos State, the same Oba Ojoto and his group also inaugurated Nnamdi Nwaigwe , aka Odegingin ,as their own president , resulting to factional president which was caused by Ozonweke.
IGBO DAY EVENT
Usually past Presidents of Ohanaeze Ndigbo Celebrates Igbo Day event four times in four years during their tenure but in my own case i did it only two times because the Factional opposition people did not allow me.
MORE OPPOSITION AGAINST OZONWEKE
I recalled that Evelyn Okere warned me, people can find out from her or ask her even though we are not on good terms now.
She warned me that if Ozonweke come into my team ,that she and Kanu Oguru are not interested and out of the team. I begged them, i knelt down , i said to them, please allow Ozonweke because he is the one who is the eyes of Nwode ,and if we lose Ozonweke , i may end up not contesting this election because Ozonweke has told me so many things that he discussed with Nwodo and that whatever he tells Nwodo, Nwodo will never change it ,that he is the eyes of Nwode in Lagos state .
After begging them , Evelyn and Kanu allowed me to keep Ozonweke in the camp, funny enough, it was the same Ozonweke that told me that if i want to succeed, Evelyn Okere and kanu Oguru, who are executives, must give way and he did everything to remove them from that position .
As we were moving in the administration, Ozonweke called me that he wants to be the next president , i said no problem, that i don't care about who i am going to hand over to ,my own is that he should support me to finish my tenure if i win, because then we were still doing campaign, luckily then i won the election and we started our administration.
MEETING WITH GOVERNOR SANWO OLU
Then one morning my brother Ifeanyi Chukwu ,who just contested Ebonyi State governorship election called me that the new governor, the incoming governor of Lagos State have been made public and that we should come to his house, that i should come with few Executive members to know the man and i went with them.
Ozonweke , Women leader, everybody were included and i took them there, where we meet Sanwo Olu and we discussed, we said we are going to support him,everybody agreed that we are going to support Sanwo Olu , then we started campaigning for Sanwo-olu until the day Sanwo-olu went to Alaba International to campaign, with over 15 thousand Igbos gathered there.
I went there as Sanwo-Olu informed me that i should come and meet him there, i went there and then raised his hand up and told Ndigbo in the market that they should support him.
Ozonweke took my support for Governor Babajide Sanwo Olu for his own advantage and ran to Nwodo in Enugu,telling him that Solomon has taken his own decision, i was surprised Nwodo was tagging me. I told Ozonweke that i was discussing with the Governor and that Nwodo is following Atiku and Atiku is looking after them there .We are in Lagos now and we can not leave ourselves like that because according to an igbo proverb, "where a person lives, that is where he should be concerned".
Ozonweke responded by saying that i should not mind Nwodo ,that all the billions he is taking from Atiku does he give anybody ?.
I didn't know that he was just trying to "knock my head with that of Nwode together ". I now stood my ground and declared,yes i have to support Sanwo Olu, because this is where we live, it is he who wears shoe that will know the side the shoe is paining him , that was when Nwodo began to hate me more.
HILUX ENGINE FOR NWODO
Ozonweke one day told me that Nwodo's Hilux Engine was faulty and that the only way to reconcile with Nwodo , was to buy the engine, i said okay, how much is the engine, he told me and i went to buy the engine which costed me over one million naira and we took it to Nwodo.
what iam revealing now is absolutely truth, if i added anything ,let God deal with me that i will not even enjoy my children, i am telling you this with all my heart, i don't lie , i only tell you your profile.
PLOTS AGAINST ME
So ,now this particular Ozonweke began to find all means to make sure i was impeached so that he will take over, in short he collaborated with the Chairmen of all the local Government of Ohanaeze and he poisoned their mind against me, telling them that I don't even regard them and that they are the pillars of Ohanaeze, they are the everything of Ohanaeze ,they are the engine house of Ohanaeze, that whatever they say counts , and I said that i know and that i agree .
Ozonweke now poisoned their minds that they were doing meetings outside Ohanaeze Ndigbo Secretariat but i didn't know .So at a time, they concluded that they are going to impeach me, they went and tried to impeach me outside Ohanaeze Ndigbo Secretariat,which could not work , then they arranged it that Ozonweke should go and bring Ohanaeze Ndigbo National body from Enugu, so that they will do the impeachment in the presence of Enugu officials.
Ozonweke went there and wrote all sort of things that are against me then and when i heard it, i said okay there is no problem i am waiting for Enugu National body.
Before his betrayal and gang up with those Ohanaeze Chairmen of local government, he deceived them by telling them that late Professor George Obiozor had made him his Personal Assistant. When I had the rumors, i questioned if professor Obiozor can do that ,without my consent as president of Ohanaeze Lagos?, then , i just picked up my phone as i heard the rumor and called Obiozor and said where are you sir?, he said he was in Lagos, i asked in your house ?, he said yes ,i rushed there to his house, i went with the person i made the Chairman Council of Ndieze then , Eze Chris Offia and one other person as a witness, that was the chairman of all Chairmen , i took two of them and we went to Obiozor's house before Chevron, i told Obiozor how can such thing happen and i didn't know,you know you are my friend .
NAME DROPPING
Note that once you introduce Ozonweke to a personality or your friend of say 30 years or 25 years , Ozonweke will go outside you and tell people that he is the one who introduced you to them.
For example my brother who we are from the same village, ifeanyichukwu ,who called us to seat for the first time with Governor Babajide Sanwo Olu, Ozonweke is telling people that he is the one who introduced me to ifeanyi.
Also the Vice President to Chief Nwodo , who is Professor Ogbu , the former deputy Governor to Governor Elechi for four years and Governor Sam Egbu , for another four years. We are from the same compound and i was eight years when the man left to America and he came back . Ozonweke is telling people that he is the one who introduced me to professor Ogbu ,who helped me before i won the election.
How can somebody at his right senses tell you that he introduced you to your own mother who gave birth to you?.
Now all the personalities i took him to, he will go there at my back because he wanted to take over Ohanaeze, so that when he takes over Ohanaeze, those people who are helping me will be his own helper, that was the reason he is doing it and I remembered vividly that Eze Ekene Ajunwa sat me down and told me that these things will definitely happen between me and Ozonweke .
He even said that i should come to Badagry where Ozonweke is running away from, because of some people that he sold their land and he has not paid them after he ate their money.
MY CAR GIFT TO OZONWEKE
I had about 7 vehicles, out of which i gave Ozonweke one of my cars and asked him to be using it as his own car but after Ozonweke contributed one hundred and fifty thousand Naira for Ohanaeze Ndigbo program,everyday he will go and tell people that he bought the car from me, that i collected money to sell the car to him.I asked then , how can i sell my car to him, for what purpose?.
I had to explain to people that the N150,000 was the money he put to do Ohanaeze program and that day I announced that Ohanaeze Ndigbo will give it back to him,which Ohanaeze later paid him and gave him extra fifty thousand naira.
This is just to make public the hidden side of the Man, Ozonweke. I have never ever seen in this life, a human being who is tricky,cunning and wicked as Ozonweke.
IGBO DIGNITARIES
Ozonweke wrote those petitions against me forgetting that Professor George Obiozor and Ebute Ukaiwe were the people that took me when i emerged as president to Oba of Lagos ,for reconciliation following the outburst after the 2015 election ,which nobody has done before then.
Indeed ,it was my regime that Ebute Ukaiwe,Ndubuisi Kanu, Professor Obiozor and Walter Ofornagoro began to come to Ohanaeze Ndigbo forums .
When I confronted Ozonweke over his claims of introducing me to those dignitaries, he denied it flatly and I now said to him ,how could you have introduced me ?, i did not say you do not know Emmanuel Okala or Ronaldo on television, but are you close to Ronaldo?, i asked him, you may know messi ,yes everybody knows messi, but you can not say you know his character because you are not close to messi ,don't pretend that you Introduced anybody to me , you were hungry and hiding before i picked you up
ATTEMPTED IMPEACHMENT
Ozonweke is a problem in Ohanaeze Ndigbo.He later brought Enugu people to come and remove me and install him as an interim government of Ohanaeze. When they came,i met one of them called Dr. Ezeji , he was the former president of Ohanaeze Ndigbo Imo State, he came with another person late Mr. Graham, he was Vice to professor George obiozor, from Rivers State ,he and obiozor died the same period. They came with another woman i cant remember her name,she is popularly called the mother of Ohanaeze Ndigbo Worldwide and a lecturer at the University of Nigeria Nsukka .
The three of them refused to come to Ohanaeze Ndigbo Secretariat to see me and when I asked Ezeji, when i got to him that night, he told me that Ozonweke had informed them that if they come to the Secretariat,that i will chase them away with area boys, some criminals and that some police men guarding me are ready to fire their gun.
Because of that false alarm, I told them to arrange the meeting anywhere they desired even if it was on top of mainland bridge or Eko bridge, that once Iam invited,i will be there.
They agreed and said that they were sending out their invitations, however, they called me later to say that they are going to do everything at Ohanaeze Ndigbo Secretariat .
When we got to the Secretariat ,i called a lot of people , in short to put it clear , Fabian Onwughara has helped me two times to remain as a president, even though we are not in good terms.
I invited people including some immediate past presidents like Onwughara , who came and told Ozonweke in front of Ohanaeze Ndigbo National body delegates from Enugu, who came to remove me from office, that Ozonweke is the problem of Ohanaeze Ndigbo in Lagos state. He said look at what you did to me during my tenure, do you want to do it to Solomon too ?.
Then we started explaining ourselves,i asked Ozonweke two questions, one question for him and one for the Secretary. I said Ozonweke , is there any decision i took in Ohanaeze that you don't know and he replied and said no. I asked the secretary the same question and the secretary said no. It was then that they told Ozonweke to write an apology letter to me and Ohanaeze Ndigbo.
Mr. Graham , may his soul rest in peace, before everyone ,he said that this man , Ozonweke is a complete devil, that Ozonweke told them that even the Secretariat is deserted, that only what I do there is dancing music,playing record with women, that we are not doing anything about Ohanaeze again.
Angry with Ozonweke's lies,they said this man can talk to humiliate human being and to make human being useless and that Ozonweke never told them any positive things about me , rather he made them not to come initially to have this dialogue at the Ohanaeze Ndigbo Secretariat.
DISINTEGRATION OF ODEGINGIN FACTION
After the whole discussions ,they Reconfirmed me to remain as President but the other faction which is called Odegingin faction which was backed by Onwughara, had quarrelled with Odegingin and later installed Cornel Reuben Nwankwo as their new president against my leadership,they impeached Odegingin,then the women leader was mrs Eucharia Nwagwu, who later became my deputy today.
what happened was that both factions were largely made up of Anambra people with Ebonyi State in minority, because 95 percent of Ebonyi people are wearing the gown of inferiority against other states,they don't come out to challenge any other state,once it is Anambra man or any person ,they will give out their chance, so i was doing it all alone with all the enemies i called executives like Ozonweke ,who is the first eleven executive,then when the thing became so serious, i now reported to Governor Sanwo-olu,Sanwo-olu asked me where is the man called Factional president living, i said he is at ikorodu, he said okay , go to Oba kabiru ,oba kabiru is the Oba of ikorodu, i went to Oba kabiru.
Governor Babajide Sanwo Olu said that they will invite me,we went to Oba kabiru with Zack Orji , Ejike Asiegbu with all the executives and Nollywood Actors and Actresses of Ndigbo extraction, who were close to me.
I brought them and we went to the Oba's palace,including woman leader Obiora, Secretary, Treasurer, everybody,first eleven of all the whole executives,we were in ikorodu, they invited oba kabiru,but before then oba kabiru refused me to come inside the palace when i reached there, before i called the governor who called the Oba back.
The Oba insisted that it was only me that he would allow inside the palace but i said no , insisting that all of us must enter. I called the Governor again and he, in turn called the Oba and instructed that all of us must go inside and that everybody should be allowed to express their opinions .
WASTED OVER THREE YEARS OF MY TENURE FIGHTING FACTIONS
The Oba Kabiru incident was the 3 years and 7 months of my tenure . So, people who don't know the story of this Crisis will say Solomon is going for second term after he finished his first term.
The fact remains that giving the crisis caused by factions, this is the time that my tenure started. Just to make it clear, my tenure started now because i was with two factional Presidents who were chasing me all about, such as Cornel Reuben Nwankwo retired, he was a former taskforce officer of Onovo in NDLEA ,he is also the former taskforce chairman during Dora Akunyele's NAFDAC era, until he retired.
Though Nwankwo has been my friend of over 15 years before both of us met in Ohanaeze, that is why he didn't know what to do.
So that was how Ozonweke was trying to take over Ohanaeze Ndigbo leadership by all means .
After the meeting with Oba kabiru ,from that day Cornel Nwankwo said he has surrendered, that he can only do his things in ikorodu, that he cannot go anywhere outside ikorodu to say that he is president of Ohanaeze, i said no it is everywhere in lagos ,then he said its because they gave him a title of Omo Obowale of ikorodu land , meaning that if any igbo resident there or a stranger from igbo land wants to see Oba , he must go through him. I said that one is a tradition ,people can do that once it is anything outside Ohanaeze, the man completely submitted and agreed with this my judgment.
HOW COURT CONSENT JUDGEMENT EXTENDED MY TENURE
Then Fabian Onwughara came and met me after 3 years and 5 months and suggested to me that to ensure peace ,equity and amicable settlement of the Ohanaeze Ndigbo case in court and bring the factions under one umbrella,that we are going to allow those that Nwodo nullified their election , that have been outside Ohanaeze Ndigbo main stream in the last four years, that we are going to discuss and let their own Factional executives come and contest with my executives that were about completing their tenure.
Also that the Chairmen of all local government will also come together and contest, whoever wins from the local Government or executives , will now continue their leadership. while my own case was different, because iam the only person that was in the Court Suit with Nnaa Nwodo , saying that if they had won that case, that is if Onwughara and his group has won that case,i would have just been thrown out of that office.
It must be noted that it was Barrister Onwughara that took the matter to court and consent judgment means that if we have a case in court, your lawyer and my lawyer will agree on a round table , then we go back to court to inform the court.
In this case it was Onwughara's lawyer that filed all the documents of getting the consent judgment.
people don't like to hear truth, they don't want to listen and that was why Governor Sanwo olu said that everybody can see him but he cannot work with anybody, I am the one in the protocol list of Lagos State Government because i have the judgment, except anybody go and vacate the judgment.
MY CASE WITH IFEOMA
Ifeoma,woman leader,ifeoma was a very good friend of mine,it was Ozonweke's gang up that brought my issues with ifeoma .
Because of Ozonweke's resolve to make sure i was penalized by all means to enable him to take over Ohanaeze Ndigbo leadership,when i got the consent judgment, i told him,i was surprised that despite that ,he was still working ,doing everything to make sure that another kangaroo election was conducted which he contested and lost.
40 MILLION SAGA
After we got the Consent judgment, Onwughara came back and said i should give him 40 million,i told him Ohanaeze has no allocation, where am i going to get 40 million naira, that is after 3 years and 5 months, he came to me and asked that election should be conducted between the chairmen of the local Government and the executives with his own group so that Ohanaeze will become one and there will be peace then i said okay go ahead,i don't know about law he is a lawyer, he give me the idea, so after doing everything, the same lawyer who was defending them in court was the person who perfected the whole document.
My lawyer is from Enugu State and his lawyer is from Anambra State,so whatever we do ,after our meetings , then the lawyers will go and meet according to the outcome of our meeting until we got the judgment,there are two people on the suit including myself, and Enugu National body people ,we are on the same group with them that conducted the election which brought me into office , then the other group of Onwughara was in their own,so when we had the agreement ,they now gave the consent judgment based on Onwughara idea we got that consent judgment.
Onwughara come after a week that i should give him 40 million that if i don't give him 40 million he would work seriously with Ozonweke to make sure that they conducted another election and Ozonweke will emerge as president.
That was why that Kangaroo election came up despite that i was the one who set up the electoral committee for the local Government and executives positions.
Interestingly I and Chief Nnaa Nwodo were taken to Court , when they took me to court, Nwodo after 5 months called me and said Solomon i have removed my hand in any expenses, i have spent five hundred and something thousand for only one sitting, the lawyer is coming from Enugu, he is a SAN called Momo, that his hand is no longer there, that if i want to remain president that i should continue with the court but if i don't want to remain as president , that i should vacate. I said no i will do it,then we continued going, i was doing all the expenses, i spent over 15 million in that court to make sure that we remain in that seat ,nobody contributed any penny.
Ozonweke claimed that he was the one coming in as President but i don't know how much he has given to Onwughara and Oliver Akubueze, aka Mmiri who i made the electoral committee chairman.
Though Chief Oliver akubueze , Mmiri, had joined them in battling me but he has already come to apologize to me,even gave me the money i gave to him to do some expenses . He gave me N2.5 million, he gave it to me last few weeks.
Infact, Mmiri is my Boss, he was the person who brought me out to contest the election that brought me in as President and that is why he doesn't attend any of their thing again, even when Iwuanyawu came,you didn't see Mmiri there.
TWO FACE OZONWEKE
According to Ozonweke who contested that election Organized by the opposition,he told me that this people had deal with him. That he sold his land for 3 million and gave it to Eze Uche Dimgba alias Okpotemba and Mmiri , to ensure that he won but he lost.
After the election,what Ozonweke was doing is that when he goes and sits with them in their meeting ,he would come and tell me the information of the other group and get information from me and go and tell them,the last one he did made me agree to do all this publication, because he was telling me that Chief Iwuanyawu is going to set up a committee and this committee is going to help us in the sense that i am going to stay maybe another two years, then Sunday Ossia will stand as elected President because nobody can vacate my court consent judgment.
That was the idea that Ozonweke gave me because he is doing everything to bring Chief Iwuanyawu to come to Lagos , not knowing that Ozonweke was doing everything to expose Sunday Ossia weaknesses and impeach him,so that people can say that Ossia is not capable and that they will remove Ossai and install another Enugu State indigene , which is Onowu Everest Ozonweke. That was what happened.
When Chief Iwuanyawu came to Lagos State on official visit, i was shocked to see Ozonweke where i was hosting Iwuanyawu ,i didn't know he will be there.
* Watch out for the Second part of the Interview in our next Report*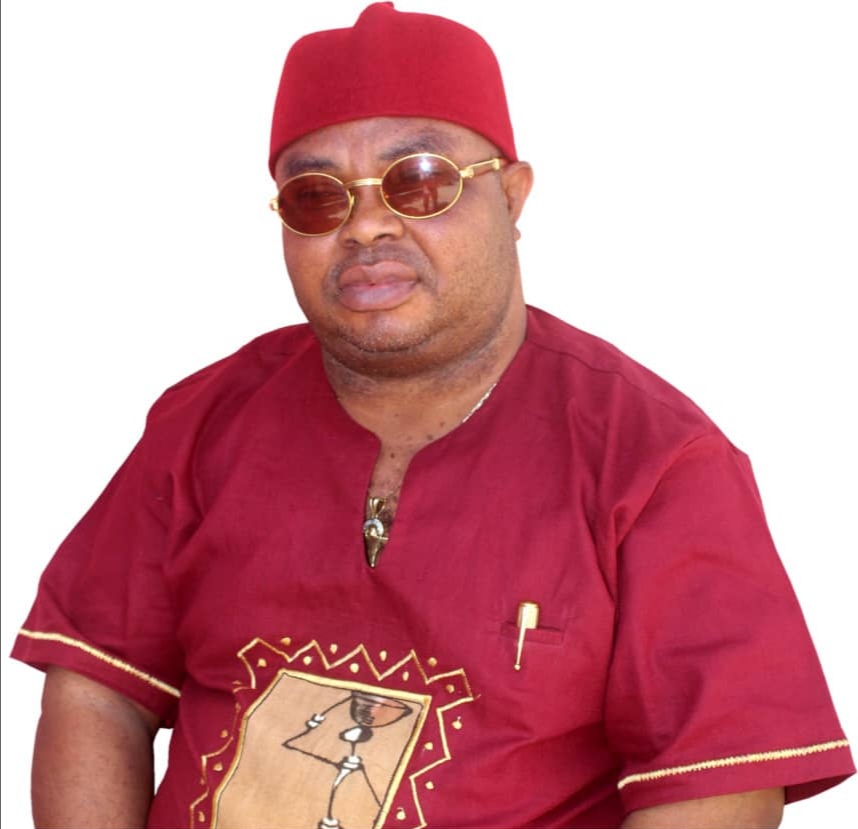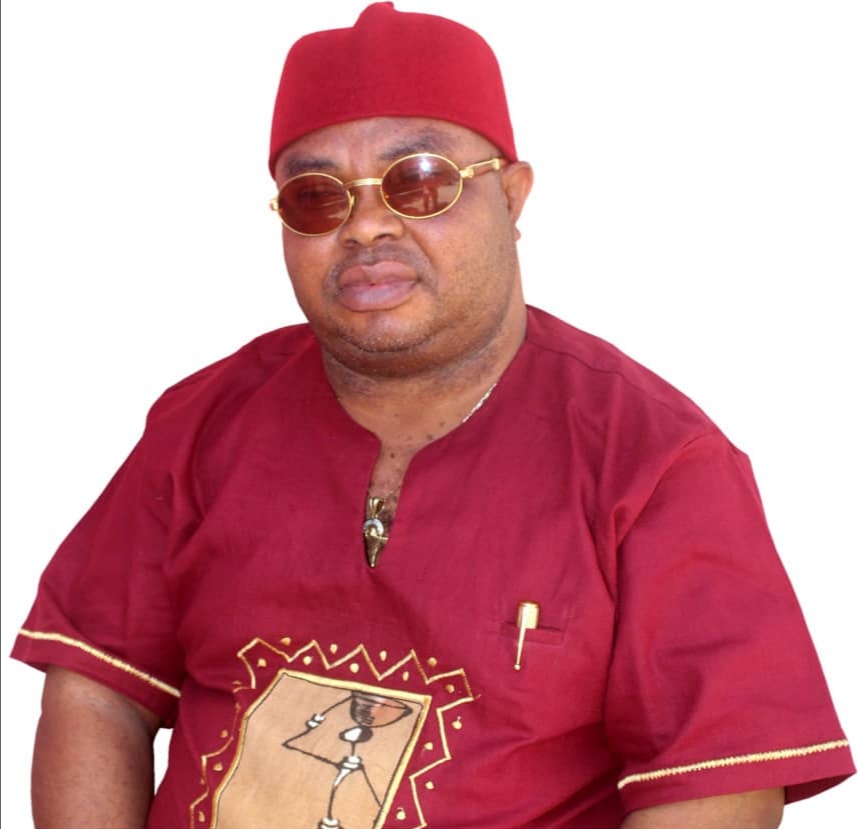 Share this Post