CRAN Congratulates Ag. IGP Kayode  Egbetokun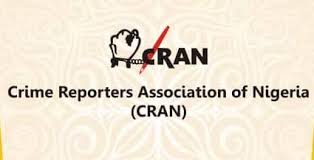 Share this Post
The Crime Reporters Association of Nigeria (CRAN), the leading organization of crime and investigative journalists in Nigeria, extends warm congratulations to Acting Inspector General of Police, Kayode Adeolu Egbetokun, on his appointment and subsequent decoration by Vice President Kashim Shetimma on June 20, 2023.

CRAN also commends the President of the Federal Republic of Nigeria, Bola Ahmed Tinubu, for selecting Egbetokun to lead the Nigeria Police Force following the departure of IGP Usman Baba Alkali.
During IGP Alkali's tenure, notable advancements were made in the history of the Nigeria Police Force.
According to a statement made available to journalists, signed by the Association's President, Olaekan Olabulo, undoubtedly, Ag IGP Kayode Egbetokun is a well-suited candidate for the role, aligning with the Tinubu-led administration's commitment to prioritizing security.
Egbetokun's exceptional track record, including his previous positions as Commander of the Rapid Response Squad (RRS) in Lagos, Squadron Commander of MOPOL, Anti-Fraud Unit in FCT Abuja, and DIG of the Force Criminal Investigations Department in Abuja, demonstrates his excellence and outstanding achievements.Moreover, Egbetokun's educational background in Mathematics and experience as a former Mathematics lecturer at Yaba College of Technology provide a foundation for his expertise in numerical, geometrical, and analytical reasoning.
It is expected that he will apply cryptographic techniques to enhance information security and ensure data confidentiality, thereby addressing insecurity and putting an end to the reign of terror caused by insurgents.
As an association actively engaged in combating all forms of crime, CRAN pledges its support to the strategic directives and operational initiatives of the Acting IGP in the fight against violent crimes in Nigeria.
Share this Post