Ecobank Group CEO, Jeremy Awori Rings Closing Gong At The Nigerian Exchange (NGX)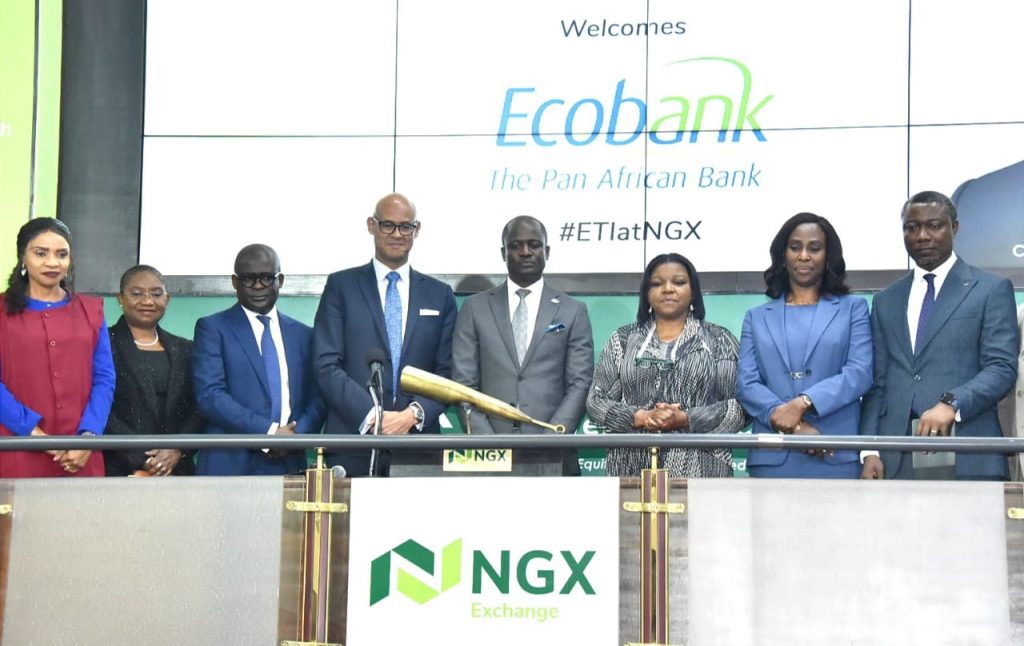 Share this Post
Ecobank Group, the leading Pan-African Banking Group,  today, introduced its new Group Chief Executive Officer,CEO, Jeremy Awori, to the market during his visit to the Nigerian Exchange (NGX).

Mr. Awori, leading an Ecobank delegation, met Temi Popoola, CEO, NGX, and then joined brokers to ring the gong, signaling the end of the day's trading session.
Speaking at the event, Jeremy Awori said: "Participating in the closing gong ceremony at the Nigerian Exchange is a great honour for me and the Ecobank Group. We commend the great work the Exchange has accomplished to forge a vibrant capital market. As a listed company on the NGX, we must continue delivering value to our shareholders, while remaining accountable to stakeholders. We are excited about the growth opportunities in Nigeria. We have the largest pan-African footprint across 35 countries in Africa and are uniquely positioned to seize these growth opportunities for the benefit of our customers and clients. Furthermore, we recognize that responding to the evolving needs of the Nigerian customers and clients is critical to delivering our pan-African strategy.  We are therefore determined to double down our efforts to support the growth of Ecobank Nigeria, which is a core business for the Ecobank Group".
Concluding, he added: "Ensuring we bring the market and the entire investment community to a clear understanding of our strategy and progress, as well as ultimately delivering returns to shareholders above the cost of equity, is fundamental for the market to reward us with a stock price that reflects Ecobank's intrinsic value".
The shares of Ecobank Transnational Incorporated, parent company of the Ecobank Group, are traded on three stock exchanges: the NGX, the Ghana Stock Exchange in Accra, Ghana, and the Bourse Régionale des Valeurs Mobilières in Abidjan, Côte d'Ivoire. In 2022, ETI's share price rose on all three exchanges, with its shares gaining 22% on the NGX, significantly above the 3% rise of the NGX's Banking 10 Index over the same period.
Ecobank's attendees at the event also included Bola Adesola, Chairman of Ecobank Nigeria; Bolaji Lawal, Regional Executive & Managing Director, Ecobank Nigeria; Carol Oyedeji, Deputy Managing Director Ecobank Nigeria; Ayo Adepoju, Group Chief Financial Officer; Madibinet Cisse, Group General Counsel, Cecilia Akintomide, Special Executive Advisor to the Group CEO and Dr. Bunmi Bajomo, Group Head, Corporate Bank & Chief Operating Officer of Corporate and Investment banking, Ecobank Group.
For Ecobank Group,"This symbolic event marked the end of trading for the day, but for us, it is another important milestone achieved towards our continued objective of increasing shareholder value".
Share this Post