H-E-A-R-T-L-E-S-S : Rich USA Returnee Snubs Lagos State Government, Block Street Access To Neighbors' Home , As Landlord Scales Fence Into His House.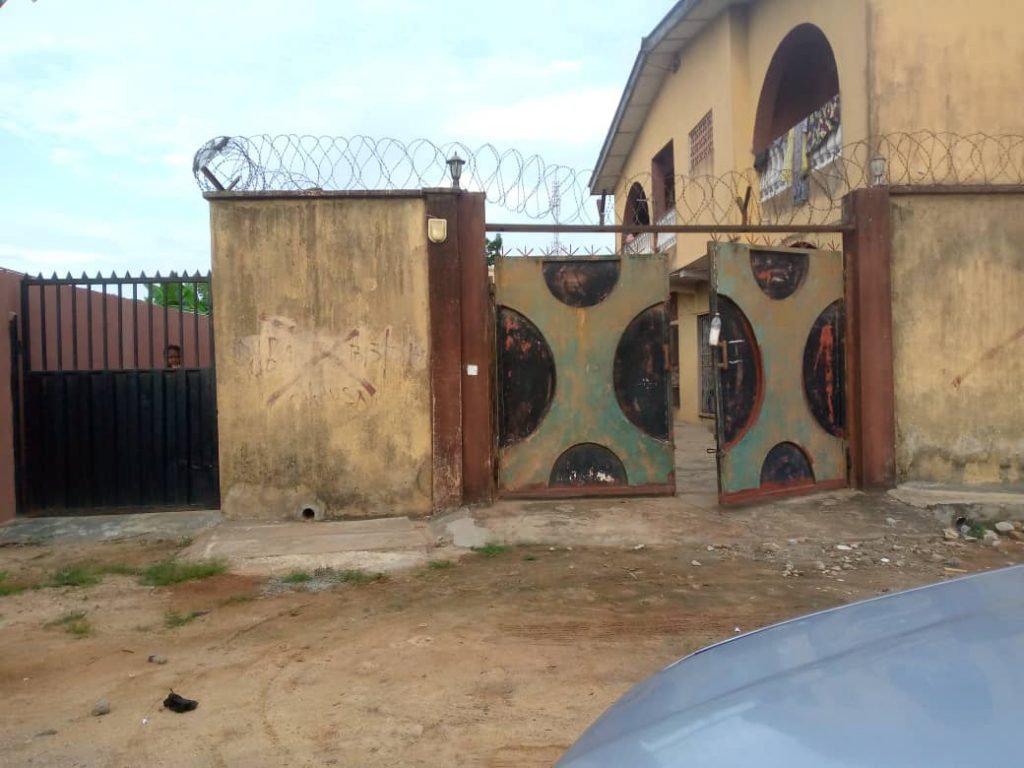 Share this Post
Freedom of movement and unhindered access to Citizens lawful shelters , legal practitioners Opined , are cardinal to fundamental rights, as enshrined in the 1999 constitution.

But the above cannot be said of a Lagos Landlord, Mr. Martins Egbunine, whose freedom of movement and unfettered access into his own house, has shockingly been denied him by a fellow Super Rich landlord, Mr. Ishola Idowu , who returned from the United States of America.
According to Egbunine, Shortly after erecting his building at 45, Nureni Agbolagbade Avenue, now 45, Alhaji Kareem Paku , off Alhaji Ede bus stop, Igando, Lagos State, Idowu, the USA Returnee, took advantage of his absence from his house and blocked street access to his property, despite protests from the landlords Association members.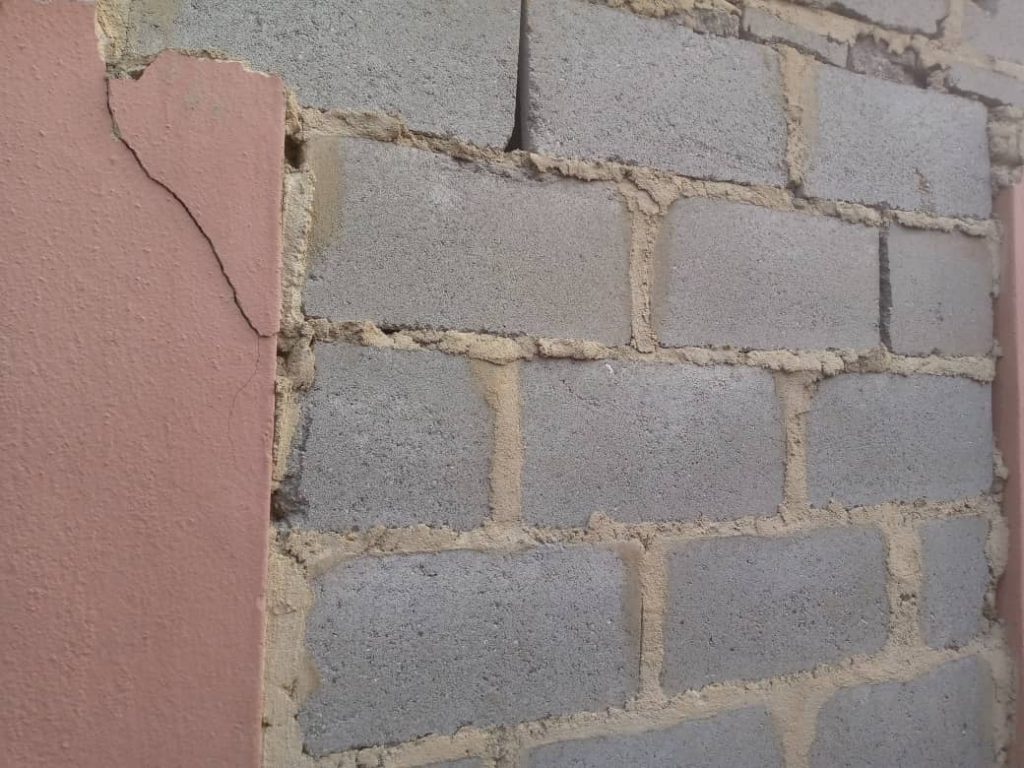 The alleged provocative and unlawful actions by Idowu was said to have been reported to the original family land owners of the area, who after confronting Idowu without success, in collaboration with some residents took the matter to the Oba of Igando, Oba Gbadamosi.
The Oba, who allegedly was aware of issues surrounding Idowu's purchase of land in the area, intervened and set up a committee , which agreed in their deliberations that Idowu must pull down his obnoxious fence blockade, hindering Egbunine from having access into his house.
Idowu, who allegedly is notoriously known in the area for his reckless flaunting of his wealth and boasting of his high contacts in government, allegedly disregarded the Oba's committee decision.
Idowu's alleged disdain to the Oba's peace committee report , compelled Egbunine to petition the Lagos State government, through the office of the Physical Planning on the 2nd of October, 2013, which was responded to by the same office on 18th February, 2014, through a letter signed onbehalf of the Permanent Secretary in the Ministry , by (TPL ) Mr. Adams Raji,( PTPO Technical Service Department).
The Ministry subsequently despatched a team led by Mr. Murtata Adekunle Balogun , who demanded for a demolition fee of N50,000, which was said to have been paid in two tranches of N25,000 each , through a Guaranty Trust Bank account numbers, 0016457446, shortly after the physical planning officers marked the controversial fence illegal and ordered for its demolition .
Years after, the physical planning office are yet to demolish the said blockade, as residents alleged that they were compromised by the same Idowu .
It would be recalled that the business Man , Mr. Egbunine , had accused Idowu of blocking him from driving in into his premises in Lagos for over 15 years.
He said that two of his neighbors constructed their fences on one end and a building on the other end, thereby hemming him in and preventing his vehicle from gaining access to his home.
Egbunine , also alleged that Idowu ishola, built a fence on a portion of the road set aside by government , as the entrance to his property , thereby, leaving inadequate space for his cars to go through.
He further alleged that the Rich Idowu , whose own house is on number 43, of the same street, deliberately extended his house fence to block his property and turned round to demand that I , Martin's, must sell my house forcefully to him.
According to him, " Idowu's fence is illegal and had been declared so by the Lagos State Ministry of Physical Planning and Urban Development , which had marked the said fence for demolition, as it contravened building regulations. "
"Over 7 years after, Idowu has failed , neglected and refused to act ,despite all entreaties, " he said.
"Potential tenants have refused to rent my property because of the limited access, thereby rendering the building fallow."
In his petition, he said, " I bought two plots of land located at the above address, from the Igando community, receipted and surveyed , my property used to be accessed from the Southern end but when the government expanded and fenced Alimosho General hospital, there was a common access left adjacent to number 43, which was my former second plot on the same street, now taken away from me by Mr. Ishola Idowu. "
"I had started developing part of the land in 1994, after surveying the two plots before I had a ghastly motor accident, which took me away to an orthopaedic hospital in Enugu State, where I under went series of surgeries for more than one year and survived. "
"When I recovered and rejoined my family in Lagos,  I visited the  property and discovered that one out of my  two plots of land ,  have been collected by one  Mr.  Ishola Idowu and he had started building,  living one part on which I built a three bedroom flat .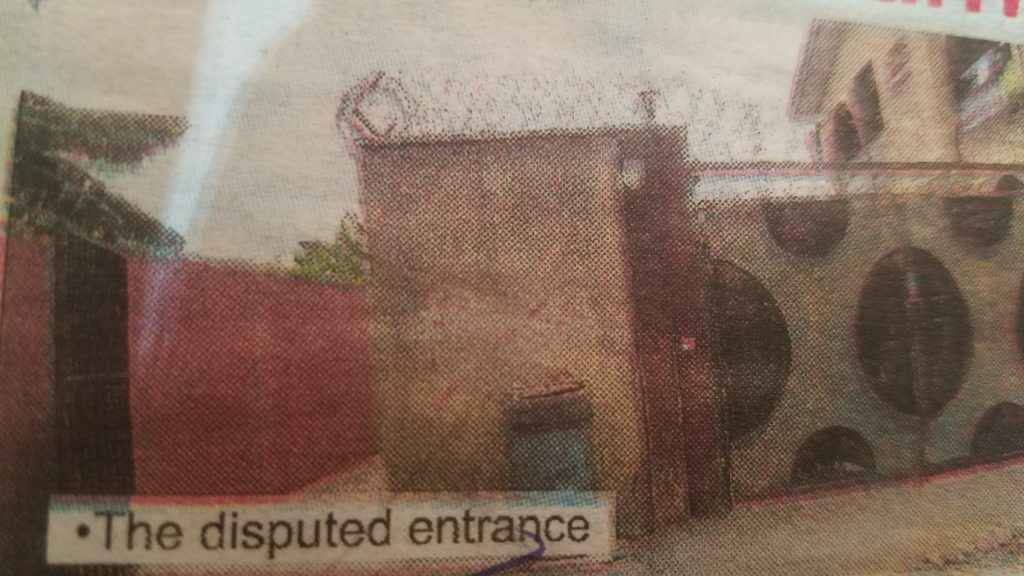 I struggled and made several efforts to recover the  plot , as I went and  consulted the  Oba of  igando,  the  Oba pleaded with me to accept my faith and develop the one plot that I had already started work on.When I went back for medical check up at the  Orthopedic hospital in Enugu, before i  returned,  Same Mr. Idowu had constructed a  fence and  blocked  an entrance  to my remaining plot of  land,  thereby, denying me access to my house "                         
" I invited the Igando community ,(omo – onile )land sellers and landlord Association, who went to discuss with Mr. Idowu."
"After all efforts failed, the igando community and land seller gave me a space from another street called ' Naiyeju ', adjacent to my house, about 15 feet wide, as an alternative way to enter with a car ,which I immediately put a small gate , about 3 to 4 feet from my fence to the space".
"surprisingly, one man by name Mr. Raphael ( A.k.a Baba Laide, a block maker whose office was very close to the space, went and built three rooms on the space that was given to me as an alternative and blocked me from Naiyeju street."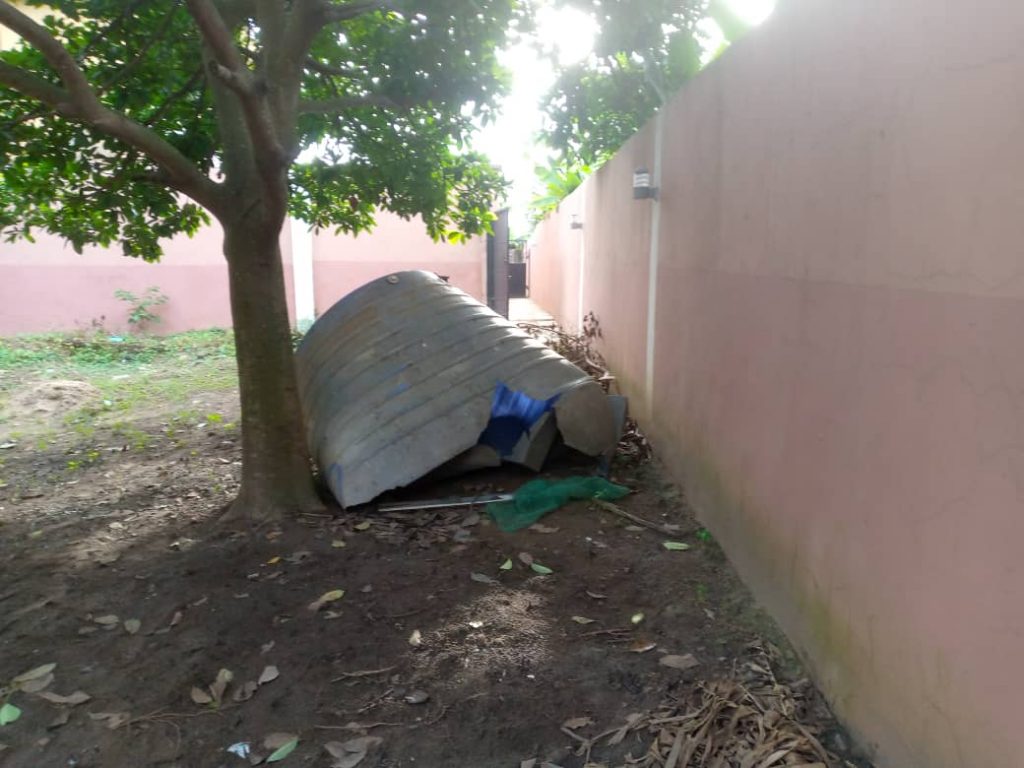 "For over 15 years now, I have been pleading with Idowu and Baba Laide with cartoons of drinks and money, to release about 8 feet of those lands , to allow a vehicle to enter into my compound but all efforts proved abortive ."
Egbunine in tears, said that he even offered to pay for the 8 feet land space that ought to be his own and even rebuild Idowu's fence but to no avail .
He noted that besides ignoring the directives from the Ministry of physical planning and Urban Development ordering him to demolish the fence blocking him, Idowu has also shunned similar directives by the Citizens Mediation Center in Alimosho Local Government Area , as well as instructions by the Oba of igando.
Responding, Idowu had told Journalists that Egbunine Claims were false and ridiculous , Challenging him to go to court.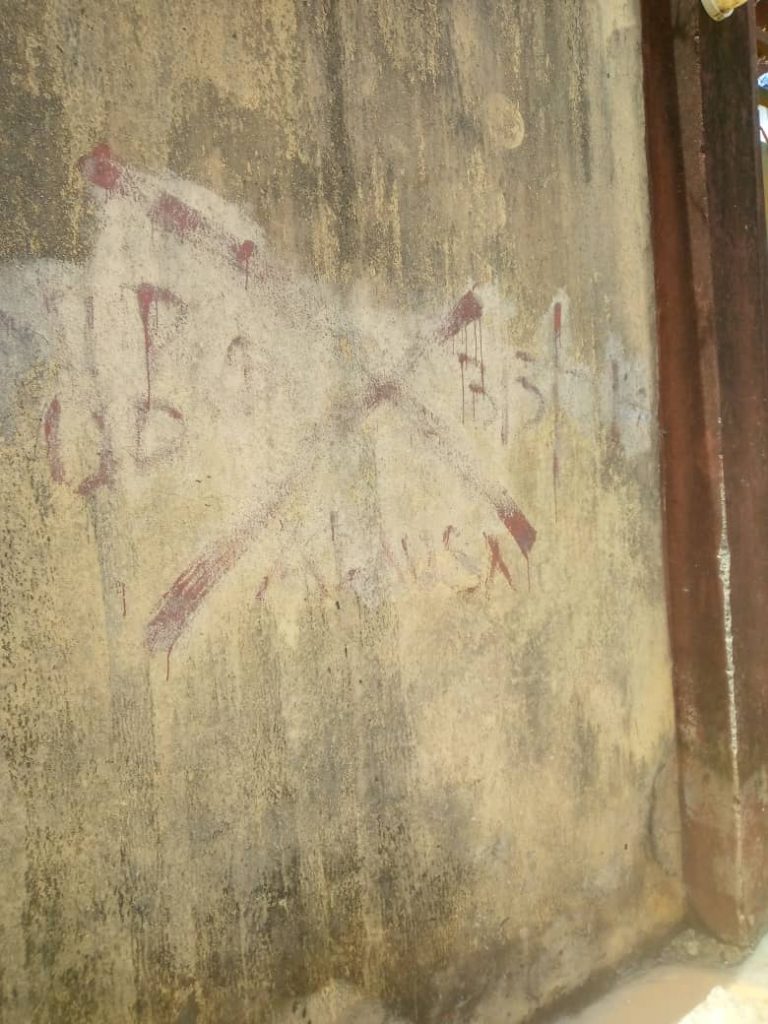 However, he did not deny the fact that the Ministry had marked his fence for demolition.
Share this Post