Igbo Council of Ndieze Extends Brotherhood Solidarity Gesture, Honours  AIG Frank Mba With Award During Courtesy Visit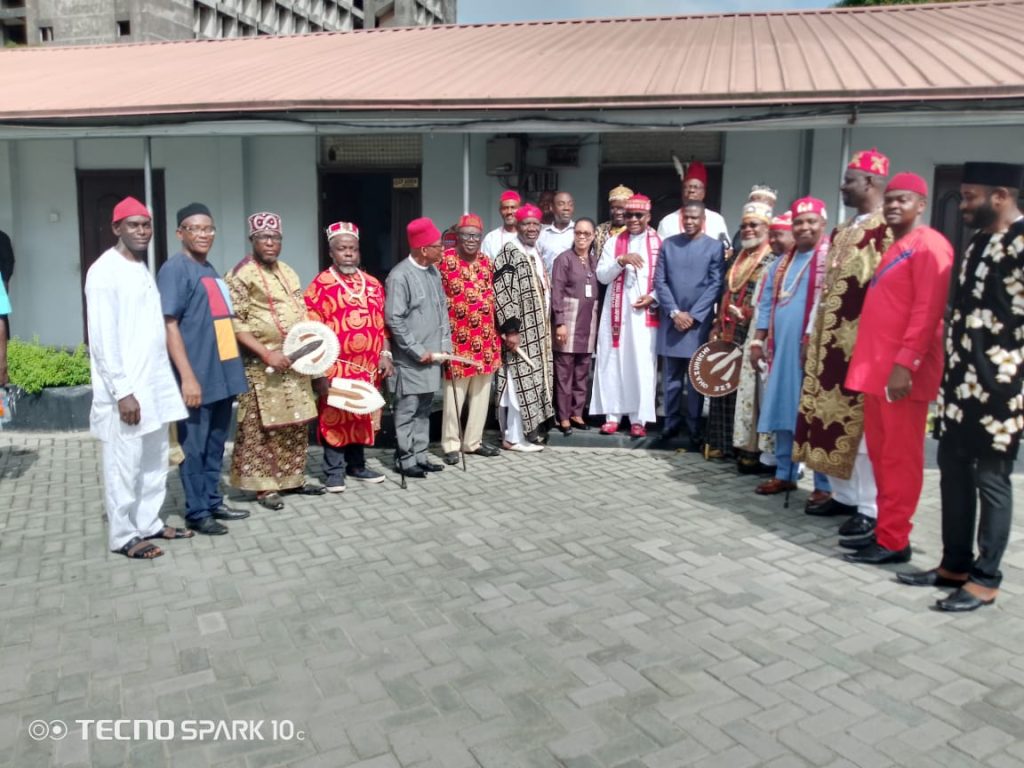 Share this Post
In agreement with a popular African wise saying that "Blood is thicker than water", Igbo Council Of Ndieze in Lagos State , alongside some other notable Igbo Leaders, yesterday paid a solidarity courtesy visit to one of their own , who incidentally is the Assistant Inspector General of Police,AIG, Federal Investigation Intelligence Department, FIID, Alagbon Close, Ikoyi, Lagos State.

The Brotherhood Solidarity visit which was described by the Police Chief himself as timely and impressive, was the Igbo Royal Fathers way of commending and appreciating their own brother on the loudable police work he has been doing, which they proudly echoed have made Igbos proud in Nigeria.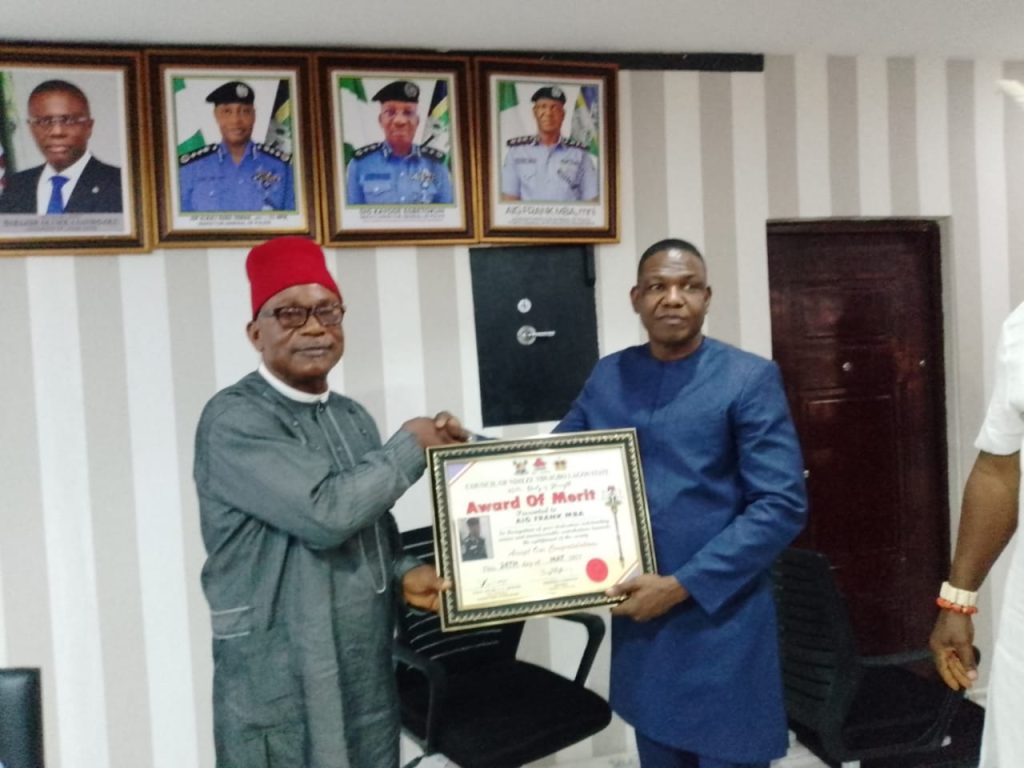 While ' using One stone to kill two birds, the Igbo leaders who came under the aegis of "The Igbo Council Of Ndieze in Lagos state ", led by their Young but vibrant Chairman, Eze Chika Nwokedi, Eze Ndigbo in Ijegun and Ijadodo areas in Lagos, also seized the rear opportunity of the visit to congratulate Mba,and thank God for the recent Promotion to the rank of AIG.
Traditional libations were poured by the oldest Eze amongst them, Eze Dr. Chigbuo Elui of Amuwo Odofin Federal Constituency, who prayed God to keep Mba alive, while all the Ezes prophesied higher police ranks for the AIG before his retirement.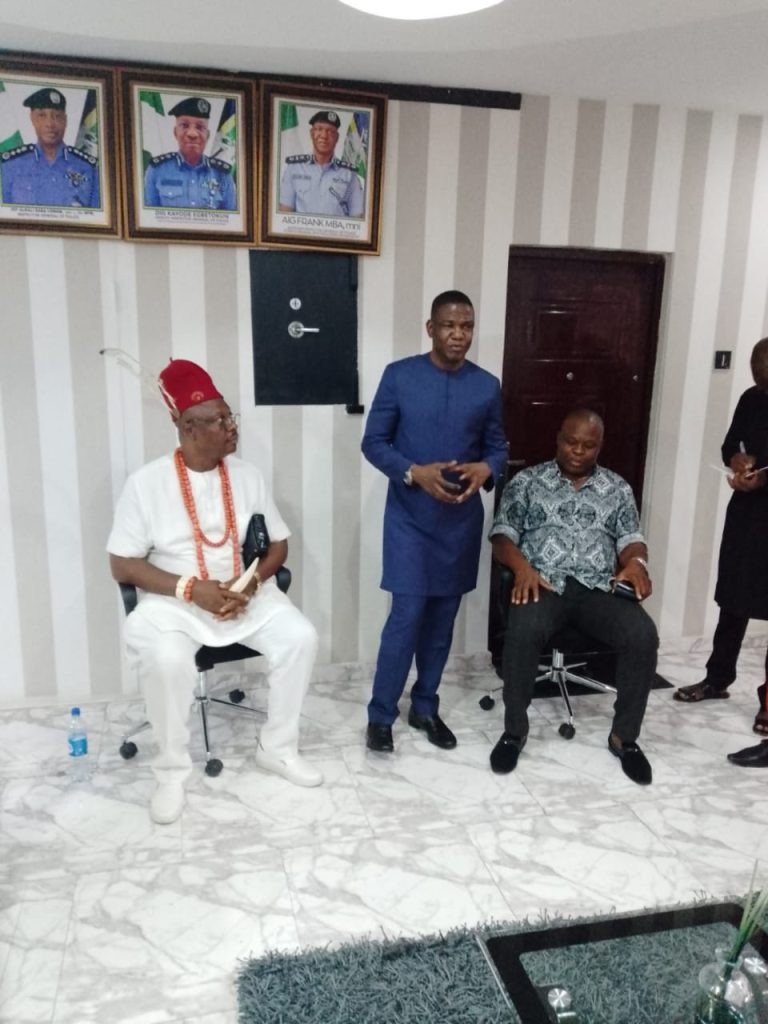 Leader of the delegation,Eze Nwokedi, who spoke in unison with the President General of the Igbo Speaking Community in Lagos state, Chief Sunday Udeh, expressed their resolve and readiness to cooperate with the Police to ensure peaceful coexistence with other ethnic groups , as well as support for the Police in their onerous task of protection of Lives and property.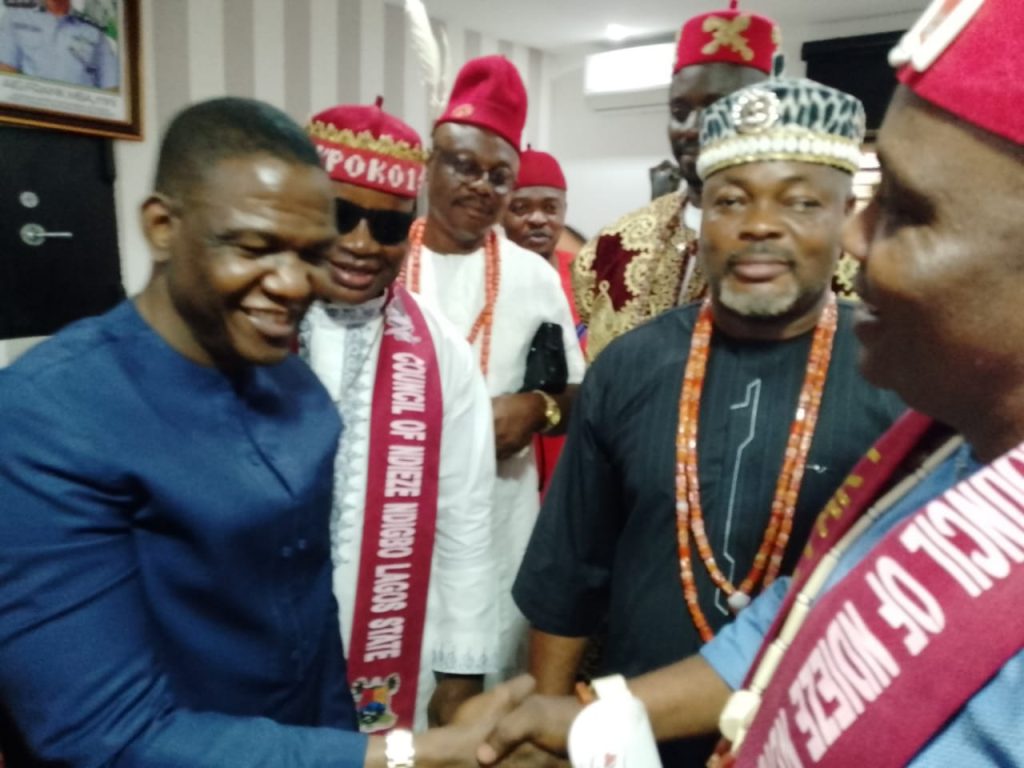 According to them, because Titled and Royal Fathers do not go out on such visit empty handed, they presented some gifts items to the AIG and honoured him with a Merit Award of recognition and Excellence.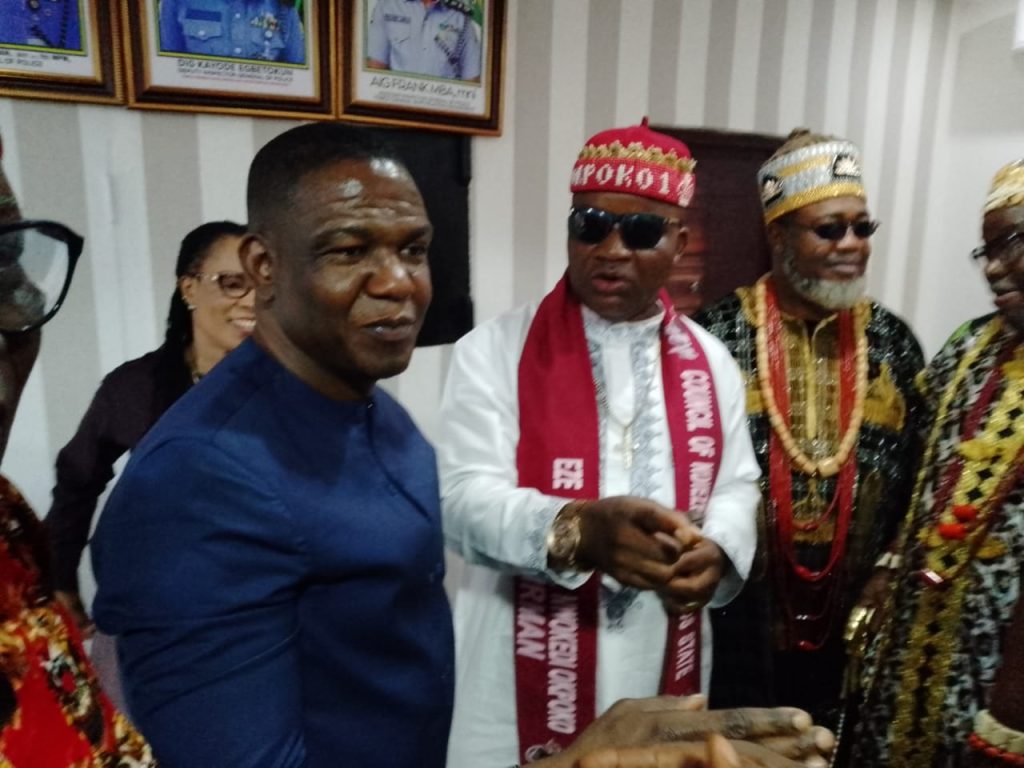 Responding, the highly elated AIG Mba , who received and entertained his visitors very warmly, expressed his appreciation for the honour bestowed on him by the Ezes.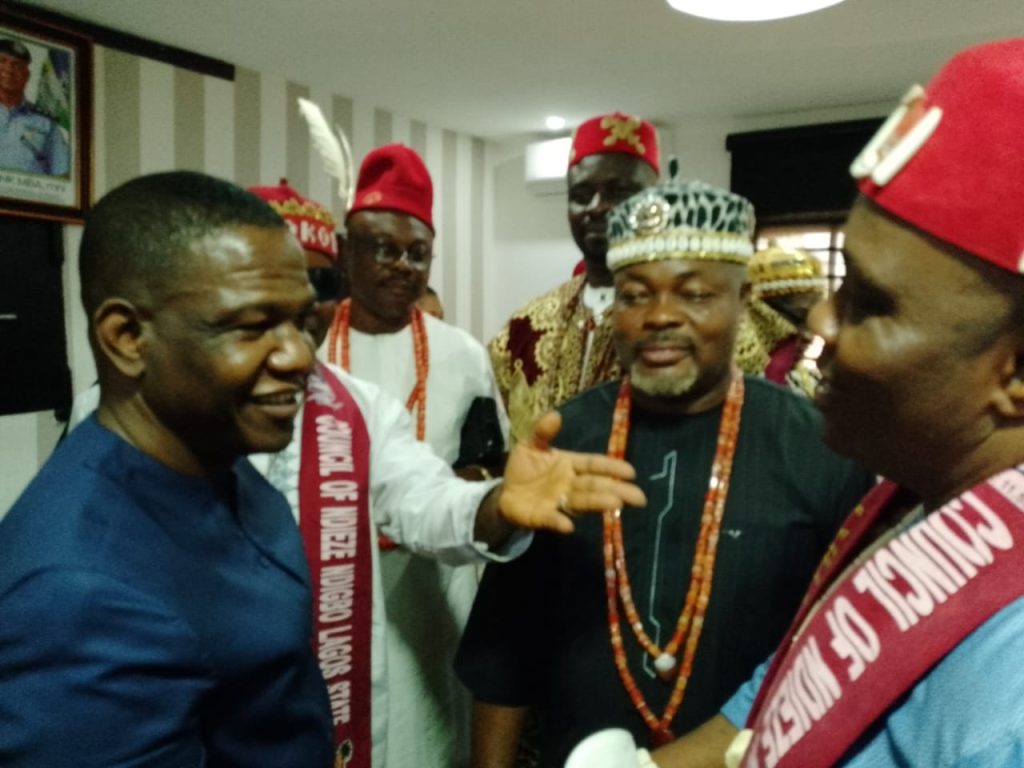 Stunning his guests, Mba who addressed his brothers in fluent Igbo language against the expectations they had , believing that he may have lost grip of his mother's tongue , in view of his high sounding grammar on Television, when he was the Force Image Maker, Said the Ezes visit was more appreciated because it was the first of its kind, First by a group of Ndieze Ndigbo since he joined the police force.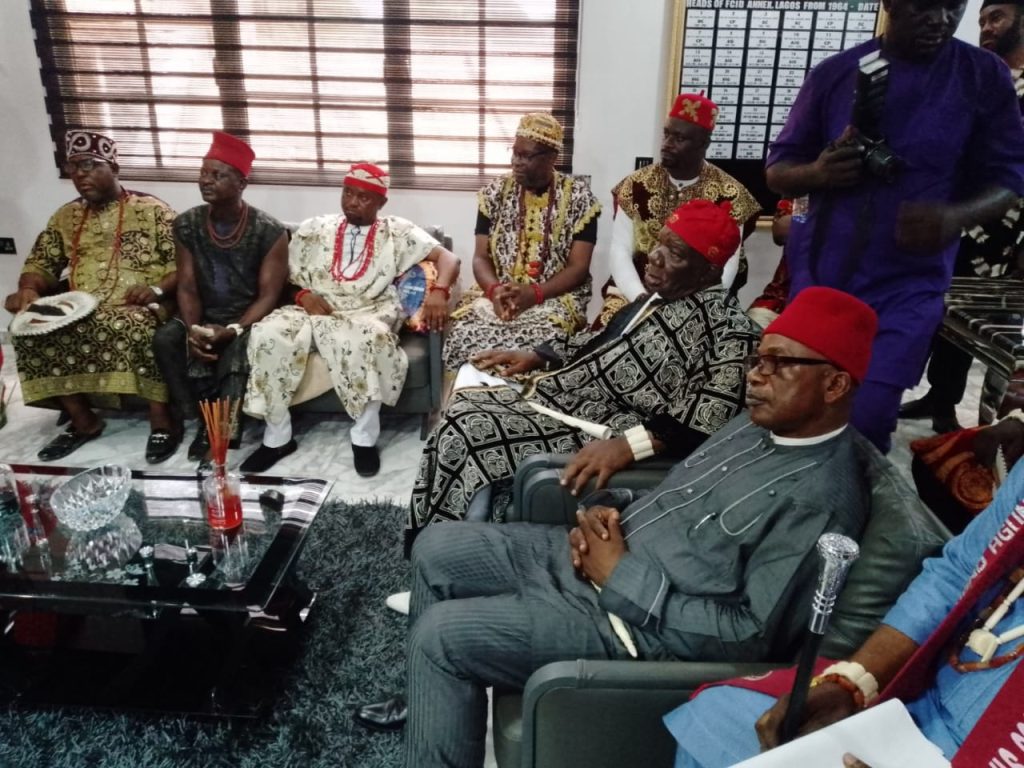 Giving analogy of how Deputy Commissioner of Police, DCP Chioma Ajunwa, felt lonely and unappreciated immediately she won the Gold Medal at the Olympic games decades back, because there was no Nigerian at the event to appreciate and honor her, he praised the Ezes for counting him worthy to be remembered, appreciated and encouraged .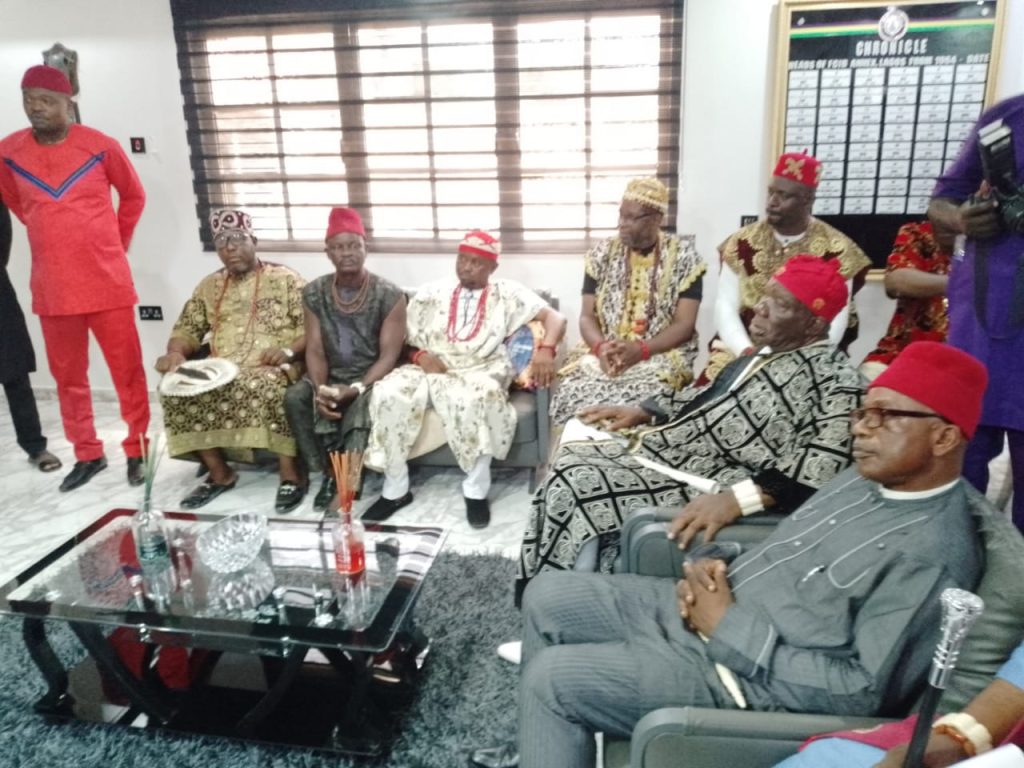 In appreciation , he told Ndiezes how happy he was and that their visit was a gesture never to be forgotten.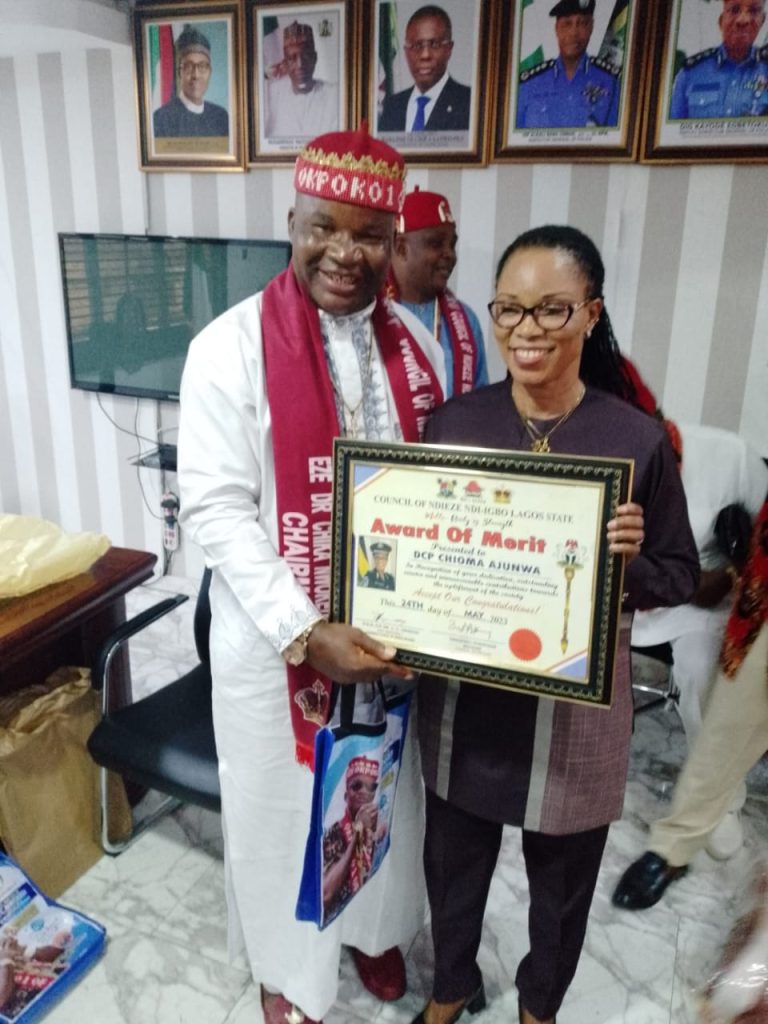 He therefore requested that Igbo Council Of Ndieze to extend invitation to him whenever they have an event, promising to honor such invite if his work schedule permits it.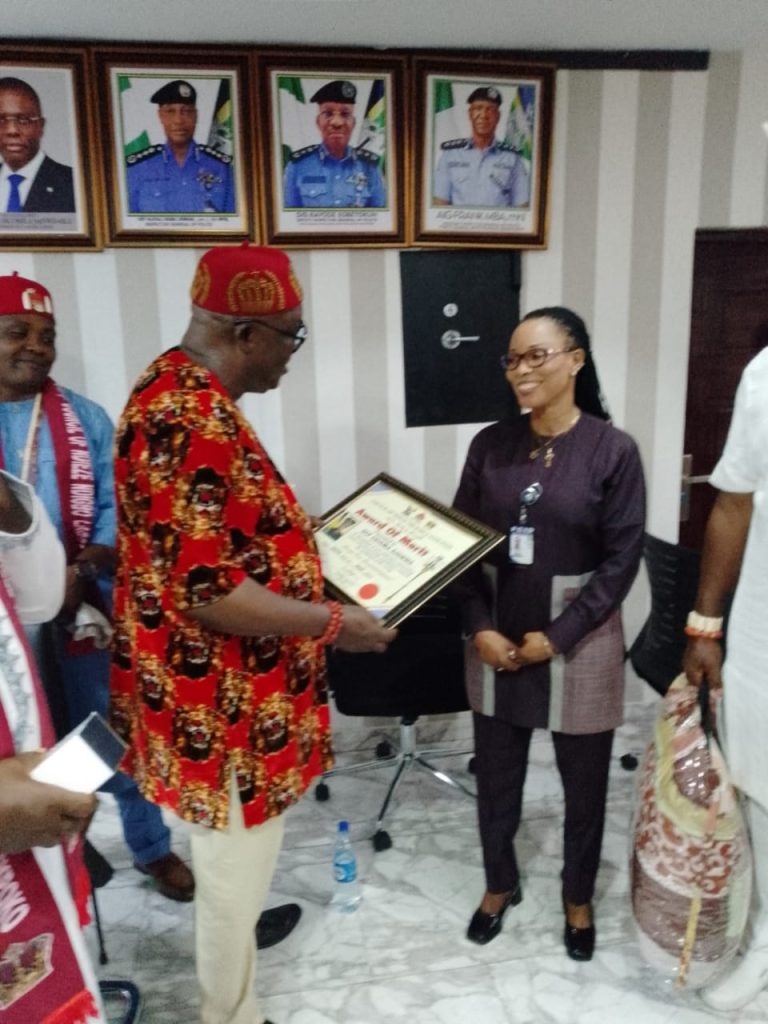 Taking time out to pay homage to the Chairman of Ndieze, Eze Nwokedi, Mba praised the council for choosing the right leader , who he said is an embodiment of humility and has tirelessly worked for the interest of the igbos in Lagos.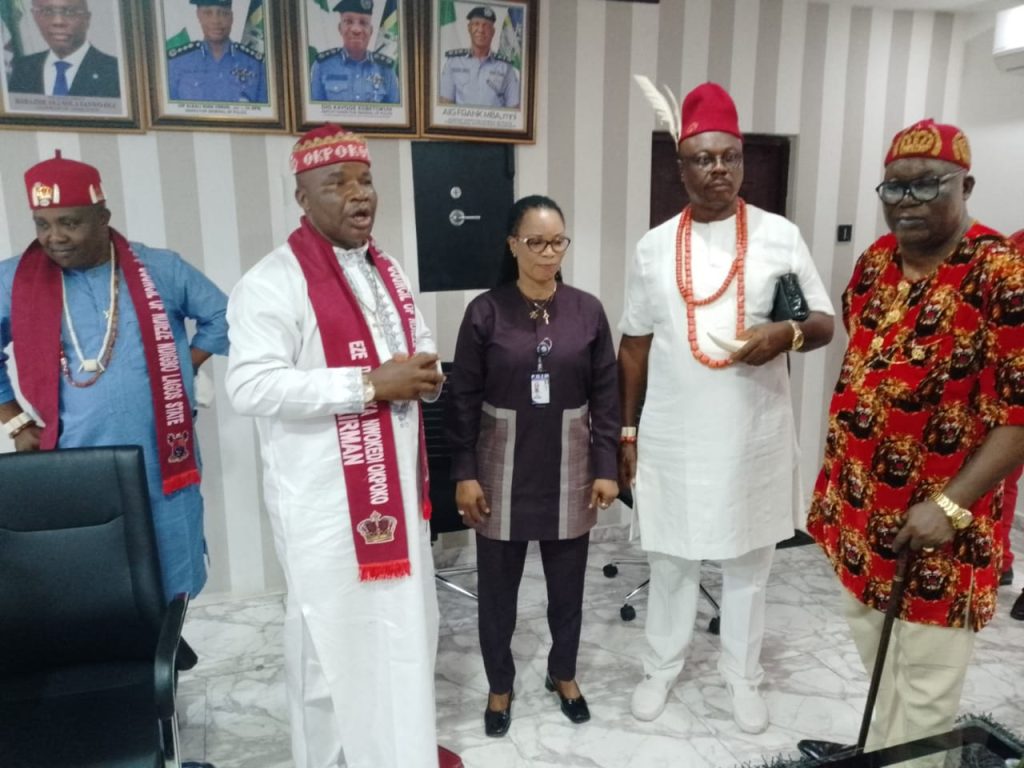 Before group and individual photographs were taken outside Mba' office, the Royal Fathers used the opportunity to appreciate and honor one of their daughters ,DCP Chioma Ajunwa, who has brought honor to Ndigbo in particular and Nigeria in general years back, when she won Olympic games gold medal.Gifts and Meritorious award was given to her.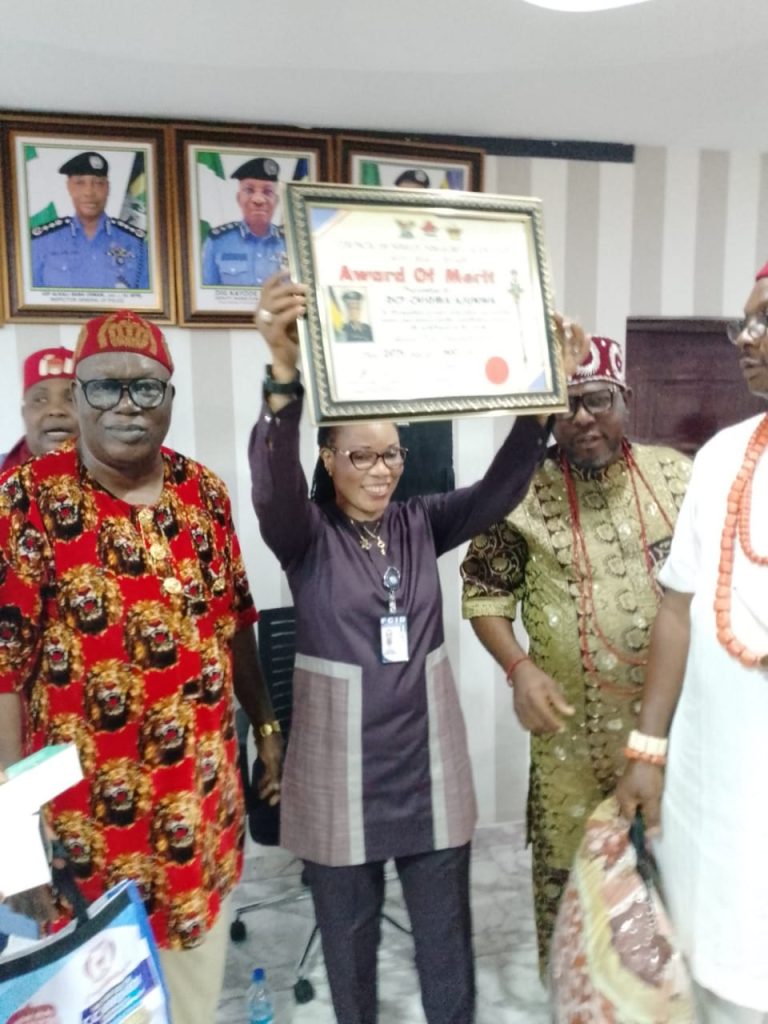 Some Members Of Igbo Council of Ndieze who were in the entourage are :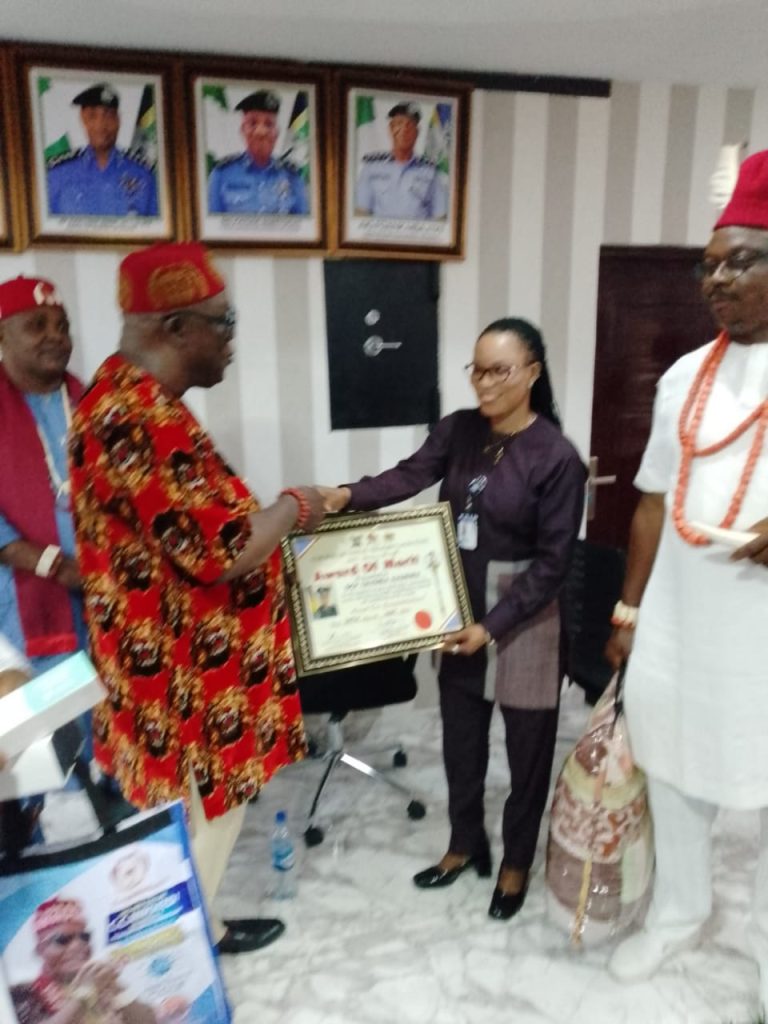 Eze Dr. C. C. Nwokedi – Eze Ndigbo Ijegun/Ijedodo (Chairman Council of Ndi Eze Lagos), Eze Jude Arinze – Eze Ndigbo Okota/Isolo (Vice Chairman Ndi Eze Council Lagos), Eze Ferdinand Aguneke – Eze Ndigbo Eredo LCDA, Epe( General secretary Ndi Eze Council Lagos), Eze Sunday A. Ojukwu – Eze Ndigbo Awumo Odofin ( Financial secretary Ndi Eze council Lagos), Eze Kingsley Nwololo – Eze Ndigbo Eti-Osa ( Provost Marshal Ndi Eze Council Lagos), Eze Uche Omeiheoma – Eze Ndigbo Lekki LCDA ( Welfare Officer), Eze John Nwoche – Eze Ndigbo Ojodu ( Ex- Officio), Eze Dr. Alex Nwoye – Eze Ndigbo Ejigbo LCDA, Edwin Obi – Eze Ndigbo Surulere, Eze Emmanuel Okoro – Eze Ndigbo Agbado- Oke Odo and also the President General of Igbo speaking community, Chief Sunday Udeh.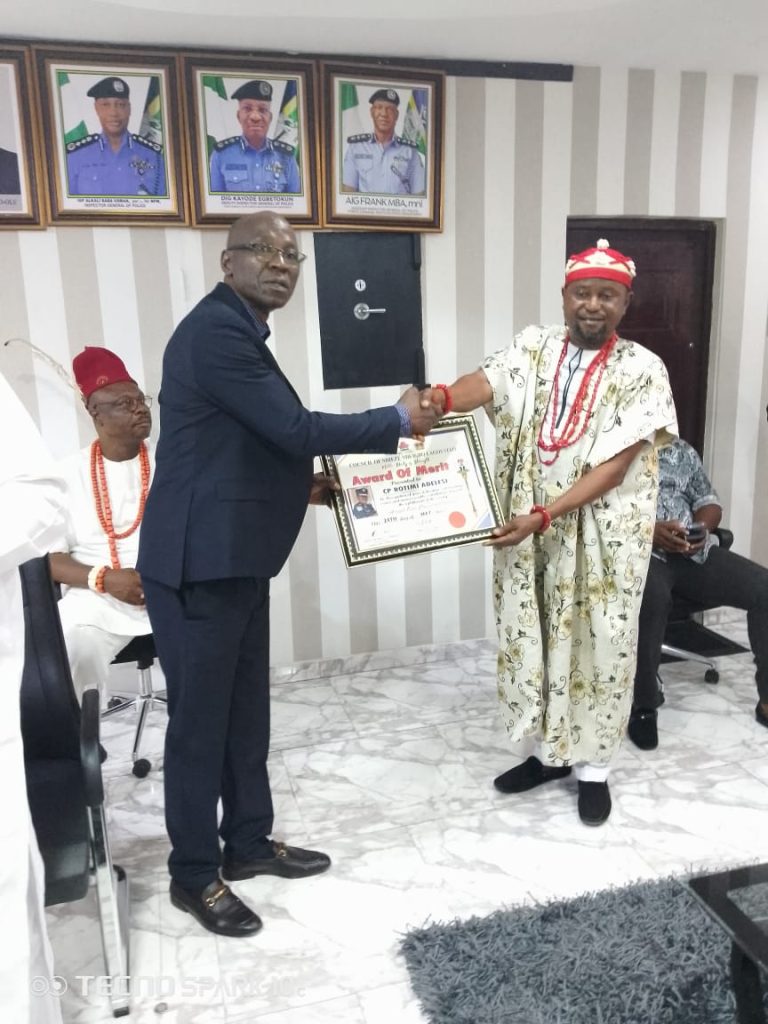 Share this Post