MARITIME SAFETY : Chief Of Naval Staff Seek Collaboration with Stakeholders,Harps On Potentials Of Blue Economy
Share this Post

The Chief of Naval Staff(CNS), Vice Admiral Awwal Gambo, said that the increased potential of the Blue Economy has no doubt expanded duties, role and responsibilities of Navies and maritime law enforcement agencies operating in Africa waters.
Gambo made this remark during the flagged-off ceremony of the Sea Power for Africa Symposium themed: "Africa's Maritime Domain Awareness Infrastructure towards Effective Ocean Governance' , which holds virtually from 30 November to 2 December, 2021 at the Naval Headquarters, Abuja, Nigeria.
He stated that, considering the fact that over 90 per cent exports are covered by sea and the gatherings of this nature are vital to forge collaborative frameworks towards protecting the over 18,950 miles of coastline on the African continent.
He further stated that the exploration of natural resources is forging new frontiers, especially with the huge natural gas reserve potentials on the continent amounting to more than 800 trillion cubic feet, which would no doubt accelerate Blue Economy activities.
The CNS further revealed that the Nigerian Navy, through the support of the Federal Government, has embarked on building institutional capacity for enhanced maritime governance.
This, he said , was typified by the launching of the Falcon Eye Intelligence Facility, the Deep Blue Project and different asset acquisition and capacity building programmes of the Nigerian Navy.
According to him, these efforts and investments are yielding the required outputs, especially with the recent reports of drop in piracy incidents within our waters. He also said the Federal Government is working assiduously with different stakeholders and tiers in government, to ensure that the root causes of piracy and other maritime crimes are mitigated through non-kinetic programmes and constructive community engagements.
In restrospect, the tradition of the Sea Power of Africa Symposium, was initiated by the Chiefs of the Navies in Ghana Kenya, Nigeria and South Africa at the International Sea Power Symposium held in 2003 at Rhodes Island, USA.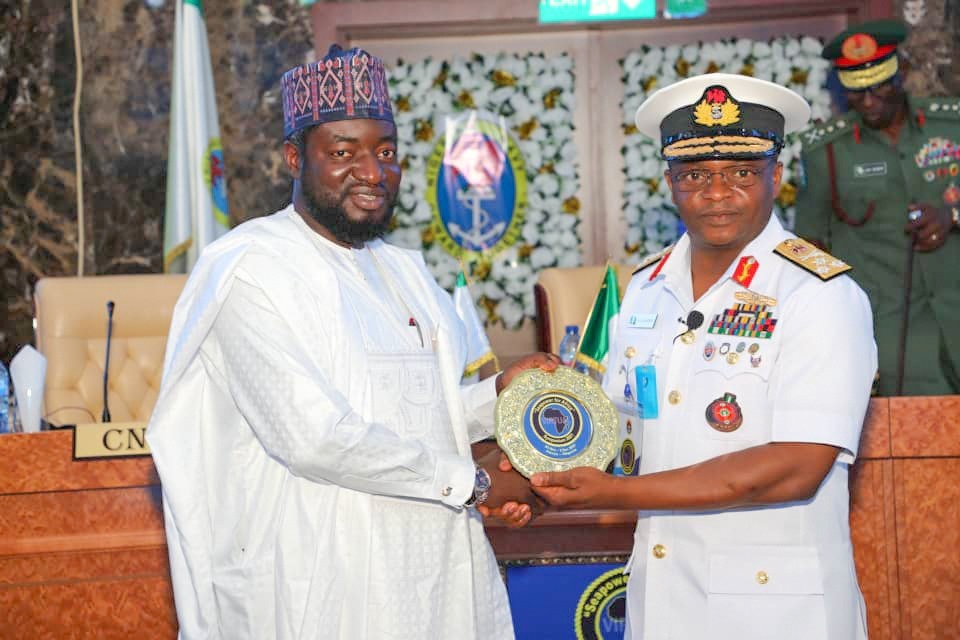 The Symposium offers a veritable platform for African maritime nations to congregate and cooperate to address maritime challenges facing the continent. The maiden edition was hosted by South Africa in 2005, followed by Nigeria in 2006 and again South Africa in 2009.
The 2021 edition is the first to be hosted virtually.
However, the Minister of Defence (HMOD), Major General Bashir Magashi, who flagged off the Sea Power for Africa Symposium , was represented by the Director Navy Ministry of Defence, Mr Fashina Kayode Julius. He stated that the planning and organization of the symposium is undeniably a welcome development, especially with the recent efforts towards consolidating and ensuring a downward slope of maritime criminalities within and around Nigeria's maritime domain.
The HMOD emphasized the immense support of His Excellency, Muhammadu Buhari, President, Commander-in-Chief of the Armed Forces, Federal Republic of Nigeria, towards the modernization of the Nigerian Armed Forces ; and stated that the process has included documentation and codification of enabling policy instruments aimed at achieving comprehensive enforcement of maritime laws.
Share this Post