Nigerian Navy Debunk Video Of Sinking NNS Thunder Ship, Says Its Mischievous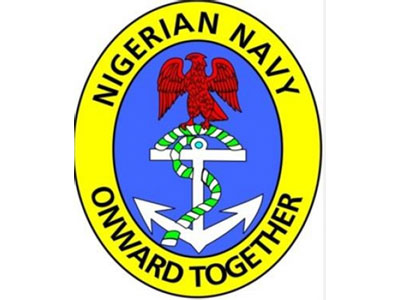 Share this Post
The Nigerian Navy (NN) has debunked the authenticity of a video making the rounds about a navy ship allegedly in distress. 

The Nigerian Navy in a statement signed by the Director of Information, Commodore AO Ayo Vaughan, said;"The attention of the Nigerian Navy (NN) has been drawn to a derogatory video circulating on social media platforms emanating from an unidentified crew member of a service boat, Motor Vessel (MV) PACESETTER, stating that Nigerian Navy Ship (NNS THUNDER) was under distress and MV PACESETTER was dispatched to rescue NNS THUNDER and possibly evacuate NNS THUNDER's crew or tow the Ship."
"In the video, the MV PACESETTER crew member lamented on why a Nigerian Navy war ship should be in such a terrible and helpless situation at sea, calling on Nigerians to vote for a particular Presidential candidate otherwise the country will sink just like NNS THUNDER."
"Ordinarily, such a mischievous video would have been ignored in that it is clearly from an unpatriotic, clueless and unprofessional seafarer. But considering that such video is capable of being exploited for negative political gains at this electioneering period, the NN wishes to set the records straight for the benefit of all Nigerians."
"On 28 January 2023, NNS THUNDER was at sea proceeding for Exercise OBANGAME EXPRESS 2023 when she was reported to be experiencing water ingress from a screw at the Ship's rudder about 30nm offshore Escravos.
The Ship used her submersible pumps and crew to pump out the water."
"However, after several efforts, the Ship sent out a distress call to NNS DELTA, Naval Base Warri as well as other vessels within its vicinity for possible assistance.
Consequently, NNS DELTA, Forward Operating Base (FOB) Escravos which are NN units nearby, as well as Motor Tanker (MT) UGO and MV PACESETTER contacted NNS THUNDER torender necessary assistance.
Currently, the situation is under control as the Commanding Officer of NNS THUNDER has confirmed that the water ingress has been contained and the Ship is proceeding to Lagos as initially planned."
"It is pertinent to note that vessels could experience distress at sea from factors beyond human control, even after all necessary precautions are taken against such occurrence.
Recently, a war ship sank in the Gulf of Thailand due to adverse weather condition."
"Also, in 2021, a new aircraft carrier in Europe suffered water ingress twice within 5 months of the year with the engine room flooded up to 3 feet, for which assistance was sought from well-meaning seafarers".
"In the same vein, the Nigerian maritime environment has recorded many incidents of vessels in distress whereby assistance was sought from seafarers and in some circumstances the NN intervened to salvage vessels and their crew. Most recently, in July 2022, NNS OKPABANA rescued a distressed oil vessel, MV NUE SWIFT off Bonny Fairway Buoy, the vessel having lost her means of propulsion at Agbara Platform while transiting from Forcados to Bonny."
"Obviously, incidents and emergencies develop at sea. It is for this reason among others that the United Nations Convention of the Law of the Sea (1982) Article 98 on "Duty to Render Assistance" at sea was enacted as an obligation to all seafarers internationally.
The state of NNS THUNDER is not as adduced by the crew of MV PACESETTER because while making the video the Ship which was at the background was not sinking. Thus, the
NN is of the opinion that the action by that crew member of MV PACESETTER is
mischievous, distasteful, unpatriotic and most undesirable as it is capable of putting the families of the ship's crew in a state of anxiety."
"The NN therefore wishes to call on the general public to jettison the video in totality. The public is also advised to desist from involving the NN in any form of politicking now and even beyond this election season as the NN remains apolitical and will not tolerate such careless mischief from individuals or groups."
"The Navy will focus on her statutory responsibility of safeguarding the nation's maritime environment against all forms of criminality so that maritime trade and crucial offshore economic related activities thrive seamlessly. You are please requested to disseminate this information to the general public."
Share this Post