Nigeria's Top 10 Online News Platforms Generate 250 Million Impressions in Q3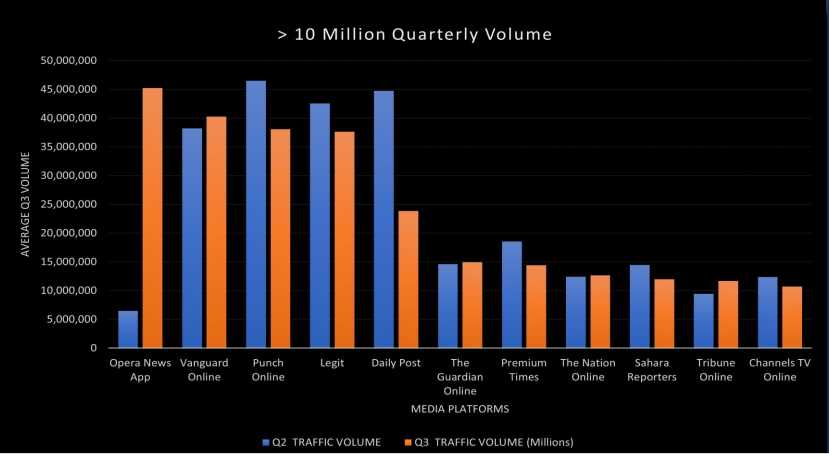 Share this Post
Nigeria's most visited online news platforms under the news and current affairs category received a cumulative traffic volume of 250.6 million between August and September 2023, according to the latest Digital News Ranking report by Squirrel Media Technologies for Q3, 2023.
The news platforms include Opera News App, Vanguard Online, Punch Online, Legit, Daily Post, The Guardian Online, Premium Times, The Nation Online, Sahara Reporters, and Tribune Online.
Launched in March this year, the Quarterly Report is intended to provide media relations professionals with resources that offer deeper insights into the performance of Nigeria's digital news platforms.
The latest ranking rated hundreds of digital news publishers based on their total quarterly traffic volume, and covered publications in the most popular news categories, including News and Current Affairs, Business and Finance, Technology and Startups, and Entertainment and Lifestyle.
The latest reports show that Opera News App, Vanguard Online, Punch Online, Legit, and Daily Post emerged as the most visited platforms in Q3.
Opera News tops the chart with 45.2 million cumulative views. Vanguard Online traffic volume recorded a 5% increase in Q3 to 40.2 million, up from 38.2 million in Q2, making it the second most visited platform in Nigeria within the period under review.
New Telegraph joined the Millionaire's Club – a group of online news platforms with a traffic volume of at least a million per quarter. The platform's traffic grew by 28% to 1.2 million from 908,674 in Q2'23.
All the news platforms with less than 50K traffic per month were also excluded from the Q3 ranking
In the online Business News Ranking, only 10 platforms with more than 50,000 traffic volume were included in the report with Business Insider Africa, Nairametrics and BusinessDay generating over a million traffic volume per quarter.
The total impressions generated by all 10 platforms reported in Q3 stood at 25.5 million, up from 14.7 million total impressions from 16 platforms in Q2.
Business Insider Africa, Nairametrics, and BusinessDay accounted for 88.55% of the total traffic share generated by this segment. Brandspur continues to make an incredible push with more than half a million traffic impressions.
Other platforms with notable traffic volume include iBrandTV, Business Post and MSME Africa.
In the Tech News Category, TechCabal sustained its lead of the category with a total traffic volume of 2.5 million, a 13% increase from the 2.1 million traffic volume in Q2.
Only TechCabal, Technext and GadgetStripe generated more than a million impressions per quarter. Consolidating on its gains in Q2, Technext joined the millionaires club, as its traffic volume surged 82% to 1.8 million in Q3 compared to 977K recorded in Q2'23.
In the Entertainment & Lifestyle Category, only 7 platforms that are worth their onions in this category were considered in the ranking.
Linda Ikeji's Blog remains the leader in this segment, accounting for more than 65% of the industry's total traffic volume.
Commenting on the report, the co-founder of SuirrelPR, James Ezechukwu said the latest reports reveal the growing influence of the dominant players and the tremendous opportunity available to advertisers looking to reach their target market through these digital news platforms.
"We remain committed to providing performance-based insights that will enable our partners to make informed media placement decisions. From this report, we see how events influence readership and how some platforms leverage their creativity in content marketing to maintain their dominance of each category," Ezechukwu said.

Share this Post