NNPC Hikes Petrol Pump Price By Over 300 Percent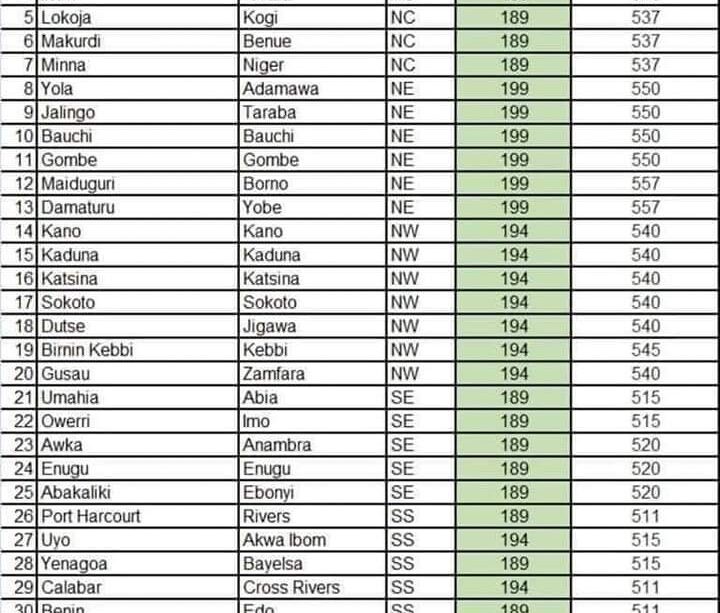 Share this Post
The Nigerian National Petroleum Corporation Limited has confirmed increase in the price of petrol contained in a list that surfaced earlier on Wednesday.

In the list, the management of the NNPC Limited approved over 300 per cent upward review of pump price of the Premium Motor Spirit also known as petrol.
The schedules which is posted side by side the current price and new pump prices in all states indicates that new price in Lagos has jumped from N184 to N488/litre; FCT Abuja from N194 to N537/litre and Port Harcourt from N189 now to N511/litre.Others are Kano with current pump price of N194 now jerked up to N540; Kaduna from N194 to N240/litre among other States in Nigeria.
The schedules added that the implement meter change has been approved to be effective from today, May 31, 2023.
The official confirmation was contained in a press statement signed by Garba Deen Muhammad, Chief Corporate Communications Officer, NNPC Limited.
The statement titled 'Adjustment in Pump price of PMS,' reads in full, "NNPC Limited wishes to inform our esteemed customers that we have adjusted our pump prices of PMS across our retail outlets, in line with current market realities.
"As we strive to provide you with the quality service for which we are known, it is pertinent to note that prices will continue to fluctuate to reflect market dynamics.
"We assure you that NNPC Limited is committed to ensuring a ceaseless supply of products"The company sincerely regrets any inconvenience this development may have caused.
"We greatly appreciate your continued patronage, support, and understanding during this time of change and growth."
Share this Post