"Nobody Will Kill A Police Officer And Go Away Scout Free", Vows CP Disu, As He Takes Over Rivers State Command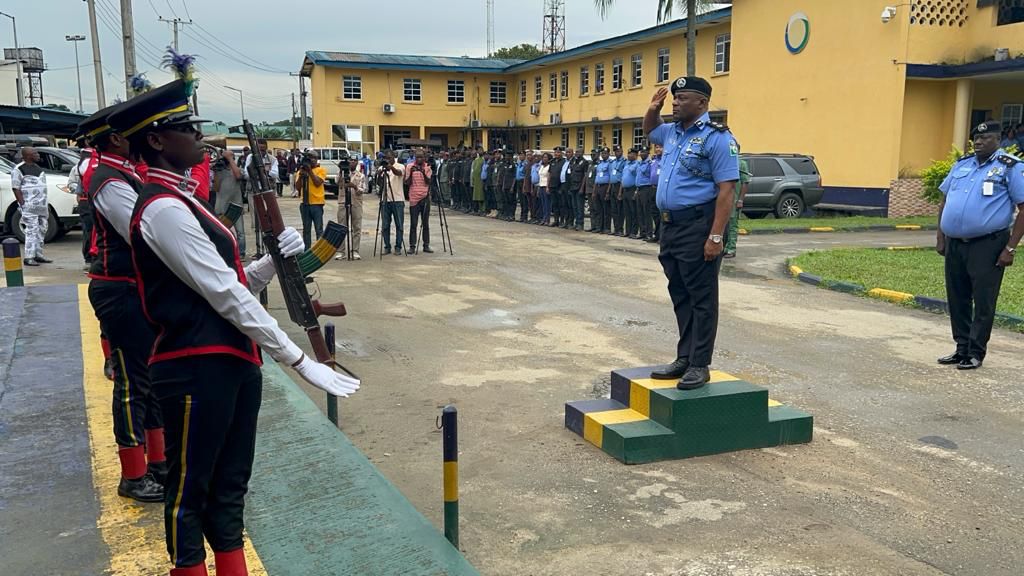 Share this Post
The newly- deployed Rivers State Commissioner of Police, Tunji Disu has vowed to apprehend culprits involved in the killing of a Police Officer in the Ahoada East local government Area.

CP Disu visited the troubled Ahoada East Local Government Area with a charge to officers of the command to get him 2Baba and other criminals terrorizing the area.
Disu who was accompanied by senior Police officers of the command while addressing officers of Ahoada Area Command and Division said
"I know how difficult it is for you people to enter those difficult areas.I want you to know that we are going to support you with all required logistics.
I want you to know how important we take your job.My first assignment was to come and see you,to tell you how important you are".CP Disu further charged the officers to give him success by arresting the culprits while adding that nobody will kill a Police officer and go away scout free .
He also advised the officers to keep safe to avoid injuries and fatality.
CP Disu with his men also visited Odieremenyi community where five natives were killed on Sunday 12th November,2023
Meanwhile in an interaction with Chairman of Ahoada East Local Government Area, Ben Eke Esq, CP Disu said the command under his watch will do everything possible to bring everlasting peace to the LGA.
The Rivers Police Boss Stated the command will put in alot of effort to ensure sustainable peace.
CP Disu while commending the LGA Chairman for all his doing for the Police in the area said his visit to the LGA is his first assignment as Commissioner of Police
Responding Ben Eke, told CP Disu that his visit to Ahoada East LGA upon resumption of duty shows that the CP has Rivers state at heart.
Ben Eke said "I must tell you the truth .The Police is trying.Several arrests have been made.What happened days ago is just a display of frustration and they want to blackmail the Government.
"I must commend the Police and the Police too should not be deterred at all .As a Government we are ready to provide the necessary support to ensure that those hoodlums are arrested and that the proper thing is done.
"We will give you every support to ensure you succeed as Commissioner of Police in Rivers State.For the Area Command,Division and other security agencies in the area we will give them the necessary support so that at the end of the day we will get the culprits.
"Knowing again that the Yultide is just around the corner,if the culprits are not arrested and brought to book our people will not come home.People are leaving the area".
The LGA Boss also thanked the CP for the visit.
Share this Post