Research, Competency Solutions' Automotive Training Academy Now In Nigeria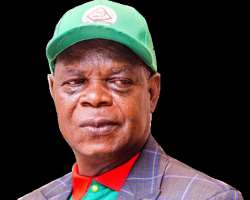 Share this Post
The President of Automobiles And Road Safety Initiative, Mr. Samuel Oloyede Oriowo, has announced the establishment of an automotive research and competency solutions training academy in Nigeria.

The Initiative, a Non – Governmental Organization incorporated in 2013 with the approval of Federal Road Safety Commission,FRSC, had its West Africa Automotive Institute duly registered in Nigeria by Corporate Affairs Commission on the 21st day of February 2023; as a Private Company Limited by Guarantee.
The Osun State Government (Nigeria) in accordance with the provision of the state's 1999 Edict (Edict 1999); through its; Osun State Board for Technical and Vocational Education registered West Africa Automotive Institute as a Private Technical College/NABTEB Examination Centre; with Registration Number: 049; on 28th March 2023.
NABTEB, the National Business and Technical Examinations Board, a globally acknowledged assessment body for Craftsmen and Technicians was established in Nigeria in 1992 to domesticate craft-level examinations which were hitherto conducted by City & Guilds, Pittman's, and Royal Society of Arts; all of UK in accordance with the provisions of the National Policy on Education.
The West Africa Automotive Institute whose infrastructure was earlier launched with a funfair at the Sheraton Hotel, Ikeja, Lagos on 14th December 2022 is now temporarily located at Block 1, Mechanics Village, Ilasamaja, Mushin Local Government Area of Lagos, South-West, Nigeria.
The main purpose behind the establishment of West Africa Automotive Institute is to initiate first, a nationwide and in the medium-term, West Africa sub-regional force with the objective of providing training and skill development to the youth of the sub-region covering each and every village, city and to empower all individuals through improved skills, knowledge and employment opportunities.
The institute will offer courses with varying durations in Automotive Vehicle Engineering Technology, Automotive Mechatronics Technology, Automotive Workshop Management Technology, Automotive Safety Management Technology, Automotive Business Management Technology, Information Communication Technology, Transport Safety Management Technology, Vocational Enterprise Courses under its Competency Certificate and Advanced Certificate for graduates and working class Nigerians and indeed West Africans.
Graduate students of the West Africa Automotive Institute; under its Apprentice Certificate & Advanced Certificate courses will also undergo the NABTEB & the Nigeria Federal Labour Trade Text Certifications.
The main objective of these courses is to diversify skills development programmes to meet the changing requirements, particularly of the emerging knowledge economy; as the West Africa Automotive Institute builds true marketplace competencies rather than mere qualifications in making the youth 'autoprenures'; instead of job seekers.
In affiliation with National Board for Technical Education (NBTE), West Africa Automotive Institute will run a 2 Year Course in Automotive Mechatronic Technology leading to its certification with an award of Professional National Diploma (PND) as well as post PND programme in the same course and related ones.
According Mr. Oloyede Oriowo, the President of the West Africa Automotive Institute, who also is the President of Automobiles And Road Safety Initiative , has organized various road safety enhancement-related workshops, seminars and advocacy across the country for members of the Nigeria Automobile Technicians Association (NATA), through the sponsorship of 11 Plc (formerly Mobil Oil Nigeria), the West Africa Automotive Institute is a novel idea.
Oando Plc, MRS Oil Nigeria Plc, Eterna Plc, Ammasco International Limited and SEAHORSE Lubricant Industries Limited, Nigeria's lubricants and fuels titans, as well as JAC Motors, a subsidiary of Elizade Motors, main distributors of Toyota vehicle brands in Nigeria, had variously keyed into the activities of Automobiles And Road Safety Initiative.
Oloyede Oriowo, revealed that the institute will elevate knowledge and practice, and create young people who will drive the country's safe driving and durable motor car initiative with emerging technology from vehicle manufacturing plants to the mechanics' workshops.
Having closely worked with the leadership of the Nigeria Automobile Technicians Association (NATA), through the publication of the association's trade journal: NATA News, Samuel Oloyede Oriowo knows (all-round) the limitations of the current auto technicians in the country's most reasonable percentage of who are barely literate and the publisher, who's the president of the institute is seriously striving to contribute to changing the facet of the repair/maintenance sector of the Nigeria Automotive Industry.
According to him, the core duties of the West Africa Automotive Institute as a research and mono-technical centre are for the training of technicians for the automobile market on motor vehicle maintenance technics, auto electrical technics, global fabrication, and electronic parts identity codes, internet communications in automobile engineering, design, safety practices and budget management at the vehicle workshop.
Designed as a top-notch competency solutions centre, the West Africa Automotive Institute boasts of high-net expert tutors who will consistently impact immensely on the students of the institute with needed skill development schemes in order to bridge the gap for employment generation; enhance competitiveness of Nigerian (and West Africa) Automotive Business; prepare the youth of the West Africa sub region as a manpower resource for World Markets; and to ensure quality and relevance of the training.
The West Africa Automotive Institute will lead and maintain a prime position in providing necessary Certification of existing/practising Nigerian Automotive Repair/Maintenance Technicians; to constantly accept the best ethical standards that the Nigeria Automotive Industry needs, but which are still none-existence.
Liquefied Petroleum Gas/Compressed Natural Gas (LPG/CNG) which is well-used for cooking all over the continent, has been and is being used to fuel cars in other parts of the world. Undoubtedly, CNG vehicles as an idea are the real one; whose time has come and the West Africa Automotive Institute is already keying in into it as Nigeria has extensive natural gas resources.
Natural gas is significantly less expensive than petrol. Its cost is low than petrol. In some areas, natural gas costs as low as a third of the cost of petrol on average. CNG is more eco-friendly than petrol and produces far fewer harmful emissions and hydrocarbons than petrol; and using CNG makes the vehicle engine cleaner and more efficient, unlike petrol.
Currently, the West Africa Automotive Institute is in partnership with some European cng providers/experts to train Nigerians on the conversion of Compressed Natural Gas (CNG) to power vehicles in the country.
Any student that passes through any of the courses at the Institute will surely be taken through the nitty-gritty of the simplest ways to convert cng to power vehicles.
In order to reduce the employment of Nigerian youths, the West Africa Automotive Institute is using this medium to call on well-to-do Nigerians, corporate entities, governments at all levels; its agencies, corporations, Niger Delta Development Council, North East Development Council, Federal Ministry of Petroleum Resources, National Automotive Design and Development Council, Churches and Mosques as well as foreign governments to support the academy in skilling the unskilled youths and adequately empower them to alleviate youth restiveness and related tensions in the country; as all courses offered at the institute attract moderate fee.
The West Africa Automotive Institute also calls on Original Equipment Manufacturers (OEM) across the world to donate workshop equipment (at its permanent campus in Ilesa, Osun State, South-West, Nigeria) to assist in the practical learning process and thereof open their various repair/maintenance enhancement equipment as a form of introductory process to the aspiring automotive workshop owners.
Automotive resource persons/automotive instructive books/journals publishers are highly appreciated and welcome to contribute their works to stock and enrich West Africa Automotive Institute's Library; which will be a reference point to students all over Nigeria.
In joining hands with the Nigeria Federal Government to combat the menace of fake, sub-standard vehicle parts and lubricants, the West Africa Automotive Institute is stocking original vehicle spare parts, lubricants, filters and other essential allied products for easy accessibility of vehicle owners and other repair/maintenance stakeholders.
And as an outstanding Research Institution, the West Africa Automotive Institute will constantly carry out random tests on all brands of vehicles in the country to ascertain its engineering originality and suitability for Nigerian Roads.
Significantly, the West Africa Automotive Institute will confer Honour on all infrastructure/equipment, cash and grant donors as well as students/programme sponsors in the West Africa Automotive Institute's Hall of Fame.
Note: Donors can access West Africa Automotive Institute via: https://waai.com.ng/donation/; for that purpose.
Ilesa, the location of the permanent campus of the West Africa Automotive Institute is a driving distance of 25 km from Osogbo, the Osun State capital and can be cruised within 24 minutes.
There are 2 major roads linking Ado-Ekiti, the Ekiti State capital to Ilesa. And whichever of the roads one travels, it takes less than 43.33 minutes to get to Ilesa metropolis.
The travel distance (65 km) between Akure, the capital of Ondo State and Ilesa can be covered in about 1 hour.
While travel distance (58.50 km) between Ondo Township and Ilesa; driving through Ile-Oluji in Ondo State via Ipetu-Ijesa, Osun State to Ilesa can be covered in less than an hour.
It takes a traveler driving from Ile-Ife to reach Ilesa (32 km) about 30 minutes.
West Africa Automotive Institute; a trail-blazer initiative is design to have functional, secured, conducive hostel accommodation for students from all over Nigeria and the West Africa sub-region.
The West Africa Automotive Institute will appreciate donations of infrastructure at its permanent campus.
Interestingly the Institute is commencing its training activities with an Online version of Automotive Mechatronics Technology training in order to get to the larger number of Nigerians who are expected to benefit from the programme.
Meanwhile, the Institute is already in partnership with more than 400 competent independent Automotive Workshops across the country where students will be deployed for real impactful practical training for a reasonable period of time before they are present for relevant examinations.
Oye said registration is currently ongoing for the online training version; which will take off in September 2023.
Share this Post