Stanbic IBTC Gains 19.28% on Better Earnings, Strong Dividend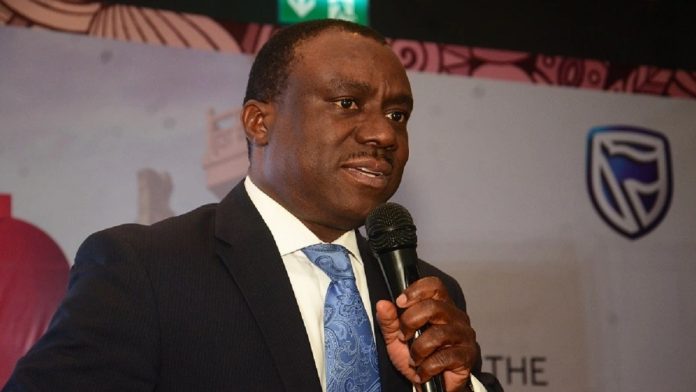 Share this Post
Stanbic IBTC Holdings Plc will be paying more than N45 billion as a total dividend to shareholders from N80.814 billion unencumbered after-tax profit, according to its audited financial statement for 2022.

As investors pitched their tents with the bank, its market valuation gained 19.28% year to date. The well-diversified financial service group's shareholders will receive their final dividend in May 2023.
Stanbic IBTC Holdings' board of directors proposed a final dividend for payment subject to shareholders' approval following strong earnings upbeat reported in the financial year 2022.
In its audited statement, the group said it has settled N19.436 billion interim dividend to shareholders and will be paying N25.914 billion in May if it obtained approval at its annual general meeting.
With a payout ratio of 50%, the total dividend payment for 2022 was N45.35 billion, higher in absolute terms when compared with N38.871 billion paid in 2021. Relatively, the payout ratio slowdown from 68.23% in 2021.
From the beginning of the year to date, Stanbic IBTC's share has gained 19.28% in the Nigerian stock market. The share has appreciated by more than 35% in 6-month and it recorded a gain of 14.66% in 12-month.
Still dominated by Standard Bank subsidiary, Stanbic Africa Holdings Limited (SAHL), the group valuation has increased to about N517 billion at a share price of N39.90– bigger than some Tier I lenders.
SAHL accounts for 67.5% of the ownership structure of the financial services group. Its director's shareholding was just 0.37% of a company valued at N517 billion as of Friday's close.
A review of the group's performance showed that Stanbic IBTC's N6.03 earnings per share record is still below 2020 figure – though it was a significant recovery when compared with N4.20 that was delivered last year.
In five years, Stanbic IBTC has grown its profit by 1.6% on average, though earnings per share record over the same period seat at 3.05 negative.
The Group's gross earnings increased by 39.15%, profit before tax increased by 52.04% and profit after tax increased by 41.86% by for the year ended 31 December 2022, its audited report said.
Maintaining a stable dividend policy, the directors' recommended the approval of a final dividend of 200 kobo per share for the year ended 31 December 2022
The group told the Nigerian Exchange that a final dividend of N2.00 per ordinary share of 50 kobo each, that is, N25,913,994,326.00, will be allocated to shareholders whose names appear in the Register of Members as at the close of business on Monday 03 April 2023.
On Friday 26 May 2023, dividends will be paid electronically to shareholders whose names appear on the Register of Members as of the close of business on Monday 03 April 2023 subject to other conditions.
Its audited report indicates that the group met its free float requirement on the Nigerian Exchange as a public listed company. Its free float value was about N134 billion, translating to 30.92% of its valuation at the time.
How Did Stanbic IBTC Perform?
There are so many things to like about the financial services group's performance in 2022 despite a turbulent economic playbook. Stanbic IBTC declared N80.814 billion profit in 2022, 41.86% above N56.966 billion that was declared in the comparable year in 2021.
20222021Diff%Revenue287.537206.64480.8930.391461Profit80.81456.96623.8480.418636P/R0.2810560.275672The profit came following healthy growth in gross earnings in the period. The audited report shows that Stanbic IBTC gross earnings surged 41.86% year on year to N287.537 billion in 2022, from N206.644 billion.
The group's earnings was helped by a significant increase in trading revenue, better than the previous year's performance in lending and non-interest revenues amidst monetary policy tightening that started in May, 2022.
Its life insurance revenue delivered multiple growth at the same time when there was a positive contribution from other income line items in the financial statement.
Compared against write back in 2021, Stanbic IBTC recorded a strong increase in impairment losses in 2022, arising following its aggressive loan and advances to customers which crossed N1.2 trillion.
In line with Nigeria's inflation rate trend, the group's operating expenses rose. This has moderate impacts on the group bottom line on account of healthy growth in gross income – which appeared to have priced in inflation condition.
How was the Bank Funded?
Deposited funds account for a large chunk of the group capital structure, supporting its equity position at the time in addition to steep leverage. Stanbic debt's profile increased as it refocused itself on the retail market following interest rate hikes.
Basically, the bank continues its intermediation function by collecting funds from development banks, and the Central Bank of Nigeria at low costs in its on-lending activities.
Supporting its N407.67 billion equity capital, the group finance its operation with borrowings. As of December, Stanbic IBTC recorded about N188 billion as an amount borrowed at different rates.
Its finance sources include the Central Bank of Nigeria (CBN) initiated an on-lending naira facility from the Bank of Industry in September 2010 at a fixed rate of 1% per annum on a tenor based on an agreement with the individual beneficiary customers.
The bank hinted that the unsecured facility was granted under the Power and Aviation Intervention Fund scheme and Restructuring and Refinancing Facilities scheme. Stanbic hints that the disbursement of these funds is represented in loans and advances to customers.
Also, the bank obtained an interest-free loan from the Central Bank of Nigeria (CBN) for the purpose of on-lending to customers under the Commercial Agricultural Credit Scheme (CACS).
The tenor is also based on an agreement with individual beneficiary customers. Again, Stanbic said disbursement of these funds is represented in loans and advances to customers. Based on the structure of the facility, the bank assumes default risk of the amount lent to its customers.
The Bank obtained a real sector support funding of N10.9 billion from the Central Bank of Nigeria at an interest rate of 3% for 7 years. The facilities have different expiry dates with the longest expiring on 17 June 2027. #Stanbic IBTC Gains 19.28% on Better Earnings, Strong Dividend.
Share this Post