Supreme Council Leaders Bemoan Gruesome Attack On Igbos In Lagos, Urge Governor Sanwo Olu To Urgently Intervene, Release Detained King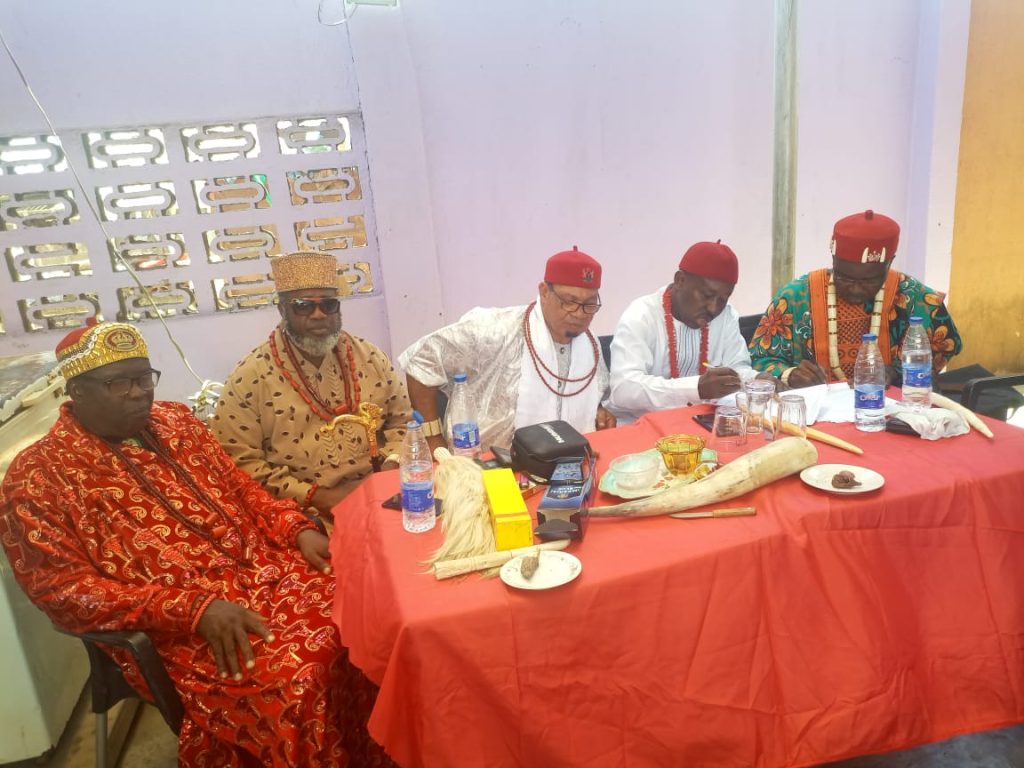 Share this Post
Following orchestrated and organized hate attacks unleashed on South Eastern Zone residents , the Supreme Council of Igbo traditional rulers in Lagos yesterday, strongly condemned what they called the gruesome attack on people of Igbo extraction by political thugs during last Saturday's Governorship and State Assembly election in Lagos.

The Council also called for the urgent release of Eze Chinedu Mozie currently held by the police at the State Criminal Investigation Department (SCID) facilities at Panti Yaba Lagos.
Addressing journalists at a press conference at Shasha area of Lagos on Monday, the Supreme Council of Ndi Eze Ndi Igbo Lagos led by Eze (Dr) Lawrence Nnamdi Eze said it had come to them as a surprise that Mozie who is the Eze Ndi Igbo at Ibasa Riverine community in Ibasa Satellite Town, Lagos and the Igbo Community who had lived harmoniously with their Yoruba host community could suddenly become victims of attack.
Speaking , the Vice Chairman; Eze (Dr) Vincent Iwobi said that information reached the Council about the attack on Eze Mozie after he had been taken to Panti.
The attack on Eze Mozie was said to have taken place while he was on his way to cast his vote.Mozie was said to have been accosted by the Oba of Ibasa Riverine on his way to the polling unit and was bluntly told by the Oba that the Igbos were no longer allowed to participate in any electoral process in Lagos State in compliance with "order from above."
Efforts by Eze Mozie to explain that he had constitutional right as a tax paying citizen to exercise his franchise was rebuffed by the Oba who instantly authorized youths of the community together with masquerades to resist Eze Chinedu Mozie and his Igbo community members who had set out to vote.
The scenario reportedly degenerated into physical exchange of blows and subsequent use of cudgels, broken bottles, cutlasses and other dangerous weapons against Mozie and his people by the Oba and his thugs.
Attempt by Eze Mozie to defend himself and subsequently broke lose from his attackers to avoid being lynched but ironically the only place he could run into, was the palace of the Oba. As he was already in his enemies' den, he was helpless and was at the mercy of the same Oba who immediately summoned police to effect his arrest.
Eze Chinedu Mozie was subsequently taken to the SCID Panti. He was reportedly bleeding profusely from all parts of his body, unable to walk or talk. As at time of the press conference, it was gathered that he was still being detained and hospitalized at the State CID Panti Yaba.
Angered by this inhuman treatment to a fellow Nigerian, the Igbo Supreme Council has called on Governor Babajide Sanwo-Olu to urgently order the release of Eze Chinedu Mozie to enable him receive proper treatment in a good hospital.
The Igbo leaders have also requested the Lagos State Government to investigate the matter with a view to ascertaining the brains behind this heinous act capable of causing break down of law and order.
They felt highly embarrassed that the Igbos in Lagos should be singled out for unprovoked attack.
They reminded those promoting ethnic bigotry against the Igbos that as Nigerians, the Igbos are entitled to reside any where just as the Yorubas and other tribes have the right to live wherever they choose.
Other members of the Supreme Council of Ndi Eze Ndi Igbo in Lagos at the conference included Eze (Pharm.) Edwin Obi, who is Secretary of the Council, Eze Chukwu Akalika Mmadu Emmanuel, Eze Ndigbo Oriade, Eze (Dr) John Chukwudi Nwosu, Eze Igbo 1 of Mushin, Eze Jude Nnaemeka Arinze, Eze Ndigbo Okota Isolo, Onowu of Shasha, Chief Benson Nwosu
Share this Post