U-N-B-E-L-I-E-V-A-B-L-E : Police Seargent Invades His Community With Thugs ,Brutalize Neighbour, Widow, Over Coconut Tree Dispute.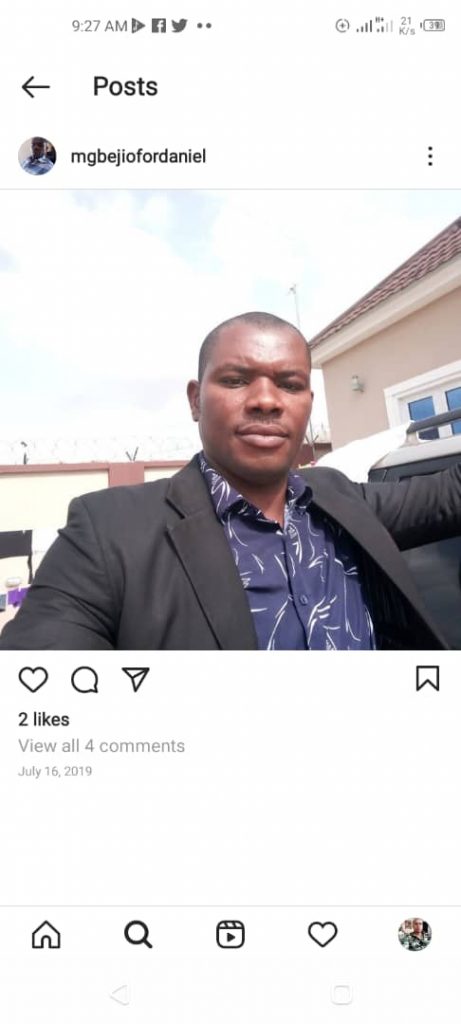 Share this Post
In what was described by community leaders,  as a case of  " Brothers Against Brother ", Police in Enugu, it was learnt , have declared a manhunt for a Serving  Police Seargent in Abuja, Daniel Mgbejiofor , with Force Numbers F/512231, who  allegedly inflicted grievous bodily harm on his half brother and willfully destroyed properties of his relative, after he was said to have  invaded his village with some thugs,over a coconut tree dispute with a widow .

Seargent Mgbejiofor, who was later found to be a Specialist Police Officer attached to the  Logistics and Supplies (works Department) Abuja , Under  Commissioner of Police,  CP Shaibu,  was said to have evaded arrest and escaped from  Enugu State, back to  Abuja,  when the Oji River Police  Division, despatched an invitation letter requesting his presence over the case of  " Conspiracy /Assault Occasionaling  harm " preferred against him.           
According to the Investigation  Police Officer , IPO,  Corporal Kingsley  Nnaji ,  " Seargent Daniel Mgbejiofor and his group are yet to be apprehended,  after the incident that happened in Enugu – Achi Agu , Oji River Local government Area."                                                                                              
" We gave his community chairman and the community security an invitation that if they see them , that they should bring them down to the station , they should invite them. We learnt that they are not stable, they are not staying at home, they came back and after the issue, they went back again. we would have rooted his invitation through his office in Abuja, but we don't have his force numbers ,with out which ,we can not do much .what I extracted from the crime diary is Assault occasioning harm, wounding and malicious damages ", Nnaji said .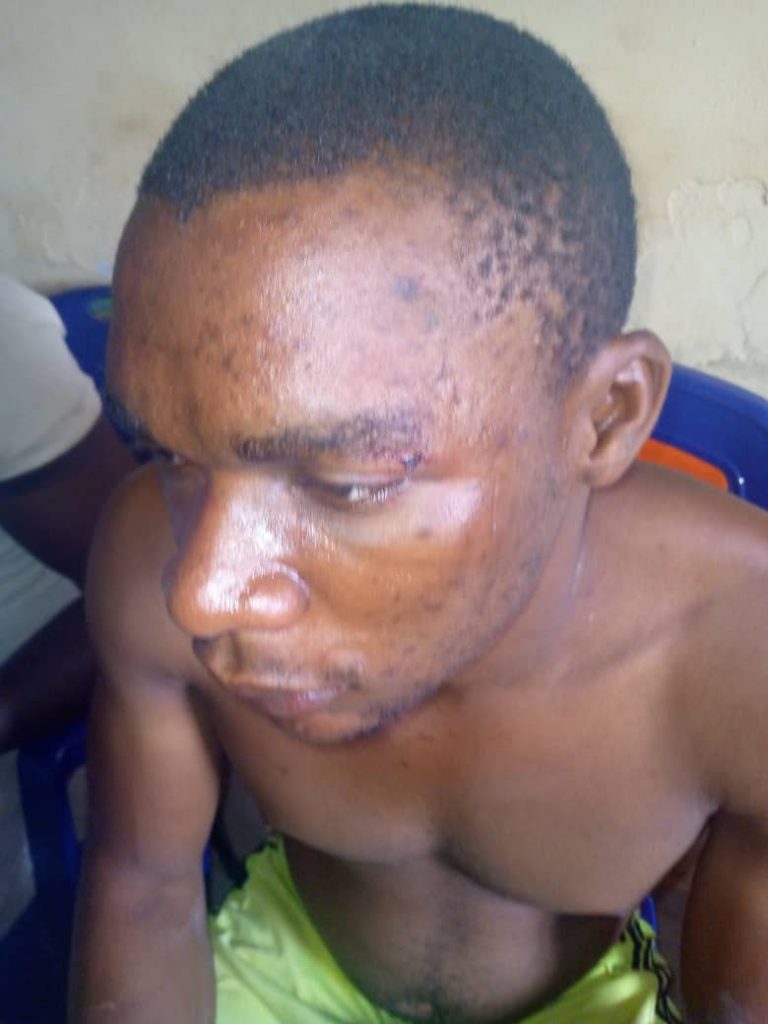 "As if the earlier beatings and injuries were not enough, they came again on April 7th,2021, to my place of work and continued their beating ,because they said that I refused to apologize to their father, after one week grace they gave to me.They attacked me, wounded me and continued the beating until I fainted and they left me there in the pool of my blood ,until a good samaritan from our community named killer Jeo Uzo despatched a car that brought me to his house and after taking photographs of my injuries with his phone, he called the DPO of Oji River Police Division, informing him that I was coming to make a formal report".
"At Oji River Police Division, they took my photographs and statements and asked me to go and take care of myself as the people that committed the crimes had fled .They now gave me police invitation letters for the Seargent and brothers, which i sent through the chief security Officer of our community."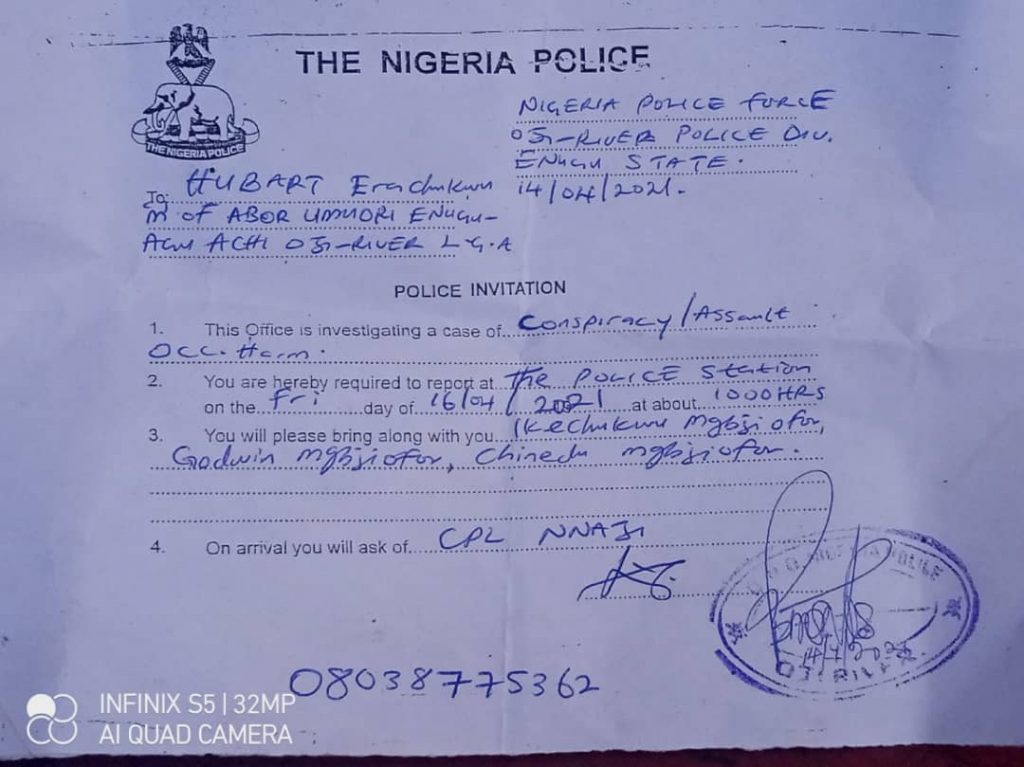 According to the 26 years old Tiller, Despite the trauma, intimidation, injuries inflicted on him and his mother by Ephraim Mgbejiofors family, Ephraim has unlawfully through malicious prosecution, gone to a customary, and Magistrate court to secure an improper eviction order aimed at quitting them from his late father's brother, Ebenezers house ,where they are residing since his father's death , Claiming that as the oldest surviving son of late Mgbejiofor, he owns everything in the family.
He appealed to the Governor of Enugu State, His Local Government Chairman and the Inspector – General of Police , IGP Usman Alkali Baba, to call for proper and independent investigations, with a view to protecting their lives and granting him and his widowed mother justice.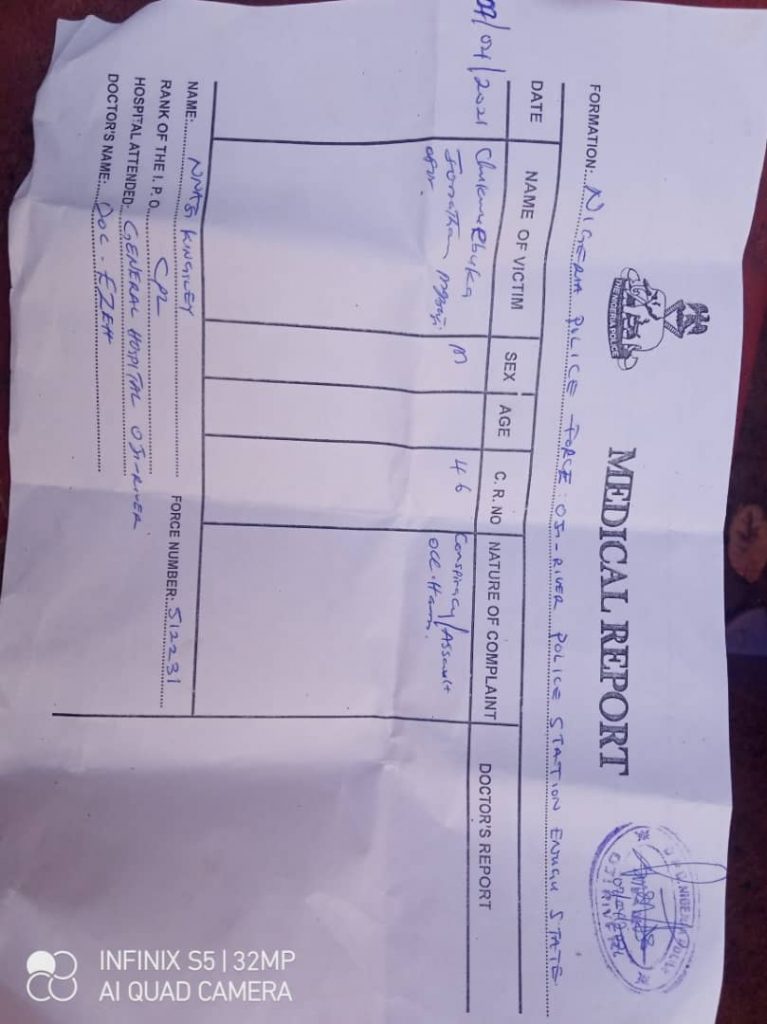 "I have been on medical treatment since then and the suspects have refused to surface in our village again ,rather his father is making life unbearable for us in our own house ", Chukwuebuka said.
In an interview with the village head, Nze Cyril Obitulata , he frowned at the move by Ephraim to evict the widow, philomena and his son from Late Dr. Ebenezer Mgbejiofors house.
Collaborating the allegation of unlawful eviction against the widow, Nze Obitulata, declared that the house in dispute does not belong to Sergeant Daniels father, Ephraim Mgbejiofor .
" I have spoken to Ephraim informing him that he has no ' locus standi ' to evict the widow, because, he is not the rightful owner of the house . For the fact that Ebenezer and philomena's husband are late,they had children who are alive . I have told Ephraim to leave the property alone but he is still pursuing it and I don't why", he lamented .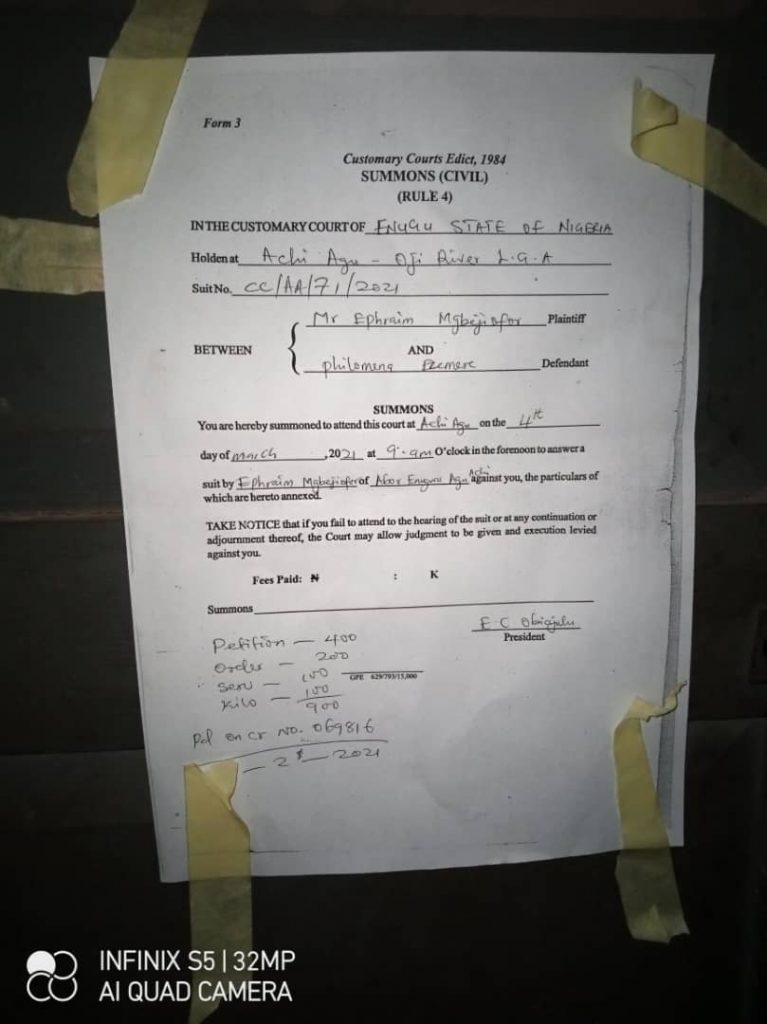 "It is the property of late Dr. Ebenezer Mgbejiofor , who had his own children , who are supposed to inherit the house or any other person from his lineage, has more claims over the house than any other person from any other group," Nze said.
Lamenting further over Ephraims contest on the property, the Village Leader, who is also an Engineer, said thus : " I don't know why Ephraim is contesting with the widow, Philomena , over that property , I have told him severally to leave the house alone. For the coconut tree, I don't know much, I heard that they planted it for one of Ebenezers sons and if so , it means that Ebenezers son owns it by our tradition, just as the compound belongs to them. "
Speaking on earlier attempts to reconcile the disputing families, he confirmed that he had tried in the past to bring the two families together so that peace will reign in the community .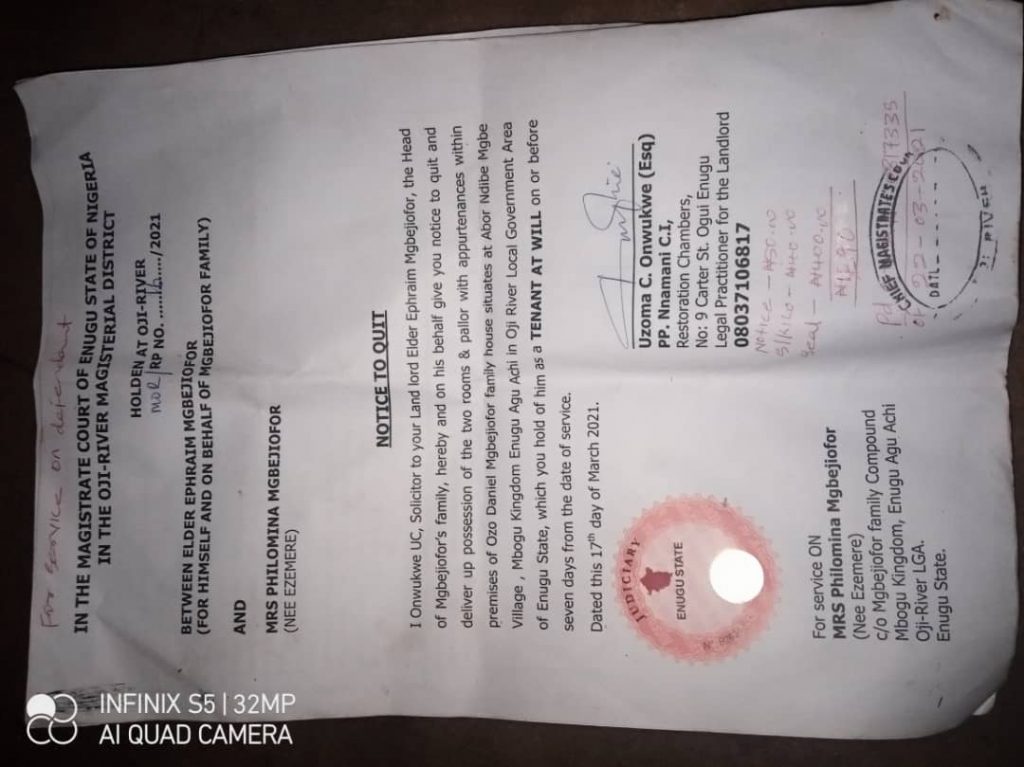 " In our tradition, when a man marries two wives, after his demise, the first son of the first wife is the real owner of house. I have told Ephraim that he has no right to evict philomena from that house because she has the consent of Ebenezers late wife and children to stay there, he Concluded .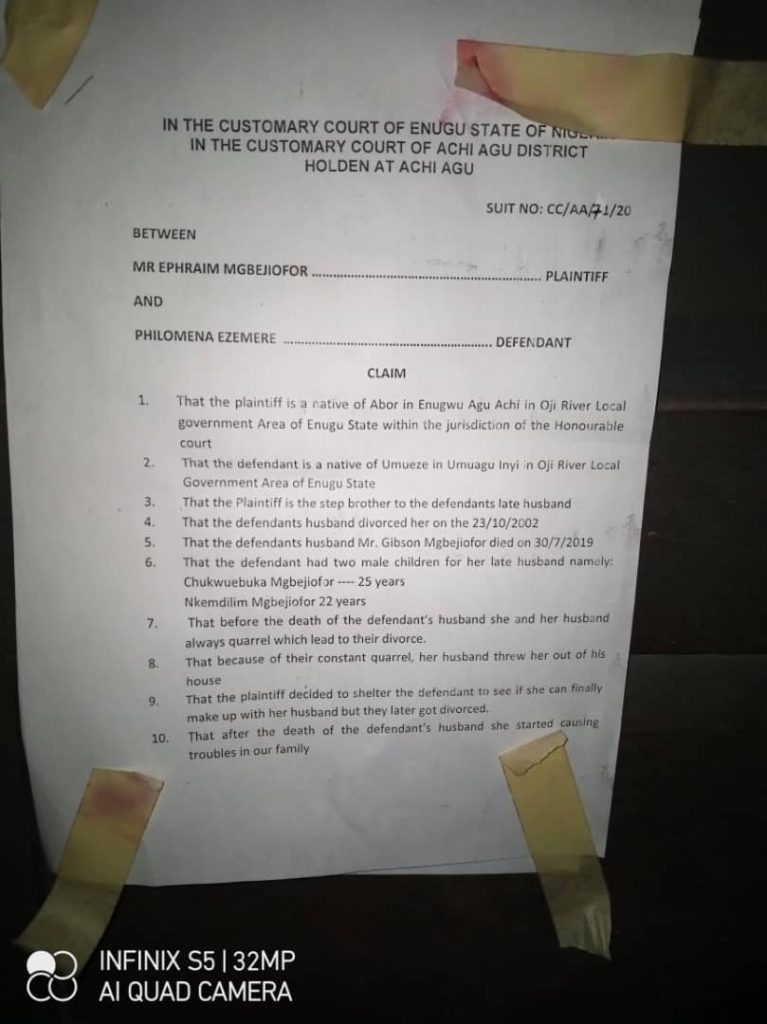 When our Correspondent contacted Seargent Daniel , he denied all the allegations against him, claiming that he was not aware of any invitation from the police.
Share this Post