Acting IGP Condemn, summons EDO policemen who ran over a driver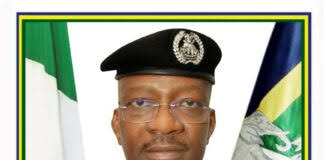 Share this Post
Acting Inspector-General of Police, Olukayode Adeolu Egbetokun, has condemned the disturbing incident where a police team ran a vehicle over a citizen on Thursday June 29, 2023 at Ekpoma, Edo State.

The policemen have been in detention at Edo State Police Command, but in a later development, the acting IGP has ordered that they should brought to Abuja for disciplinary actions.
In a statement by Force Public Relations Officer (FPRO) CSP Olumuyiwa Adejobi, he noted that," the IGP has, therefore, directed the erring policemen, who have been in detention in Edo State, to report to the Force Headquarters,Abuja on Monday for further action.
Members of the public, particularly the people of Ekpoma, are implored to remain calm as the present leadership of the NPF will not condone such an act of unprofessionalism and illegality".
There has been a trending video of a Toyota Sienna bus being driven by a Policeman and occupied by his colleagues trying to run over a man lying on the road protesting a yet-to-be established problem.
The viral video has generated outrage from the members of the public who called for investigation into the matter.
Share this Post