Adron Homes Slashs Price On It's Epe Prime Estate Projects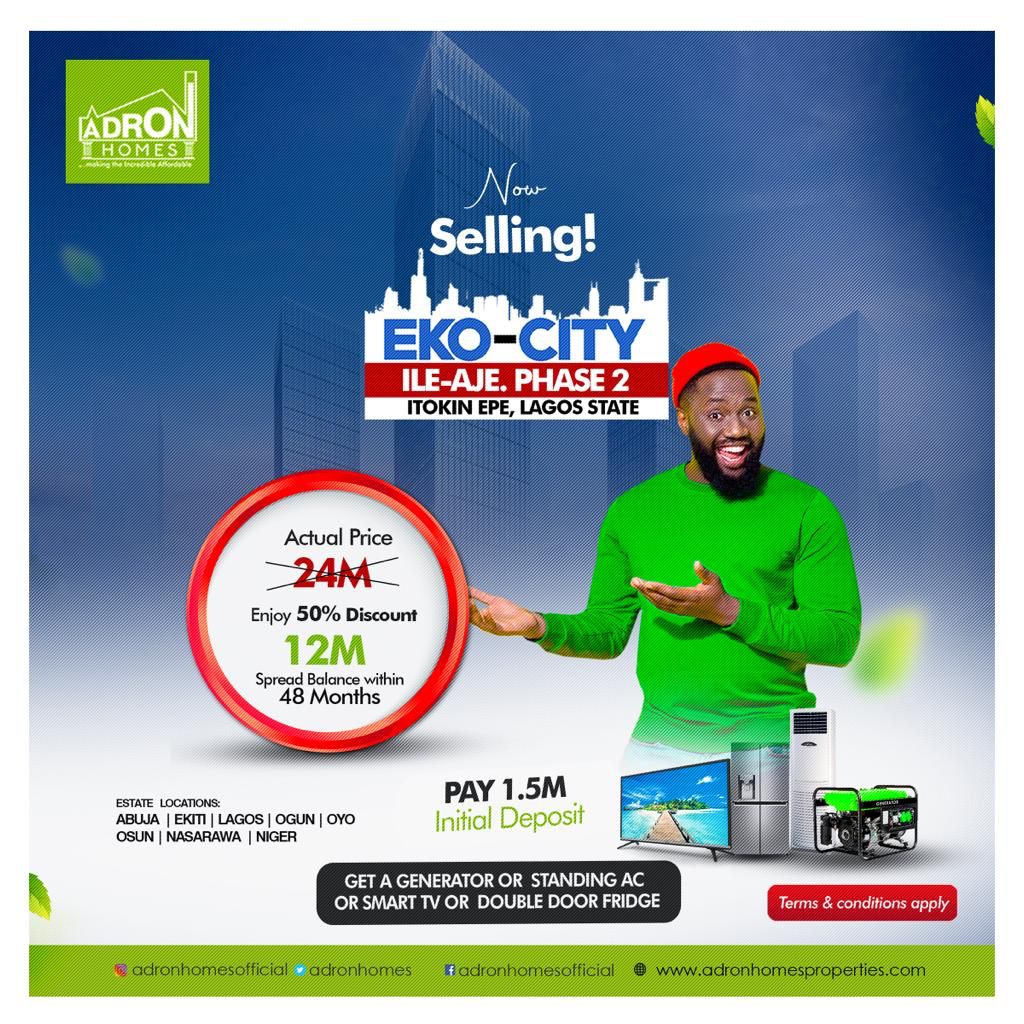 Share this Post
Following regrets experienced by some real estate investors whose wrong investment timing and delay cost them acquisitions on prime locations in Lagos areas like Ikoyi, Lekki Peninsula and Banana Island, another opportunity has come calling.

For smart investors looking for another hot real estate opportunity in Lagos, Epe and its neighboring area like Ibeju Lekki, which have been on the news for sometime now, is the answer.
The unique selling point of this area is the location of several government-backed projects that is projected to transform the zone into an economic hub .
Some of the notable signs that Epe area would dwarf many zones in real estate value is the visible government's development plans and projects.
Such as the Dangote refinery, the Lekki seaport, the approved international airport along the Lekki-Epe expressway, and the Lekki free trade zone.
To brighten the Epe's real estate prospect is Mr. Babajide Sanwoolu, the Governor of Lagos State revelation and plans to institute a $100 million African Film City project in Epe.
The potential of such investment is the envisaged empowerment of the creative industry, financial and training support for film producers,skill development in modern filmmaking and funds for upcoming talents .
The African Film City project is expected to project the country's unadulterated content to the world. Which is seen as another socio economic mileage in the development of the Lekki-Epe zone into an enviable economic status.
As a firm blessed with foresight, Adron homes has keyed into the Epe real estate market future with it's two exceptional estates within the Epe axis: Eko City Park and Gardens Estate(
https://adronhomesproperties.com/property/ekocity/), adjacent to the newly approved international airport on the Lekki-Epe Expressway, and Eko City Park and Gardens Estate Phase 2(https://adronhomesproperties.com/eko-city-phase-2/), located in Itokin, Epe.
Adron homes management flaunts the projects as "estates designed to be top-class and luxurious, offering not only incredible infrastructures and amenities but also affordable payment plan options to help you become a landlord in these prestigious locations".
According to the firm, with the African Film City Project designed to put Lagos and Nigeria on the global filmmaking map , and it's attendant economic growth potential, Land prices in Epe are steadily rising due to increasing development, making it the perfect time to invest.
It advised smart investors not to miss out on the opportunity to secure their portions in the growing Epe real estate market; "the time to buy is now. Your investment today could yield incredible returns tomorrow".
To encourage investors, Adron homes has within the period of ongoing promotions, slashed the price tags to a mouth watering and attractive level, and that is Why the Firm Urges smart investors to Buy into the Epe Real Estate Market Now .*See Flyers, Image above*.
Share this Post