Alaba International Traders , Condemn Closure, Urge Governor Sanwo Olu To Sack LAWMA MD For Creating Chaos, As Agitation Sweeps Through Igbo Dominated Markets ,Over Govt. Sealing Up Of Alaba,APT, ASPAMDA,BBA, Others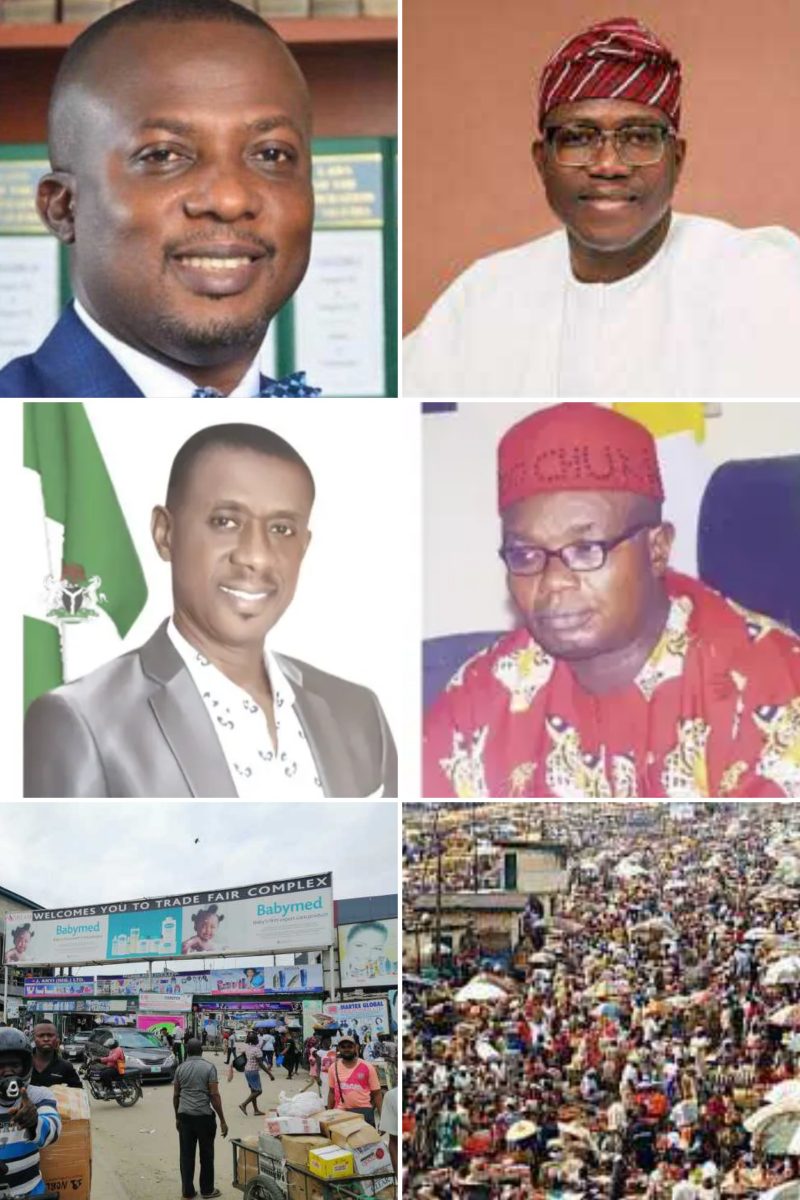 Share this Post
Leadership of Alaba International Market,Ojo, Lagos State, have called on the Lagos State Governor, Mr. Babajide Sanwo Olu, to sack the Managing Director of the State Waste Management Authority, LAWMA, for allegedly creating Chaos with his alleged unwarranted locking up of markets in the state.

The leadership who had earlier today averted Protest by its traders over the alleged surprised midnight locking up of their Business premises and Market sections by the Lagos State government, lamented the sealing up of their market ,despite that Alaba International Market was not owing government any debt.
According to them, Their traders in the multi Billion Naira international market, located at Ojo local government Area of Lagos State,had early today gone out as usual to their business premises only to find out that it has been locked up by the Ministry of Environment, MOE, through the Lagos State Waste Management Authority, LAWMA .
Speaking in a telephone interview with News Planet International, shortly after addressing and calming down the agitated traders, President General of the Alaba International Market Amalgamated Sectional Heads, Honourable Geoffrey Mbonu, said that the shutting down of their market, was condemnable and unwarranted.
He said : "Yes our market was shut down without any notice,we are not owing any debt, there is no dirty, no dump site in Alaba , funny enough LAWMA came recently to cart away all the generated refuse. The information reaching us from the Commissioner of Environment that we are owing and that Alaba is dirty is rather regrettable. We can not trade or do our businesses . We were able to calm the traders from protesting, even traders had wanted to detain the leaders while querrying the reason for the sealing up of the market ,when we are not owing, all our payment receipts are here we have been paying to LAWMA.Fancy and Furniture and Electronics sections are not owing, except for this month which they are yet to bring in the receipt. Electronics Chairman section is on his way to ijora to see the LAWMA Managing Director. "We want to call on the Governor to sack LAWMA Managing Director, because what he just did is capable of causing chaos". Mbono lamented.Speaking also via a telephone interview, the President of the International Market Association, Electronics Section of Alaba International Market, Chief Caminus Amajuoyi Nnamdi, popularly known as " Uzochiwara" stated thus: "Yes our market was locked up.They locked it without any reason. By virtue of what they said was their reasons, we never erred , we are not owing them , we have not contravened any laws that has to do with LAWMA or environmental issues , we have no dumping site at Alaba, we have a contractor from LAWMA that always operates our waste day in day out in the market, we have not done anything to warrant such action ".Further berating LAWMA , Chief Amajuoyi,condemned the action of the Agency , and said that their leadership sees the action as "intimidation, disgusting and being babaric , infact we have not in any way contradicted their laws, we don't know why they should come and lock us up at the middle of the night. We are going there as I speak,to hear from them and know their reasons and if there is no cogent reasons, we will ask them to come and open it up .We have also talked to our traders to calm down and not to protest", he stated
LAWMA action is coming just a day after alleged sealing up of other Igbo dominated markets, such as ASPAMDA, BBA, APT, etc, all housed at the Trade Fair International Complex.
Stakeholders have raised Eye brows with recent closures, recalling that barely few days ago,the popular Ladipo Auto Spare Parts International Market in Mushin area of Lagos was reopened, after being shut down for 15 days.
With the frequency and manner other alleged Igbo dominated markets have been shut down on alleged environment issues by the Lagos State Government, tongues are waging and insinuation are high as to the real reason for the sealing up, as suggested by agitating traders in a viral video clip recorded at ASPAMDA market.
Just yesterday, news spread that the State Government had closed down the Auto Spare Parts and Machinery Dealers Association, ASPAMDA, Balogun Business Association,BBA , All Progressive Traders, APT and other markets within the Lagos International Trade Fair Complex over alleged environmental infractions.
The sealing was said to have been carried out by officials of LAWMA , the Lagos Task Force on Environmental Sanitation and Special Offenses and Lagos Environmental Sanitation Corps, LAGESC.
This action was later confirmed on the X handle (formerly known as Twitter) by Mr. Kunle Adeshina, the Director, Public Affairs, Ministry of Environment and Water Resources.
Adesina , said the agencies carried out the directive given by the Commissioner for Environment and Water Resources, Tokunbo Wahab.
He said : "Following the directives of Honorable Commissioner, Ministry of the Environment and Water Resources, HC MOE & WR, LAWMA Sunday 22nd October, 2023, shut ASPAMDA, BBA and other markets within the Lagos International Trade Fair Complex."
"The enforcement was carried out by officials of Lagos Waste Management Authority (LAWMA) in partnership with Lagos Task Force on Environmental Sanitation and Special Offenses and Lagos Environmental Sanitation Corps (LAGESC) for poor waste disposal practices, non-payment for waste disposal and general environmental sanitation infractions."
Share this Post