Anticipation and Excitement as Tech Enthusiasts and Creatives Gear Up for Art of Technology 5.0 in Lagos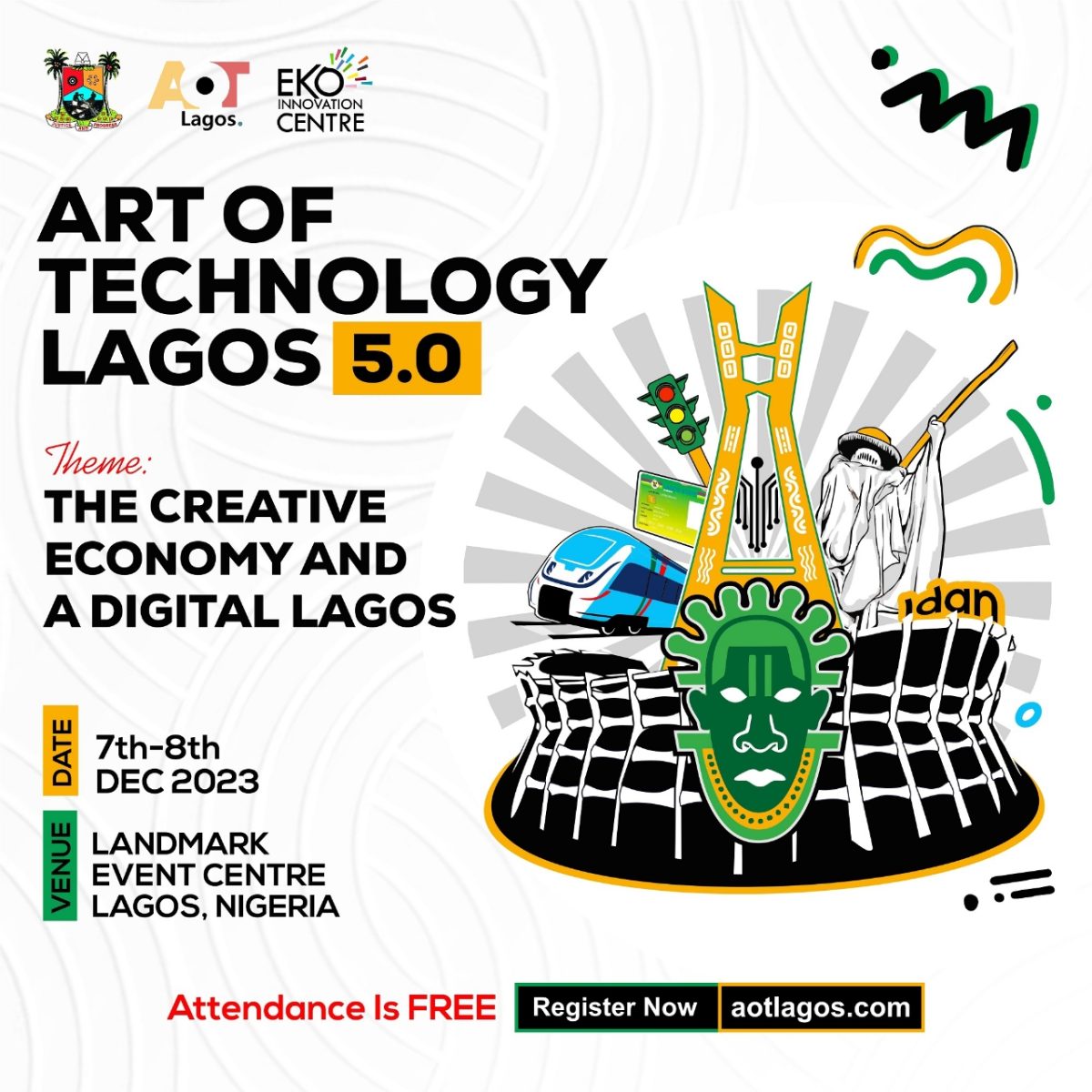 Share this Post
The city of Lagos is agog with enthusiasm as tech entrepreneurs and creative enthusiasts ignite their anticipation and excitement for the biggest tech ecosystem event in Africa – Art of Technology – scheduled to be held in December at the Landmark Event Center, Victoria Island, Lagos.

Art of Technology Lagos (AOT) is an annual tech conference curated by the Eko Innovation Centre, and sponsored by the Lagos State Government – the economic and technology epicentre of Nigeria.
Organizers of the event revealed that the fifth edition of the conference will dive into two crucial pillars that are shaping Lagos's future: "The Creative Economy" and "A Digital Lagos", where techies, creatives, innovators and ecosystem leaders, shaping the future in their various fields will converge to explore the symbiotic relationship between creativity and technology.
The creative economy sector of Lagos State is a key contributor to the state's economy and is poised for further growth in the coming years. This includes a range of industries, including film, music, fashion, design, and advertising. These industries are driven by a highly skilled and innovative workforce, which significantly impacts the state's economy. This year's conference will bring together pioneers, professionals, and enthusiasts to unearth strategies that will steer the tech and creative industries in the state to greater heights.
For tech enthusiasts and creative entrepreneurs, it is a season to light up the tech scene, a time to make history and the anticipation of yet another creative revolution as they gear up to forge connections with thought leaders, discover what is on the horizon of tech and innovation and seek collaborative partnerships with investors.
Other sponsors of the event include Shekel Mobility, Ventures Platform, Open Innovation Access, Revocube, and AIICO Insurance. Partners for the event include Emergency Response Africa, Nest Hub, Ministry of Innovation, Science & Technology, GDM Group, Lagos State Employment Trust Fund
Some highlights of this year's conference will include exploring synergies between creativity and technology, examining the digital transformation of Lagos, collaborative networking and engagement with industry stakeholders and experts, as well as empowerment of creatives by equipping them with tools to navigate the evolving landscape.
AOT 5.0 isn't just a conference; it's a catalyst for change, shaping the future landscape of the creative economy and digital transformation in Lagos.
Don't miss this chance to join the groundbreaking event. Ignite your excitement today.REGISTER and ATTEND FREE…. https://aotlagos.com/register
Share this Post