Breaking : ANOTHER ETHNIC CRISIS AVERTED IN LAGOS: One Dead , Another Injured , Toyota Camry Car Burnt, Five Motorcycles Set Ablaze, As Aggrieved Hausa Okada Riders Attack Yoruba Youth Over Fatal Accident.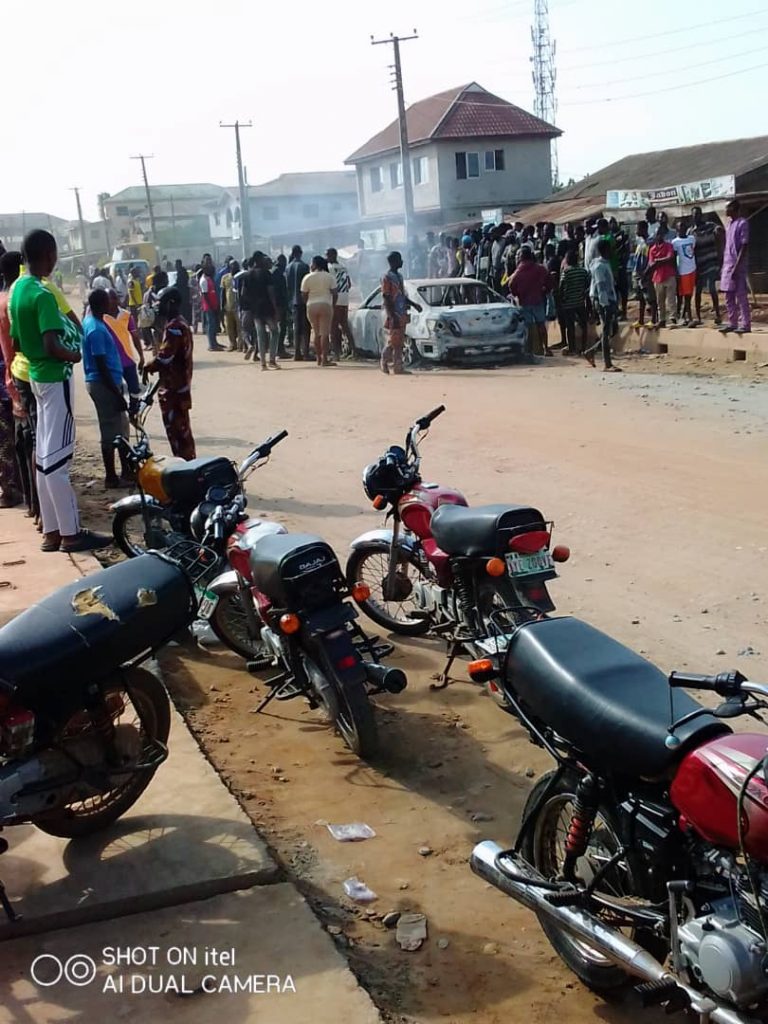 Share this Post
What would have been a bloody ethnic crisis between youths from the Yoruba extraction and Hundreds of Hausa/Fulani Motorcycle Riders, was last Sunday afternoon, May 16th, 2021, averted in igando, a suburb of Lagos State.

Thanks to the prompt Response and unique intervention displayed by Officers and Men of Igando Police Division , led by their Divisional Police Officer, DPO, Ezekiel Yerima , a Superintendent of Police, SP.
Our Correspondent who was around the trouble Spot , learnt that for the rare gallantry and maturity exhibited by the Igando police officers, the crisis would have snowballed into a major bloody ethnic conflict ,capable of totally engulfing the area and dwarfing the #ENDSARS protests that led to burning down of igando police station by
According to eyewitnesses accounts received from Engineer Abiodun and Mr. kehinde, an Auto Electrician and Panel beater respectively, who resides in the area, what started as an accident at about 11.30pm at Oremeji bus stop, by isuti road, Egan town , on Saturday, May 15th, 2021,unexpectedly snowballed into a crisis.
Abiodun narrated how a young man later identified as a "Yahoo boy " from Edo state, who was cruising home from igando, in his newly acquired 'Tokunbo' Toyota Camry ( Muscle) car, crashed with a Bajaj motorcycle rider from the Hausa/Fulani extraction and allegedly killed the rider and wounded his passenger.
" When the information about the accident and supposed death of the Hausa boy, filtered into the ears of his kinsmen, who were gathered in their park at the old Akesan road bus stop, they all dashed down to the scene, carried their supposedly dead brother and in retaliation, set the car ablaze, after scaring residents away", Abiodun said.
However, Kehinde stated that as early as 7am on Sunday, the following day, Sympathetic members of the area, who were angered by the effrontery of the Hausa/Fulani Motorcycle Riders , who had allegedly burnt the Camry car involved in the accident on Saturday night, waylaid some Hausa /fulani okada Riders plying the root and set ablaze five of their Bajaj Motorcycles.
Out for vengeance, the Hausa/Fulani Motorcycle Riders were said to have reconverged in large numbers ,with green leaves hanging on their motorcycles ,as they confronted the yoruba youth who had set up a road block in the area.
It was gathered that an early information from a good samaritan motorcycle rider, passed to the DPO ,through one Supo Aminu Idako , was the saving grace, as police operatives were said to have been drafted to the scene, while dialogue was said to have been established with some leaders of the two warring ethnic groups.
Sources close to the crisis mediators informed our correspondent that the yoruba group, led by one Alfa, demanded to see the alleged dead Rider's Corpse, said to have been killed in the accident, as condition for peace or in the alternative, a replacement of the Camry car allegedly burnt by the rampaging Hausa/fulani motorcycle riders.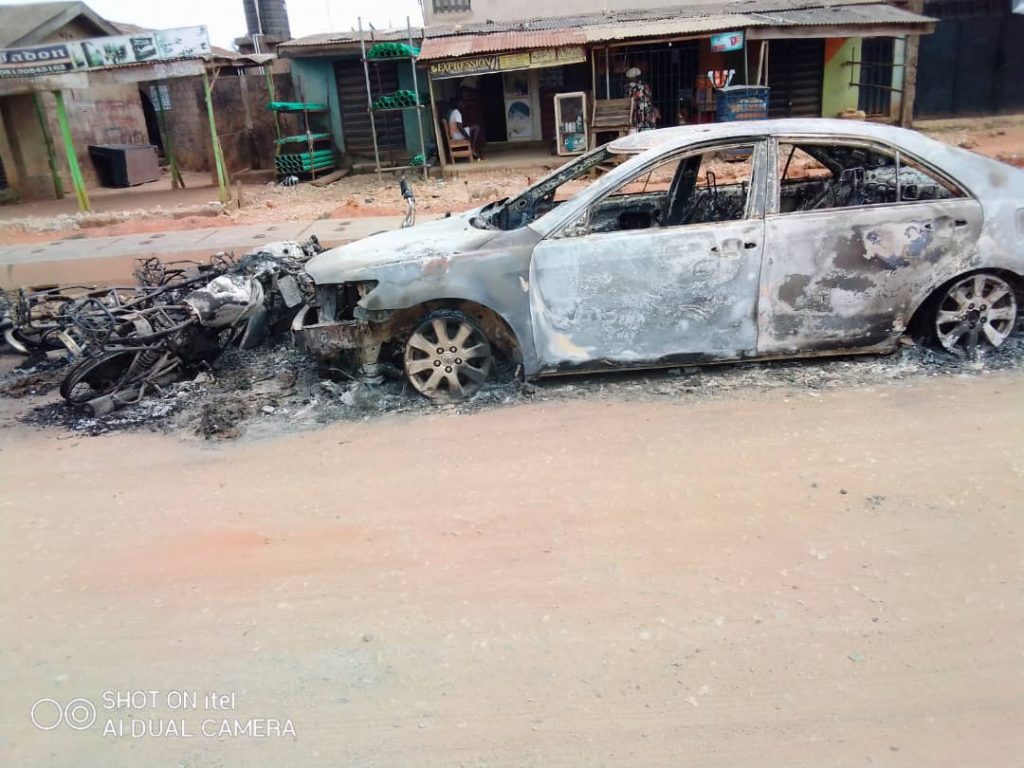 Our source further reported that the representatives of the Hausa/Fulani group, including their Sheriki, could not produce the corpse of the supposedly dead rider or confirm his whereabout.
Efforts to confirm the incident from the Police Public Relations Officer, PPRO, CSP Olumuyiwa Adejobi, as at press time was not possible, as text message sent to his phone line came back with a response "not aware please ".
When our correspondent contacted a leader of the Hausa community in igando, Alahaji Adamu Saadu Samari, through a telephone call, a voice from his own side of his telephone said he was not available to respond.
Share this Post