CP Anderson Bankole Deployed To Special Fruad Unit, SFU.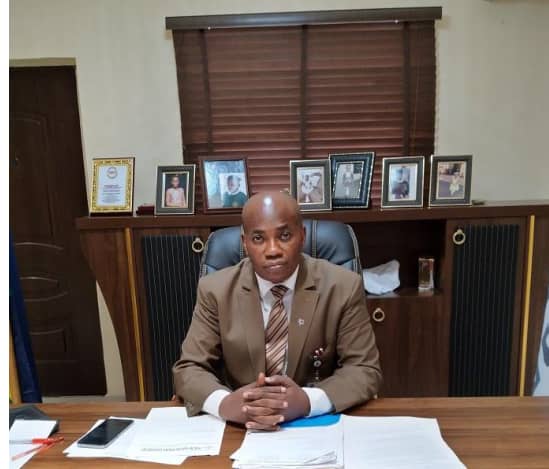 Share this Post
A New Police Chief, Mr.  Anderson  Bankole,  has resumed duty as the  Commissioner of Police,CP, Special  Fruad Unit, SFU .                                                                                                                     

CP Bankole , takes over from CP Uwambi Felix  Yame, who retired meritoriously from Police Service at the age of 60 years.                                                                                                                       
The new SFU boss,  who is an indigene of Lagos State,  holds a Bachelor's Degree in Business Administration and  Master degree in International  Relations.                                                                                                                   
Bankole,  who assumed duty on April  6, 2021, as the  26th  Commissioner of Police in charge of  SFU Lagos and  Abuja  offices, was commissioned into the  Police Force on March 15th, 1988, as a cadet Assistant Superintendent of Police (C-ASP) and have served the  force in  several  capacities  ,in different parts of the country.                              
Reputed to be a  Versatile investigator, he was CP , Force Intelligence  Bureau (FIB),Annex ,Lagos ; CP Maritime  and  CP Administration ,Department of Finance and Administration (DFA), Force headquarters, Abuja,  before his deployment to  SFU.                                                                                                                 
Seasoned Police Officer,  who has attended several overseas courses, a member of the International Association Of Chiefs of Police (IACP), Sports Man and the  current Technical Chairman of the  Nigeria Police Sports,  Vice President of  Paralympic committee of Nigeria and Member,  International Table  Tennis  Federation (Paratable Tennis  Committee ). 
In his maiden address to the team  managers of the Unit, CP Bankole, reiterated  his commitment and determination towards professionalism,  diligent investigations of complaints and prosecution of cases with the aim of boosting investors confidence in Nigeria business, in order to actualize the  transformation and repositioning agenda  of the Inspector-General of Police, IGP, Usman  Alkali Baba.                                                                                           
In a press statement signed by the  SFU Public Relations Officer, DSP Eyitayo  Johnson , despatched to our Correspondent, he quoted CP Bankole  as stating thus : " I seek cooperation,  collaboration and  partnership of the  members of the public, government ministries / agencies, the  central bank of Nigeria, depositors of money in banks,  and the  Diplomatic community,   in giving useful and timely information, responses to letters of investigation activities from SFU.                                                                                                       
This, CP Bankole said would enable the  Unit to reduce the prevalence of fraud and  sundry criminality which presently portrays the  country in bad light to the international community. 
Share this Post