CP. Wale Abass Assures There Will  Be "NO SANCTION" Against Residents Who Submits Illegal Arms, Light Weapons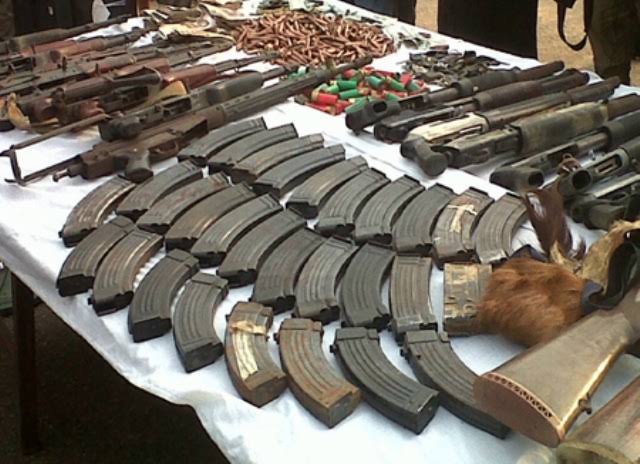 Share this Post
In line with the directives by the Inspector General of Police, IGP Olukayode Egbetokun, Delta State Police Command has urged residents to submit illegal arms and light weapons in their possession.

This the command said was part of its efforts to tame the proliferation of firearms .
According to the statement signed and dispatched to News Planet International by the Command's Police Public Relations Officer, PPRO, DSP Bright Edafe,it reads:"the Delta State Police Command calls on members of the public who have illegal and prohibited firearms in their possession to render such firearms to any nearby Police Station, Area Command or the State Headquarters.
The Commissioner of Police Delta State, CP Wale Abass assures all individuals involved in the wrongful possession of arms and light weapons that a wilful submission of such illegally possessed weapons to police will attract "NO SANCTION".
This is aimed at reducing the number of guns in circulation across the state, and also to stop firearms from getting into the wrong hands and being used by offenders to commit crimes on our streets or anywhere else in the country, hence keeping the State safe for all.
The CP wishes to state emphatically that the command has commenced an exercise to mop up all illegal and prohibited firearms in circulation across the state; noting that those who take advantage of this opportunity will not face any sanction, arrest, or harassment. He however warned that perpetrators who refuse to render their arms will not be spared and will be made to face the full wrath of the law when caught. Hence anyone found in possession of a firearm of any type – be it a pistol, rifle, air weapon, or imitation (i.e. locally made guns, dummy guns, etc), shall be arrested and prosecuted for unlawful possession of firearm.
CP Wale Abass urges the residents to report all suspicious firearms-related activities to their local police stations. They can also report through the Police Public Relations Office for prompt response and action while assuring that the identities of informants will be treated with utmost confidentiality".
DEDICATED LINES:
• 08036684974; 08125958005; 09053872287 (CONTROL ROOM)
• 09155570007; 09155570008 (PPRO OFFICE)
Share this Post