DRIVING AGAINST TRAFFIC: Fleeing one-chance robbers meet their waterloo, intercepted by LASTA officials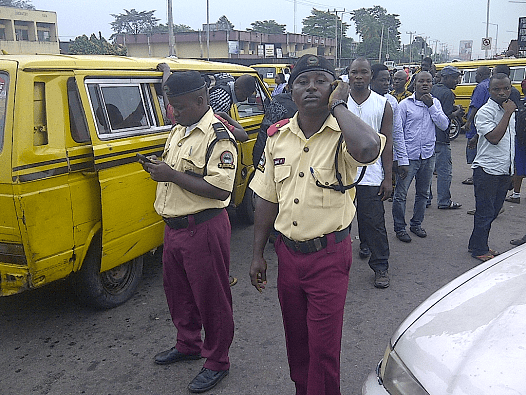 Share this Post
Two dare – devil  'One – Chance'  Robbers, who in a bid to evade the law, decided to drive against the traffic (one way driving), have finally landed in police cell.                                                                                   

The robbers who are now singing like birds, telling the police the much they know about their alleged crimes ,were  nabbed today by some eagle eyed officers of the Lagos State Traffic Management Authourity (LASTMA), with  support from  members of the  public .                                                                       
The  incident  was said to have occurred Thursday, 1st of April, 2021, between 11.30pm to 12.00noon ,  at Ikate, Lekki-Ajah axis of the State.                                                                                                             
It was learnt that  the suspects were apprehended in an unnumbered,  wine coloured  Toyota  Camry Sedan car, while driving in a  suspicious manner against traffic (popularly known as one-way driving) ,when they were  accosted by the LASTMA officers.

The bubble was said to have bursted while the suspects  were being interrogated by LASTMA officials,  who had  contravened them  for traffic offence, that suddenly ,a lady victim came raising the alarm that she boarded the vehicle unknowingly and was robbed. .                                                                         
The victim accused them of belonging  to the notorious  'one-chance robbery ' gang and  narrated further  ,  how all her valuables  include her phone, ATM debit card and some other items, were forcefully taken away from her by the suspects.

According to LASTMA Assistant Director,  Public Affairs,  Mr.  Filade Olumide, "The two one-chance robbers and the victim were subsequently taken and handed over to the police division at Maroko by the LASTMA officers for thorough investigation and prosecution by the police".

However, the General Manager of LASTMA, Olajide Oduyoye,  in his comment , praised the LASTMA officers who carried out this feat , noting that "LASTMA does not only manage traffic on Lagos roads but also render humanitarian services on our roads."                                                                               
He recalled the assistance rendered by some LASTMA officers, to a pregnant lady and her child at Fagba area of Iju-Ishaga axis of the State, who had an accident on a commercial motorcycle that plied 'one-way' about a week and a half ago.

Oduyoye,  enjoined Lagos residents to always be vigilant when embarking on commercial vehicles, insist on drivers obeying the Lagos State Traffic Law as promulgated by the Lagos State House of Assembly and generally encourage our traffic officers while on their duty posts so that they can do more.
Share this Post