Igwe Nwobodo's Palace turns into a pilgrimage site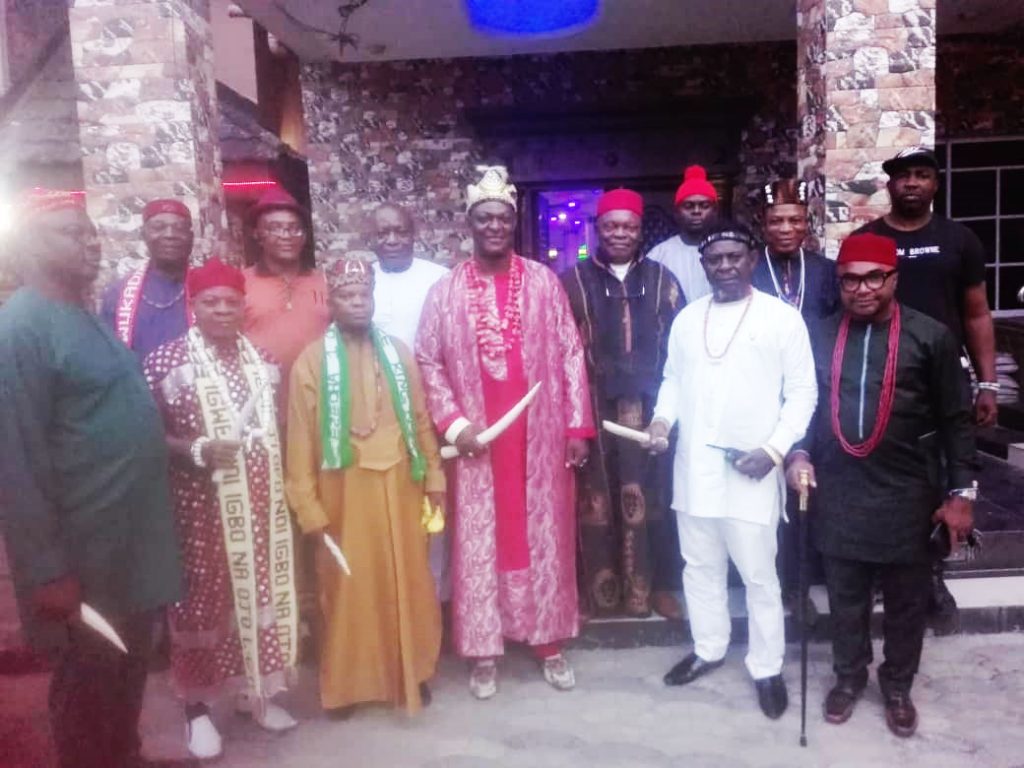 Share this Post
AS NIGERIANS CONTINUE TO PAY HOMAGE, EXTOL HIS VIRTURES, MONTHS AFTER CORONATION                                                                                                                                                                                                                           
Igbo Leaders of thoughts, Enugu state Community heads,   residents and indigenes of  Nkanu, particularly  the  newly created  Umuisu autonomous community, were reported to have been amazed and kept wondering how the palatial palace of an international  Business Mogul and recently Crowned Igwe Of Umuisu, His Royal Highness,  Igwe Sunday Nwobodo,  has been  turned into a 'pilgrimage site 'and 'tourist center ' of sort, as they witness daily , prominent political bigwigs ,  businessmen and citizens from far and near , throng their hitherto serene village to  Felicitate and pay homage to their King. 
                                                               

Having won the Igweship election conducted January in Umuisu, Ugbawka Autonomous Community, in Nkanu East Local Government Area of Enugu State, businessman Sunday Nwobodo, aka  ' Aka Ekpuchi onwa  and  Excess Cash' , was  officially  crowned the traditional ruler and Igwe of Umuisu Ugbawka Autonomous Community.
It would be recalled that Igwe Nwobodo won the election unopposed, after Mr. Obere Ani, who had earlier indicated interest to contest alongside the Lagos-based entrepreneur, voluntarily withdrew from the contest at the venue of the election conducted by the office of Ministry of Chieftaincy Matters, Enugu State government, and representatives from all the villages that made up the new autonomous Community.
Dr. Charles O. C. Egumgbe, Commissioner, Ministry of Chieftaincy Matters, had said during the election that they were on the ground on the directive from the state governor, to ensure that the election was free and fair.
Having confirmed the election satisfactory, and announced Igwe Nwobodo as the winner of the election, the Ministry, in a letter dated January 29, 2021, recognised Nwobodo as the traditional ruler of Umuisu Ugbawka Autonomous Community.
The letter signed by Dr. Egumgbe, noted in parts: "HRH, Igwe Sunday Nwobodo, Umuisu Ugbawka Autonomous Community, Nkanu East Local Government Area, Enugu State. I have the honour to inform you that having considered your selection by your community satisfactory and in accordance with the state Traditional Rulers Law, Cap. 151, Revised Laws of Enugu State, Rt. Hon. Lawrence Ifeanyi Ugwuanyi has approved your recognition as the Traditional Ruler of Umuisu Ugbawka Community, with effect from January 18, 2021.
"On behalf of his Excellency, the Governor of the state, I congratulate you on your well-deserved selection and subsequent recognition," the letter emphasised.
The Coronation ceremony had dignitaries from all walks of life in attendance. It was a time of jubilation for the whole community, as a different musical concert, masquerade performances, and indigenous cultural music of Umuisu known as Igede thrilled the audience with different live performance shows.
Igwe Nwobodo was crowned alongside his wife, Lolo Promise Chioma Nwobodo, and Hon. Christian Chukwu as the Traditional Prime Minister.
Speaking earlier, Igwe Nwobodo restated his commitment not to change from the good lifestyle he is known for. He promised to first deliver a good Health Centre for the people of Umuisu Ugbawka Autonomous Community in a short period.
Indeed,  following his antecedents,   pedigree as an entrepreneur, philanthropist per excellence and employer of labour , having over 2000 employees in one of his resorts named New planet resorts limited,Lagos state, Igwe Sunday Nwobodo , it was learnt from evidence on his visitors records, has been visited  and congratulated by well over 10,000 admirers and dignitaries.                                                                                                                   
Evidence that the  fame and popularity of the young and kind hearted king , goes beyond  Enugu state and  South  East , has been seen from the numbers of  dignitaries cut across  tribes and religion  that visited him in Lagos recently  .                                                                                                                                   
At the last count, were the visits by the Yoruba, Hausa,Middle Belt, Niger Delta and Igbo friends, such as the Enugu State Eze Ndigbo's in diaspora, the  Ohanaeze Ndigbo Executive Council  Members led by  Chief  Everest Ozonweke (Onowu) and Chief John  Paul, (Chairman of all Chairmen).   
Another notable visit was the delegation of Igbo  Community in Lagos and Eze Ndigbo in diaspora, led by the  Eze Ndigbo of  Lagos State,  (Igbo  1), Dr. Christian Uchechukwu  Nwachukwu , who extolled the qualities and virtues of Igwe Sunday Nwobodo .
Share this Post