ENDSARS Panel Issues Witness Warrant On DPO Olosan , CP Lagos , over Widow's Petition On Husband's Unreleased Corpse By Police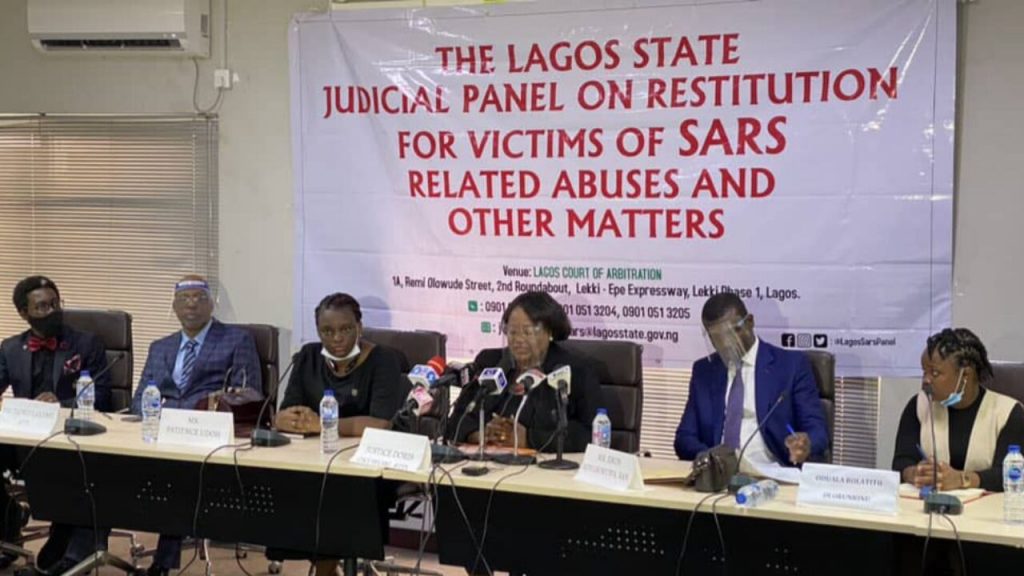 Share this Post
A widow of an EndSARS Protest victim, allegedly killed by police in Lagos,   has appealed to the Lagos State Judicial Panel On Restitution For Victims  Of SARS Related Abuses And Other Matters,  to order the release of her husband's corpse.

The Mother of three Children, Mrs Femi Abdul-Kareem  told the panel on Saturday that her husband Yemi Abdul-Kareem was killed by officers of the Nigeria Police Force attached to Olosan Division, Mushin Lagos on 8th August, 2020.
Led in evidence by her counsel, the petitioner  told the panel that on the 8th of August 2020, the husband Yemi Abdul-Kareem, who was a commercial motorcyclist left home to celebrate his birthday with friends and never returned, until the following day when someone called in the morning to inform her that he saw the corpse of her husband lying in a police patrol vehicle belonging to the Olosan police station, Mushin.                                                                   
The Petitioner said she was accompanied by family members, a human right organization and a cable television crew to the station after all efforts to locate his corpse proved abortive as the police at Olosan police station were not forthcoming on the whereabout of her late husband corpse.
During cross examination by the respondent, Mrs Femi Abdul-Kareem said during one of her visit to the Olosan Police Station, the Divisional Police Officer told her that her husband was killed during an armed robbery attack contrary to eye witness account that her husband was killed by the police.
Mrs. Abdul-Kareem said when questioned about the whereabout of the corpse, the police were not forthcoming on where the deceased was.
The mother of three children for the deceased aged 8 years, 4 years and 4 months old respectively, appealed to the panel to order the Nigeria police force to release the corpse and compensate the family for the gruesome killing of it's breadwinner.
The panel then issued a witness warrant on the DPO Olosan police station and the Commissioner of police Lagos State at the instance of the respondent, just as it adjourned the matter to 11th September 2021 for further hearing.                                       
The panel also heard two other cases out of the six cases on the causelist and adjourned them to further dates for continuation of hearing.
Share this Post