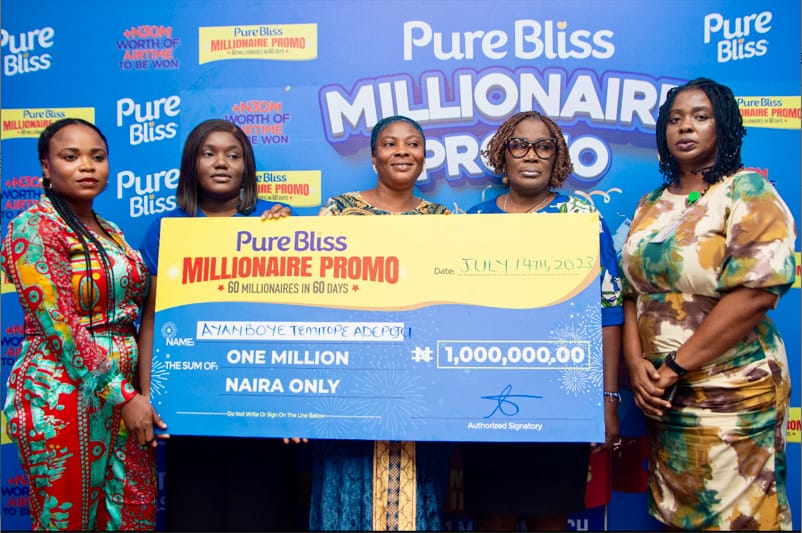 Share this Post
In a bid to delight its consumers and stay true to its brand promise of bliss and mood upliftment, Pure Bliss, has rewarded 4 consumers with one million naira each in its ongoing '60 Millionaires In 60 Days Promo', held in Lagos and Kano States on Friday, July 14th, 2023.

The four lucky consumers rewarded are Tunbosun Folarin, a Project Manager from Ogun State; Ayanboye Temitope, a businesswoman and resident of Ikorodu, Lagos State; Pauline Godfrey, a Fashion Designer who lives in Nassarawa and Abubakar Muhammed, a Trader and resident of Kano State.
The consumers are the first four verified winners in the second edition of the promo currently ongoing in Nigeria.
Ayanboye Temitope, the winner from Ikorodu, Lagos narrated how she could not contain her disbelief and shock when she initially received the instant SMS notification of winning One Million Naira. "When I saw the new Promo design on the Pure Bliss biscuit pack, I decided to try because my neighbour told me how people were winning airtime. That day,I bought two packs – one had TRY AGAIN and the second one had code.
I followed the instructions on the pack and received an SMS that I won One Million Naira but I did not believe it. I was even angry with my neighbour because I did not receive the instant airtime.
Only for me to receive a call from Pure Bliss later that day. I still did not believe but I still decided to do the verification process. Even as I am here, I am still in shock, I am so happy and I now believe. Pure Bliss, thank you…", Temitope echoed.
Pauline Godfrey, a Million Naira Winner from Nasarawa State also expressed her joy for the prompt reward as it would help cushion some economic hardship. "It is indeed a joyous day in my household.
One Million Naira in this economy? I was doubting at first because I did not expect to ever win a promo! In Nasarawa! I will continue to tell everyone I know. Pure Bliss, please keep it up", an elated Pauline said.
Tunbosun Folarin, another Million Naira winner and resident of Ogun State said he had his kids to thank for participating in the promo.
"I buy Pure Bliss for myself and the kids so on that fateful day, I ate the last Pure Bliss wafers meant for the kids before dinner.
I opened a pack, saw a code and decided to give it a try. I'm so happy and will put some of the money into my wife's business. And my kids? They will definitely feel that Pure Bliss has touched me." Mr. Folarin said.
The winners were presented their respective cheques of One Million Naira each in Lagos and Kano States by the Pure Bliss Team and the Zonal representatives of the NLRC, FCCPC and LSLGA.
The Lagos State Lotteries and Gaming Authority (LSLGA), represented by the Senior Legal Officer, Kemi Adebiyi, endorsed the promotion and also assured Nigerians that the Pure Bliss promo adheres strictly to regulatory requirements.
She lauded the organization for its transparency in selecting the winners and advised many more persons to key into the promo with confidence.
"We appreciate the company for introducing this reward scheme to acknowledge and appreciate consumers and urge our consumers to participate in the promo", Mrs Adebiyi stated.
Susie Onwuka, the Head of the Lagos Office at the Federal Competition and Consumer Protection Commission (FCCPC), was also present at the cheque presentation, she lauded Ok Foods the producer of Pure Bliss for coming out with such a lofty initiative.
Speaking during the Cash Prize Presentation, Bukola Yusuph, Brand Manager Pure Bliss, emphasized Pure Bliss' commitment to delight consumers through delicious and quality products, and rewards.
"It is all in the brand name. Running the biggest promo within the biscuits Industry where consumers get instant airtime rewards and millions in cash prize is in line with our brand promise and commitment of bliss and mood upliftment.
We have 56 Millionaires left to reward and thank consumers who have participated. We encourage others to keep participating as we plan to reward a total of 60 consumers with one million naira each, and also give out 30 Million Naira worth of Airtime."
Reiterating the mechanics of participating in the Promo, Yusuph stated that consumers are to buy any Millionaire Promo pack of Pure Bliss Cookies or Wafers, look inside the pack for a 7-digit unique code and text the unique code to 8011 using the format: PUREBLISS <SPACE> 1234567 <SPACE> LOCATION, e.g. PUREBLISS 1234567 LAGOS.
The consumers will receive an SMS from 8011, notifying them of their prize – either N100 Airtime or One Million Naira as each code guarantees a prize. She emphasized that it works for all networks.
Officials of the Lagos State Lotteries and Gaming Authority (LSLGA), Federal Competition and Consumer Protection Commission (FCCPC) and National Lottery Regulatory Commission (NLRC) all expressed their confidence in the credibility of the promotion and urged consumers to participate, while also reiterating their commitment to monitoring the promotion for transparency.
The promotion ends on August 14th, 2023, or while stock lasts.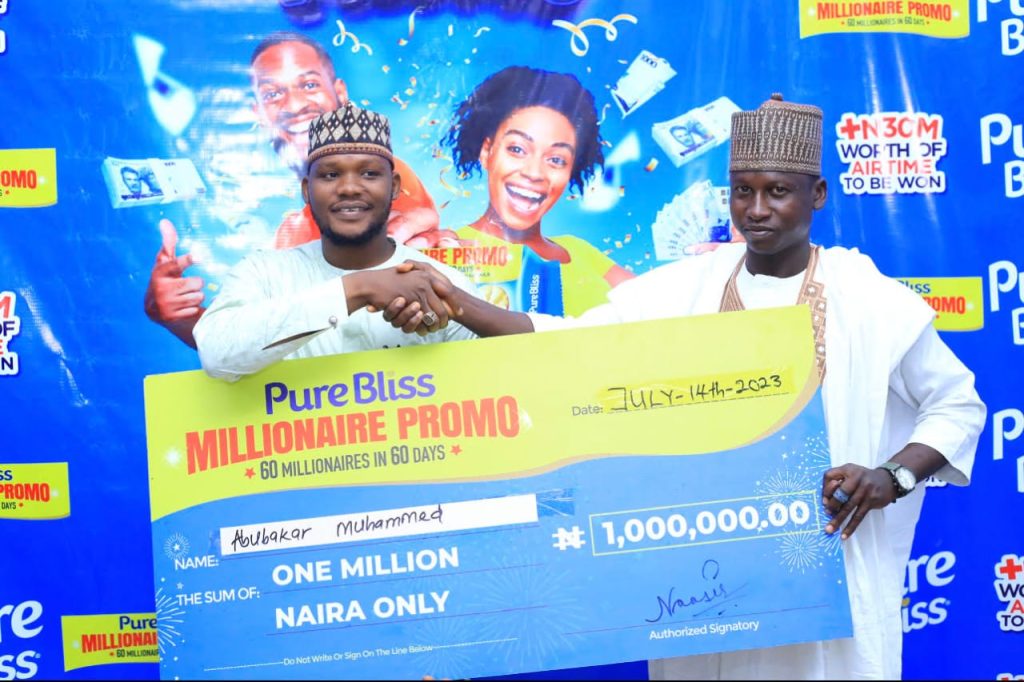 Share this Post