Former Tincan Island Port Command Customs PRO Buries Father In Grand Style In Anambra State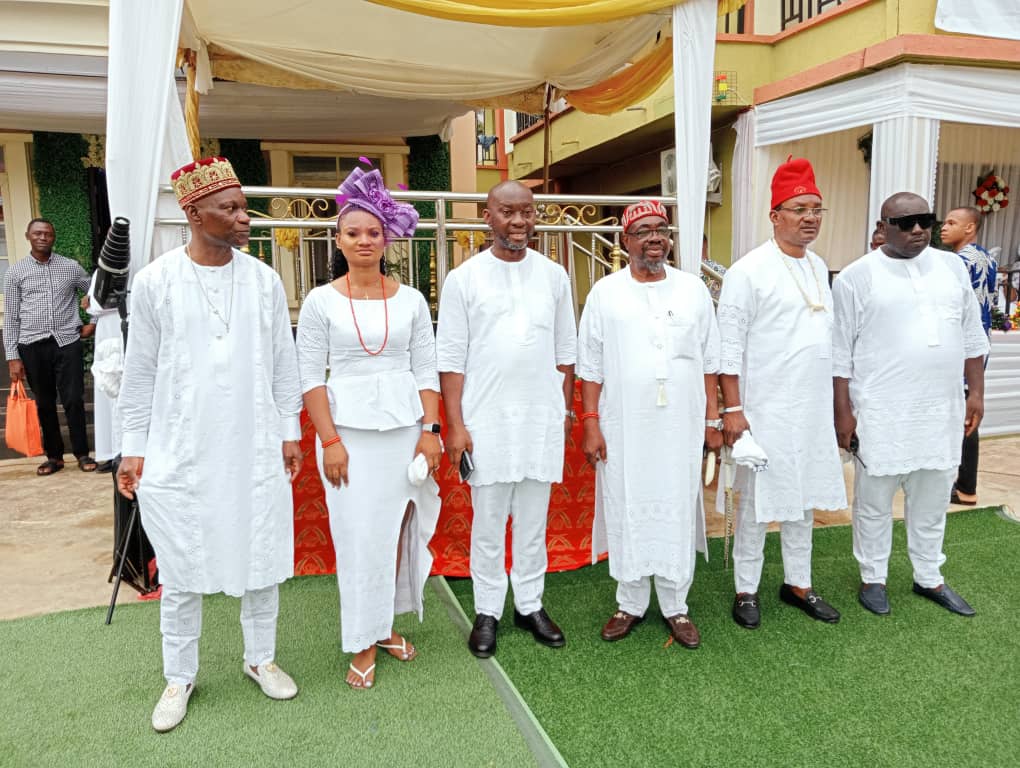 Share this Post
Former Nigeria Customs Service, Tincan Island Port Command Public Relations Officer Chief Uche Ejesieme (0zor Ishinmili Agulu) and family members laid their father, Chief Alexander Okoye Ejesieme

(Okwuotoekeneze 1 Of Agulu) in Ifiteani Village, Agulu, Anaocha Local Government Area of Anambra State, to rest. A respected businessman and a figure of inspiration in the community, Chief Alexander Ejesieme's contributions will be cherished, and his legacy remembered.
The entire town was enveloped with fanfare as prominent Nigerians came to honour the departed and celebrate his impactful life.
The funeral service unfolded at St. John De Evangelist Catholic Church Agulu by the Catholic Bishop of Awka Diocese, Most Rev. Dr. Paulinus Ezeokafor, as soon as his remains and the funeral Cortese which included an horse-drawn carriage arrived the church.
In his sermon The Most Rev. Dr. Paulinus Ezeokafor extolled the virtues of Pa Alexander Ejesieme who reportedly lived a life of dedication and service to God.
According to Rev. Ezeokafor, Chief Ejesieme was a man with intimidating kind heart, whose greatness is not in the riches and wealth he has acquired, but in his unrelenting act of generosity.
The burial attracted the presence of
His Eminence, Peter Cardinal Ebele Okpaleke, The Catholic Bishop Of Nnewi Diocese Rt. Rev. Dr. Jonas Benson Okoye, Papal Nuncio To Czech Republic Archbishop Thaddeus Okolo, The Catholic Bishop Of Awka Diocese Most Rev. Dr. Paulinus Ezeokafor, The Catholic Bishop of Ekwulobia Diocese, Most Rev. Fr. Professor Obiefuna, Anglican Bishops and Reverends from other Denominations, His Excellency former Governor Anambra State, Mr. Peter Gregory Obi, The Governor Anambra State Chukwuma Soludo represented by His Deputy Dr. Onyeka Ibezim, High Court Judges, Comptroller Anambra/Enugu/Ebonyi Command Comfort Senas Ukpanah, Very Senior Officers Of Nigeria Customs Service, Senior Advocates of Nigeria, Nigeria Bar Association Anambra Branch, Onyechi Ikpeazu Senior Advocate of Nigeria, Distinguished Senator Victor Umeh and other Members of the National Assembly,
Others are His Royal Highness Igwe Innocent Obodoakor Igwe of Agulu, Igwe Innocent Obelle of Nawfia, His Royal Majesty Ezeuzu III Of Awka Austine Ndigwe, Other Royal father's and their Cabinet Members, Representatives of Ministries Departments and Agencies, Former Governor Ugwuanyi (Gburugburu) of Enugu State, Senator Tony Nwoye, Senators Ngige and Uche Ekwunife sent representatives, Chief Judge Anambra State.
Lots of friends and well wishers from Nigeria and Diaspora. Captains of Industries, MD DONCLIMAX Shipping, MD Zenith Shipping, MD Clarion Shipping, MD Ikoro Bonded Terminals, MD Ocean Organic Services Ltd, Representative of Coscharis Motors, Representative of Innoson Motors, The Maritime Community,
Representative of MD Ematoks Chief Akuyie of Agulu, their son in-law His Royal HighNess Chief Eunan Eke, Ezeokpo 1 of Okpo Autonomous Kingdom, not forgetting all the 20 villages in Agulu with their Traditional Cultural/Masquerade Groups, Obi Cubana Group, Groups of ObiDIENT, APC, PDP families, Nnamdi Azikiwe University Alumni Association, Agulu Grammar School Old Boys Association, Igwebuike Gramnar School Old Boys Association, Boys Secondary School Old Boys, amongst other Business Moguls.
Pa Ejesieme who died at age 93 was born in 1927 to late Chief & Mrs. Ejesieme Obikwelu of Ifiteani village Agulu in Anaocha Local Government Area of Anambra state.
He attended standard school in Agulu during his formative years before on an apprenticeship to late Mr. Okeke Mgbafor of Ifiteani village Agulu, as a metal fabricator here in Agulu where he demonstrated exceptional skills endearing him to the heart of his master.
However, as an only son of his parents, he sought an opportunity to try his hands in other business ventures, leading to his relocation to Onitsha, where he started learning the trade of kitchen utensils (Ọkapị Stainless Knives) at the popular Onitsha Main Market. Here again, he quickly learnt the trade to the admiration of his contemporaries; shortly after, he started his own business.
He got married to Chief Mrs. Elizabeth Uzoamaka Ejesieme JP (ADADIORANMA) 1963 from Umubiala Village Agulu and the marriage was blessed with 9 children from the same mother among whom is Chief Alexander Ejesieme Jnr Senior Advocate of Nigeria amongst others.
The highpoint of the event was the thanksgiving procession by Chief Uche Ejesieme and his immediate family members, amid soulful renditions from the St. John De Evangelist Catholic Church choir.
He was reputed for his no nonsense stance on issues and was ready to speak truth to power irrespective of whose ox is gored. It is also instructive to note that late Chief Alexander Ejesieme, as a devout Catholic contributed very immensely to various Catholic Churches, where he had opportunity to worship but was most active in St. John's Catholic Church Agulu, where he served at different times as the PPC Chairman and Chairman of harvest and bazaar committee. His sense of philanthropism at the time was legendary too.
The former NCS Tin-Can Island Port Command PRO described Pa Ejesieme as his best friend and "a man who loathed dishonesty".
He added: "A very open-minded and passionately detribalised Nigerian, he encouraged and supported his children to see every Nigerian as one.
"He was a natural activist, speaking up against injustice and man's inhumanity to man, an attribute he bestowed on his children" Chief Uche Ejesieme said.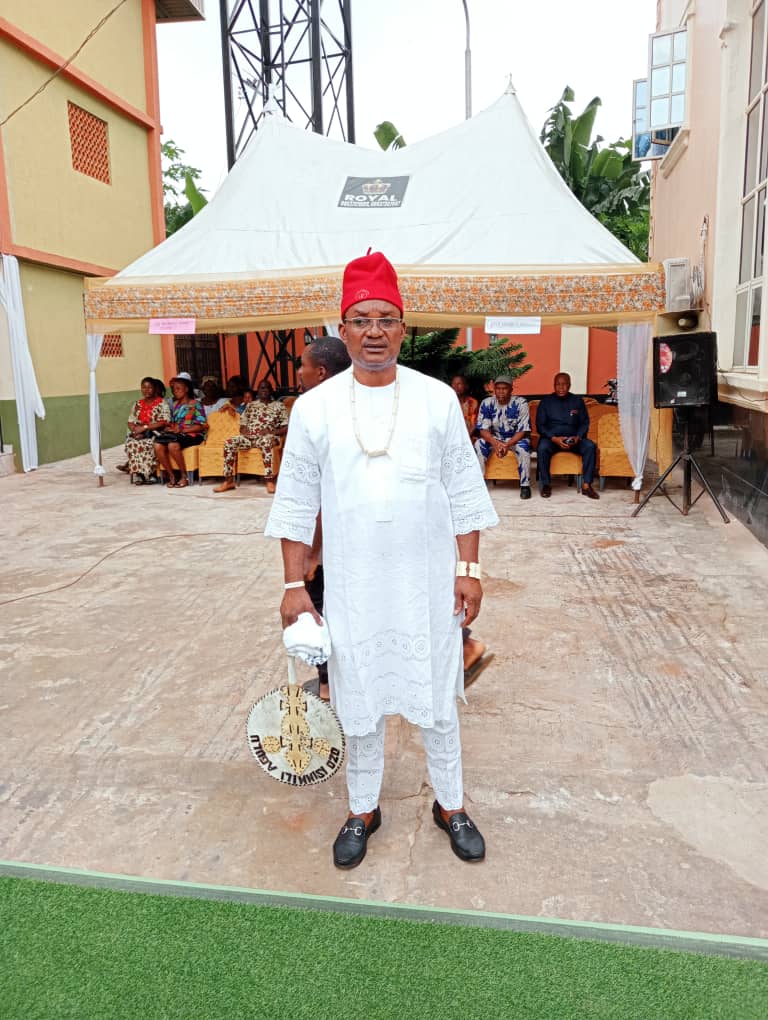 Share this Post