Four Years Running, Ezendigbo Welfare Foundation Opens Portal For 2024 Scholarship Application, As Its Emergence Brings Succours To  Indigent Students In Anambra State. Watch Video below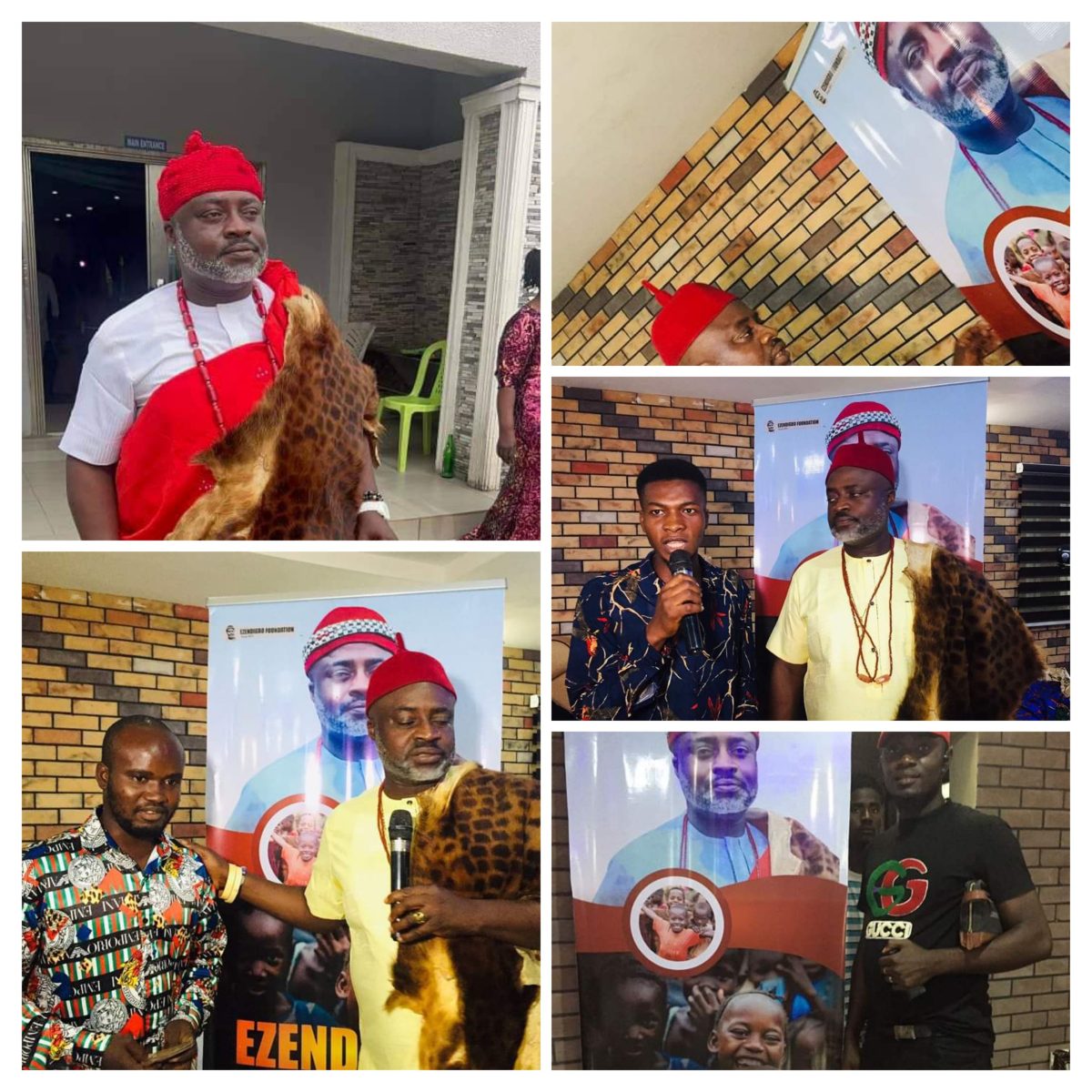 Share this Post
In his avowed determination to Lift People out of poverty In Nigeria, the Chief Executive Officer of Lagos based Ezendigbo Welfare Foundation, Eze Dr. Onyeka Onyenachie Ifekandu, has declared that his organization has come to play a vital role in promoting Educational excellence for the Indigent Students, Assist graduates of Igbo Apprenticeship Scheme and lift people out of extreme poverty in Nigeria and other developing nations in Africa and the world at large.

Announcing the official opening of the 2024 Scholarship Application portal for Indigent students, at the weekend, during their monthly meeting at the Foundation's secretariat in Lagos state, Dr. Ifekandu, who is the Eze Ndigbo in Lagos Island,emphasized the issues of poor funding of Education in Nigeria and Africa at large and maintained that academic and Educational excellence in Nigeria has deteriorated due to poor funding,lack of patriotism and bad leadership in Nigeria.
The Scholarship Statement signed and dispatched to News Planet International by the Foundation's Manager, Hon. Comr. Cardinal, reads :
"𝗖𝗮𝗹𝗹 𝗳𝗼𝗿 𝗔𝗽𝗽𝗹𝗶𝗰𝗮𝘁𝗶𝗼𝗻 𝗼𝗳 𝗥𝗲𝘃𝗼𝗹𝘃𝗶𝗻𝗴 𝗔𝗰𝗮𝗱𝗲𝗺𝗶𝗰 𝗦𝘂𝗽𝗽𝗼𝗿𝘁. !!!,The Ezendigbo Foundation ably led by the founder, Eze Dr. Onyeka Ifekandu, Ozo Wire-Wire, Omechaluili Ofumbosi, Akuoma Di Ufu Mkpata Enugwu-Ukwu na Umunri, HRH Ezeanakiliekili 1 of Lagos Island and the manager of the foundation, Hon. Comr. Cardinal calls for submission of application for the "2nd Batch" of her revolving academic support and empowerment coming up on 𝟭𝘀𝘁,𝗝𝗮𝗻𝘂𝗮𝗿𝘆, 𝟮𝟬𝟮𝟰."
"The Ezendigbo Foundation working in line with the spirit of the Founder to support the Indigent students and empower humanity in her own capacity, invites students and persons of the aforementioned condition to apply."
"𝗙𝗼𝗿 𝗘𝗻𝗾𝘂𝗶𝗿𝗶𝗲𝘀 𝗮𝗻𝗱 𝗺𝗼𝗿𝗲 𝗜𝗻𝗳𝗼𝗿𝗺𝗮𝘁𝗶𝗼𝗻, 𝗖𝗼𝗻𝘁𝗮𝗰𝘁 𝘁𝗵𝗲 𝗠𝗮𝗻𝗮𝗴𝗲𝗿, 𝗛𝗼𝗻. 𝗖𝗼𝗺𝗿. 𝗖𝗮𝗿𝗱𝗶𝗻𝗮𝗹 𝗼𝗻 𝟬𝟵𝟭𝟯𝟴𝟭𝟱𝟯𝟬𝟮𝟴 𝗼𝗿 𝗪𝗵𝗮𝘁𝘀𝗔𝗽𝗽 𝟬𝟴𝟭𝟯𝟰𝟮𝟮𝟱𝟵𝟴𝟱."
Optimistic that  the Foundation would always Succeed, the Founder recently handed over the Foundation's official Vehicle to the Manager and Coordinator ,Hon. Comr. Cardinal.
While delivering the vehicle, Eze Ndigbo Lagos Island,commended the Manager for his high level of dedication ,as well as his contributions professionally ,morally and intellectually .
Speaking further, Dr. Ifekandu ,commended State and Federal governments for allowing charity organizations to play pivotal roles in reforming our society and pleaded with wealthy people in Nigeria to invest more in Education ,so as to have a very literate and enlightened population and society.
Dr. Ifekandu, a notable philanthropist, a well-rounded and transparent individual has vowed to do his best with his vibrant team to lift people from extreme poverty so long as the government will give them enabling environment to operate.
He urged members of the organization to brace up for the huge work ahead and also asked them to believe in the dictum of being their brother's keeper.
"I must expatiate more on making life meaningful for the less privileged and indigent students in Nigeria and Africa at large. The poverty level of many people and the deplorable and ramshackled conditions of tertiary institutions in Nigeria is quite touching, it calls for urgent attention. The large migration of Nigerians into various countries abroad in search of academic excellence is worrisome."
According to him, "you should know that the effectiveness of any team depends on the maintenance of trust and loyalty meaning that they should believe more in team work so as to achieve a greater goal."
He further stressed that they will not forget to do more in the areas of education, most importantly, promoting education for the indigent students.
"which we know would help to reduce high rate of muggings, heists, cybercrimes and every kind of brigandage in the society."
Eze Ndigbo Lagos Island,further maintained that his organization will partner with international donors and agents to bring Succours for the poor and the needy and praised members of the Foundation for their loyalty, honesty and patriotic spirit to help humanity.He urged them to be up and doing in their services especially at this formative stage of the organization, stating that it had been his dream to grow up to touch lives and help the poor and wretched of the society.
Share this Post