MMF Mental Health Expert, Mrs Kate Egbuna, Alerts Government On Gross Dearth Of Psychiatrists In Nigeria, Says Mental Health Issues Is Not Madness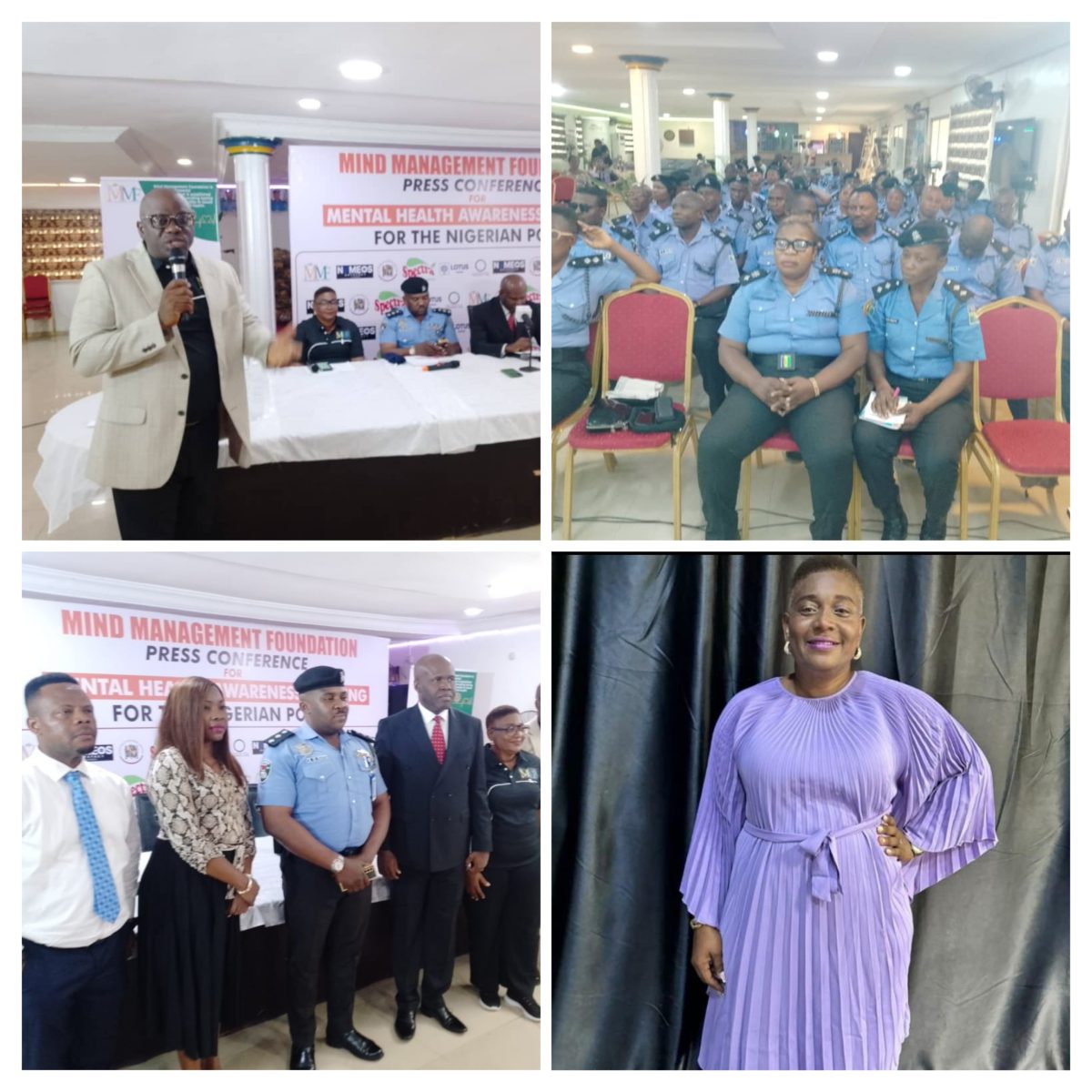 Share this Post
Mental Health Expert and Facilitator with the Mind Management Foundation ,MMF, Mrs Katherine Egbuna, has raised the alarm over the inadequate numbers of Psychiatric Doctors operating in the Country.

The Expert,who was speaking during a mental health sensitization and training ,organized for Officers Of the Lagos State Police Command by MMF, held at the police officers Mess, Ikeja GRA, Lagos state, on Wednesday November 1,2023, which was part of its Press briefing and mental health awareness retreat tagged, "Mental Health Awareness Training for the Nigeria Police Force, Lagos Command", expressed sadness over the poor ratio of 150 psychiatrists to over 200 million people in the Country.
She regretted that despite the alarming proportional increase in mental health related issues in the country, no positive action has been taken to breach the gap between the numbers of Psychiatric Doctors and the high population of citizens in Nigeria.
Addressing participants, Egbuna , called for mental health awareness creation for the police and corrected an erroneously held believe system, stating that " not all Mental Health Issues are Madness".
She said: "Police officers are human and have family related issues, when a police officer is good in the office and bad at home, it is inadequate because Without Police men and women, the society will be in a mess".
While Calling on government to establish facilities for mental health issues, Mrs Egbuna, posited that it takes between "40 to 45 days for a full blown suicide to materialize and takes 25 attempts to successfully carry out suicide"
According to her, Love is soothing and an antidote to mental health but Bullying causes mental health related issues, while anxiety is an indicator and cause of mental health related issues.
Egbuna, in that regard, enjoined Journalists and media practitioners to publish articles that helps and not the ones that creates mental health issues, such as gruesome publications.
The Facilitator,advocated for private sector participation , so as to help MMF. She said: "MMF trains on how to manage the Mind, to check and avoid mental health".
The Expert took time off her speech to pour encomium on MMF Director, Barrister Arinze Emmanuels and former Lagos state Commissioner of Police, now AIG Idowu Owohunwa , for their efforts in addressing issues of Mental Health.
Earlier at the event moderated by MMF Head, Sales and Marketing, Mr. Mannie Udoh, Barrister Emmanuels, had said that people are controlled by what they expose themselves to, and that mental health related issues are functions of the Mind, hence how one responds to certain issues in their minds,are pathways to mental illnesses.
Barrister Emmanuels, while assuring that the Entertainment Industry, Actors and Musicians would also benefit from the ongoing MMF awareness, also,called for a review of the Criminal Justice System in Nigeria, especially, as it affects attempted Suicide, which he said is a problem on its own .
Contributing, another Mental Health Expert and a director with Lagos State Health Service Commission,Dr. Kanu Isaiah, confirmed that extreme poverty could lead to depression which could trigger Suicide.
He called on the government to address the controversial issue of Minimum wage in the country.
Advising participants not to allow anything weigh them down, Dr. Isaiah said thus : "Mental Health depends on complex interactions of biological, Economical, Social and Physical . Economic down turn could lead to depression, then mental.when one can't afford basic necessities, anxiety sets in.Accidental discharge of gun by security agents, could be as a result of mental health related issues. So, Better health syndrome is what is needed, because no mental health, no health", he said.
Deputy Police Public Relations Officer, DPPRO,DSP Stephen Kuti, who represented the state Commissioner of Police, commended MMF for having carried out mental health awareness in about 70 police divisions and 100 schools.
MMF indicated their willingness to establish Counseling, Mental Health Correctional Center in Police Barracks, Offices, Nation Wide.
Share this Post