GENDER BALANCE :  Ecobank Nigeria Gets IFC/NGX Award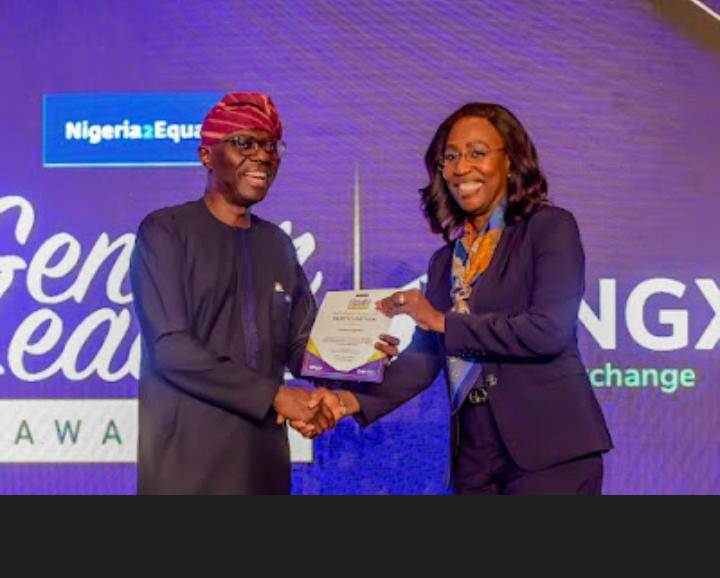 Share this Post
Ecobank Nigeria limited has been recognized as one of Nigeria's key private sector players promoting gender balance and equality in the workplace at the Nigeria2Equal Gender Leader awards organized by International Finance Corporation (IFC) and Nigerian Exchange Group (NGX Group).

The Gender Leader Awards, which is being implemented under the Nigeria2Equal (N2E) program, is designed to recognize, and celebrate private sector companies leading the way in Gender Equality Performance across a broad range of indices.
Ecobank Nigeria was an awardee in the Gender Diversity in Supply Chain category at the high-level event by priivate sector company chief executives, business leaders and dignitaries including the Lagos State Governor, Babajide Sanwo-Olu.
Speaking during the award ceremony, IFC's Regional Director, Central Africa, Liberia, Nigeria and Sierra Leone, Ms. Dahlia Khalifa, commended the progress of Nigeria2Equal's participating companies in advancing the role of women in their organizations.
Khalifa said, "As we celebrate the accomplishments of these organizations who have shown outstanding leadership in closing the gender gaps within their own organizations, we acknowledge the power of collaboration and the transformative impact that specific, measurable, and time-bound commitments can have on achieving gender parity in Nigeria's private sector.
IFC remains resolute in our commitment to sustain the momentum and support the private sector to scale up its efforts for a more gender-balanced, prosperous future."
Receiving the award, Deputy Managing Director, Ecobank Nigeria, Carol Oyedeji said Ecobank has policies and structures in place that promote gender balance in its employment, stressing that the recognitions are a testament of Ecobank Nigeria's significant contributions to advancing gender equality within the organization and by extension, in Nigeria's private sector.
She disclosed that the bank also has many initiatives and innovative products targeted at empowering and sustaining female entrepreneurs in Nigeria such as 'Ellevate' and 'Ecobank Female Entrepreneurs Initiative (EFEI)', which are designed to empower and support female owned small-scale businesses.
According to her. "Across Ecobank, we are intent on ensuring that all women can reach their full potential and always have equal opportunities to men in advancing their careers and achieving promotion.
Female staff are holding strategic leadership and management positions in the organization. We are committed to creating a society and workplace that is free of bias and gender-based discrimination," she said. 
Share this Post