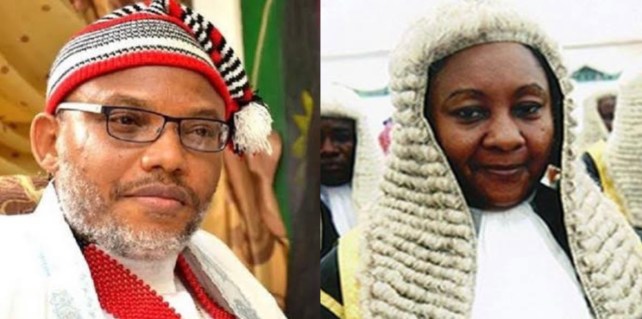 Share this Post
A Federal High Court presided by Justice Binta Nyako, has permitted the detained leader of the Indigenous people of Biafra, IPOB, Mazi Nnamdi Kanu, to proceed on medical treatment.

The Court ordered the Department of State Service, DSS, to allow Mazi Kanu access to a medical doctor of his choice on grounds that he requires urgent ear surgery amidst his reported failing health.
Justice Nyako while delivering Judgement yesterday also ordered that the Department of state services also monitor, record and seal all medical sessions administered on the IPOB leader, for security purposes.
Nyako further dismissed the preliminary objections filed by the DSS challenging the application before it, on grounds that Mazi Kanu has the right to medical services even in detention.
The court in it's judgment ordered that all Kanu's medical records be made available to the IPOB leader.
Kanu listed some of the records he would require from the DSS, to include; his admission records, medical and clinical notes, nursing notes, observation charts and documentation during treatment or stay-in-hospital, laboratory test results, pharmaceutical records, radiological scans, images and reports, blood transfusion records, physiotherapy and rehabilitative treatment records, clinical findings, as well as diagnosis and treatment prescribed records.
Share this Post