NDIGBO IN APC LEADERSHIP TUSSLE : "You Are A Drowning psychopathic Pathological Liar ", Eze Uche Dimgba Replies Engineer Joe Igbokwe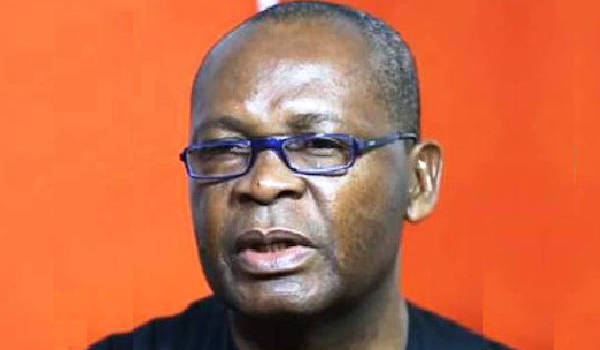 Share this Post
It appears Igbos in the All Progressive Congress, APC, Lagos State, are back to the trenches ,as fire work have commenced following the leadership crisis that engulfed the hitherto strong unified political forum .

It would be recalled that the Former Coordinator of the group, Eze Uche Dimgba, popularly known as Okpotemba, had shortly before the last general elections , was said to have left the former group with the majority of the members, over some unresolved issues and formed Ndigbo In APC Authentic, thereby taken away the hitherto allegiance their sacked Apex leader, Engineer Joe Igbokwe was said to be enjoying.
According to the group, "unable to stomach the exodus of Eze Dimgba with majority of Ndigbo In APC former members and the obvious erosion of leadership power from him, Joe Igbokwe circulated some negative allegations against Eze Dimgba in some platforms, which he followed up with a disclaimer rubbishing the integrity of Dimgba over a letter of support from Ndigbo In APC Authentic written in favor of us Senator Orji Uzo Kalu, dispatched to the National Assembly leadership during the campaign for NASS Senate presidency".
Subsequently, Igbokwe had in a counter publication called Dimgba names, saying, "This is the face of serial traitor, betrayer, serial liar, an unsteady character, without honour, without soul , without grace, without dignity and without life".
He said, " Mr Uche Dimgba became a dictator, harassing, intimidating, frustrating members. Money and material things meant for our teeming followers were mismanaged with impunity and arrogance".
Continuing, Igbokwe alleged that"few weeks to the national elections Uche Dimgba tried to introduce me to a particular man he called Festus who came from Abuja and claimed he is on a mission in Lagos to deliver Igbo votes to APC. I said how? How can he do this? Where is he coming? Does he understand the dynamics of Lagos politics? I asked Mr Uche Dimgba lots and lots of questions which he could not answer. I ran away with the thinking that this sounded like a 419 stuff. In our many phone conversations I reminded Dimgba that we have spent millions, time and energy to build Ndigbo in APC Lagos and now you are introducing someone we do not know his background, his character, his pedigree few weeks to the elections proper.It became a long argument. I was shocked when the Abuja man, Festus started getting attention in Lagos leadership. I was totally devastated, humiliated and frustrated. I managed myself because I know what is at stake. When the long throat , greedy and our uncoordinated coordinator noticed that the Abuja man was getting too much attention from Lagos to the detriment of Ndigbo in APC Lagos, he left Ndigbo in APC Lagos to join the group", Igbokwe alleged.
Following what they called Igbokwe's provocative publications ,which Eze Dimgbas' group saw as not only a campaign of calumny but as the last straw that broke the Camel's back, Ndigbo In APC Authentic therefore at recent press conference held on June 16,2023, formally rejected and sacked Igbokwe as Igbo Apex leader, labeling him a serial blackmailer.
They went a step further to pledge loyalty and to notify APC leadership in Lagos and the state government, to cease recognizing Joe Igbokwe as Igbo Apex leader.
They also blamed him for the party's electoral woes in Igbo dominated areas, due to what they described as "his greed, selfishness, Lack of leadership qualities and "Me-Only-ism" politics.
According to Dimgba, the publicity generated by Igbokwe's sack as Apex leader by his group, "didn't go down well with him, hence Igbokwe started his usual lies and negative publications, propaganda and false Narratives in the social media and Daily Telegraph Newspaper, using one of his stooge, known as Chris Ekwilo".
Further Countering Igbokwe , Eze Dimgba Stated thus : " the serial blackmailer have started again to do what he is known for; calling me a betrayer and saying all manners of nonsense about my personality".
Putting the Records straight, Dimgba said that he "was made a Chief in 1985 in my community in recognition of outstanding contributions to growth and development of my people when Joe Igbokwe was still selling mama-put at Nnobi Street, Surulere ,with his senior brother. I am not his level.He claims to be an engineer but we cannot see any quality of an educated person or quality of an engineer in him in all ramifications".
Challenging Igbokwe to present himself for Certificate verification, Dimgba Stated, "Check me out: go to Lagos State University, LASU, faculty of management sciences, department of industrial Relations and personnel management,you will ascertain my qualification. Present your academic background first,then, we shall establish who is the illiterate between us".
Speaking to Journalists on Friday, June 23rd , 2023, Dimgba chastised Igbokwe saying thus : " Because of your lack of performance and not being able to mobilize Ndigbo for the party, the government of Lagos State has always seen you with the same old faces you paraded during your so called press conference. Amongst these few people you hired and promised them the usual one-one thousand naira, tell me anyone among those you paraded that is reasonable there and who have the ability to talk to Ndigbo? The answer is None of them! "
He reminded Igbokwe of his open rebellion against Governor Babajide Sanwo Olu's directive before the election.He said "while insulting Dr. Festus Uchenna, who Iam sure will reply you soon, don't forget that the governor in his own wisdom and not wanting to rely on you-Joe Igbokwe and lose the elections, went on his own to bring his trusted friend Dr Fetus Uchenna ,to come and help mobilize all sectors of ndigbo in Lagos for him".
" Let those you are deceiving know that We all had a meeting in the presence of the governor and agreed to use Dr. Festus Uchenna' platform to prosecute the elections".
"It will shock the few fickle minded people you paraded during your press conference to know that you Joe Igbokwe along the line, in disobedience to the governor's directive, pulled out in your usual nature, because if you are not on top, NOBODY WILL BE.But we continued working for the governor and off course for Asiwaju Bola Tinubu".
"On seeing the progress we had made in the group, Igbokwe went to Abuja to blackmail Dr Festus Uchenna and the governor , alleging that they were working against Asiwaju. Later he included my name and other of our people, who worked very hard to mobilize Ndigbo for the election".
Warning Igbokwe, Dimgba said, "we are no longer ready to join issues with you because you are a drowning man ,who is running around looking for appointment as usual.
"The party and the government of Lagos State knows the truth. If the party wants to lose igbo votes
in Lagos, let them continue to recognize Joe Igbokwe and those jobless people hanging around him but definitely they will not blame Ndigbo at last" .
Mocking Igbokwe, Dimgba blasted, " Let them continue wasting their time hiring people and asking them to come in uniform. We have made our statement and the whole world have heard us .
" Don't mind what he is writing about me ,the world and Ndigbo know who he is.They all have records of all his social media nonsense against all our past and present leaders.
"They all know him as a blackmailer . One prominent Igbo man called me yesterday after reading his stupid rantings against me and he challenged him to come out and let's go for a walk in Igbo land and know who the Igbos will stone to death".
"He has no shame and Ndigbo have rejected him . A lot of Igbo leaders have been calling me and begging me not to reply him because doing so will amount to bringing myself to his level".
"He is seeking for appointment while I seek for Igbo interests,respect and cordial relationship with our Yoruba brothers".
"He is a drowning man and time has passed him.Ndigbo are now wiser.Let those his surrogates continue milking him untill they finish the little money he stole from government".
Share this Post