NDLEA planning alternative development to illicit drug production – Marwa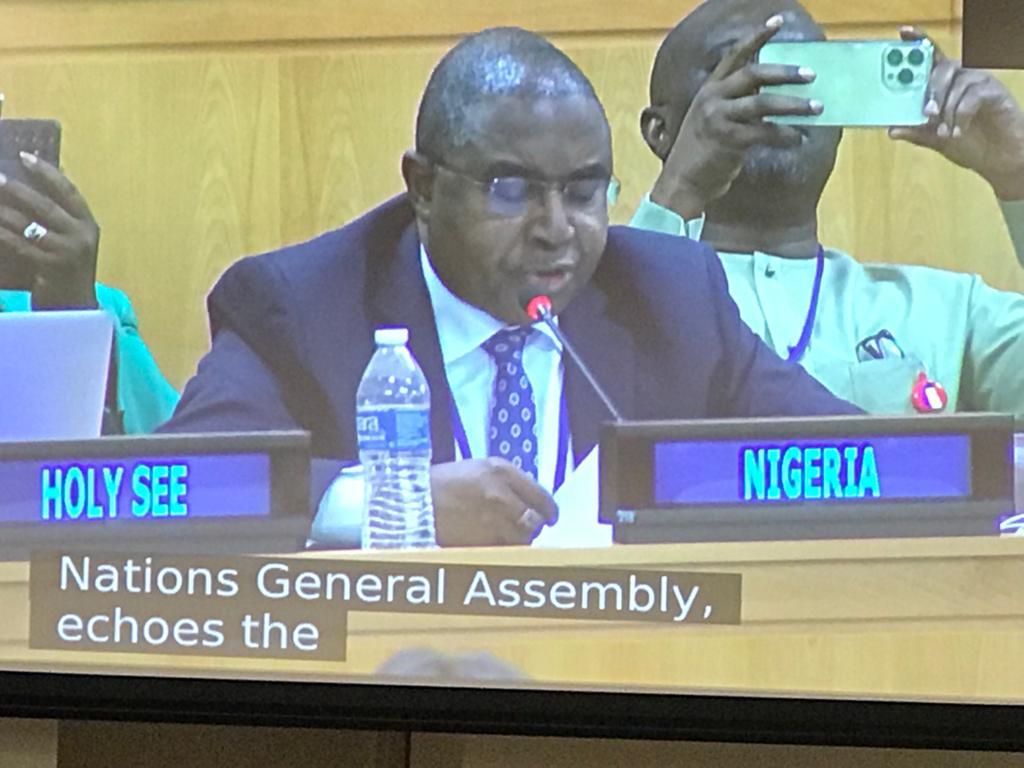 Share this Post
Chairman/Chief Executive Officer of the National Drug Law Enforcement Agency, NDLEA, Brig. Gen. Mohamed Buba Marwa (Retd) has said that the agency is planning alternative development strategies that will take drug cartels out of business and protect the environment from the damaging effects of illicit drug cultivation and production.

The NDLEA boss stated this while outlining efforts by Nigeria to curb the menace of substance abuse and illicit drug production and trafficking in his presentation at the third committee session of the ongoing 78th United Nations General Assembly, UNGA, in New York, USA on Monday 2nd October.
According to him, "Cartels involved in illicit drug cultivation are causing deforestation, resulting in environmental degradation. In search of a lasting solution, we are working to implement an alternative development plan.
This will provide cannabis farmers with better options, like agricultural loans and improved seedlings.
The increasing online activities of drug traffickers, particularly on the dark web, after the COVID-19 pandemic have become a great source of concern.
This will require collaboration and capacity-building to neutralize the growing threat. Nigeria is also strengthening its legal framework through on-going amendments to relevant drug laws.
"Our bilateral and multilateral cooperation efforts have been expanded through the signing and renewal of memoranda of understanding with countries and agencies.
This has helped to deepen intelligence sharing, exchange programmes, joint operations, and capacity building, among others."
Marwa said the Nigeria's premier anti-narcotics agency will continue to identify gaps and build bridges, both in dismantling drug trafficking cartels and providing access to treatment and counselling services.
"More policies to protect vulnerable groups such as women, children, and displaced persons will be implemented. To maintain a clear lead over drug trafficking groups, we will continue to engage in thoughtful regulations and targeted strategic law enforcement that are intelligence-led and human rights-centred. We will also leverage stakeholder collaboration as we make progress in the implementation of the SDGs. No stone must be left unturned, and no community, group, or individual must be left behind. We must extend the fight against drugs on all fronts and ensure that our communities are safe, healthy, and peaceful", he told the global gathering.
He added that Nigeria is adopting a whole-of-society approach to countering the challenges of drug trafficking in line with the 2030 SDG agenda, which seeks to promote the rule of law, health, peace, and justice.
"Therefore, while ramping up law enforcement efforts to halt the illicit supply of drugs, we are equally promoting evidence-based drug prevention, treatment, and care programmes."
While stating that Nigeria is concentrating efforts on mitigating the challenges of narcotic drugs, he declared that "the drug demand reduction strategies are also helping to address the problem of stigmatization and discrimination against people with drug use disorders. This includes the introduction of a 24/7 toll-free call centre where people can call from the comfort of their homes to access quality counselling, treatment, and care."
"Remarkable progress has also been made in early prevention programmes in schools and communities. This is in accordance with SDG 3, which seeks to promote good health and well-being. One of the approaches is to build the capacity of young people and provide them with the basic coping skills they need to succeed in life. The Nigeria Drug Law Enforcement Agency (NDLEA), in collaboration with the United Nations Office on Drugs and Crime (UNODC) and the MTN Foundation, is promoting the Unplugged Drug Programme in schools.
"I am glad to inform that the implementation of the National Drug Control Master Plan (NDCMP) 2021–2025 is in its third year. This is Nigeria's strategic document for addressing the world drug problem. One of its advantages is the involvement of stakeholders at all levels of government. The master plan provides a multi-agency intelligence-led model that is aimed at disrupting drug trafficking cartels and targeting illicit drug assets and wealth.
"In addition to the NDCMP, there is the War Against Drug Abuse (WADA) advocacy campaign, which provides stakeholders with a platform to promote anti-drug abuse enlightenment efforts. With this development, we have given equal opportunity to drug demand reduction and drug supply reduction efforts.
The active participation of non-governmental organizations and civil society groups has raised awareness among various groups, including traditional rulers, students, opinion leaders, and religious leaders about the dangers of drug abuse and the need to address it."
Share this Post