O/C Conflict Resolution Area E Command Lagos,CSP Eburuaja Nwachukwu, Now Assistant Commissioner Of Police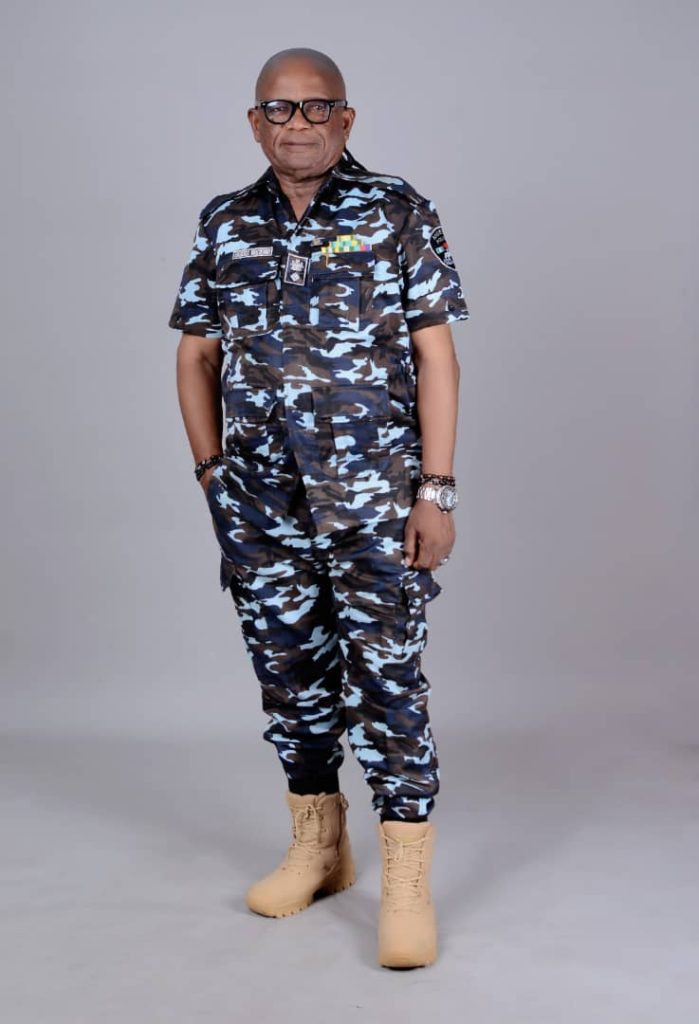 Share this Post
The Police Service Commission (PSC) has finally Promoted the Officer In Charge Of Conflict Resolution, Area 'E' Police Command Lagos State , CSP Eburuaja Nwachukwu to the rank of Assistant Commissioner Of Police,ACP.

He was promoted for his outstanding qualities and contributions to  Nigeria police Force and the country in general.
Unlike his mates who sustained various degrees of injury during the #End SARS protest and were promptly rewarded with promotions shortly after the Crisis, ACP Eburuaja Nwachukwu's elevation to the next rank suffered delay over certain bureaucratic issue.
Revisiting the issues affecting his  promotion , PSC in  recognition of his track records and commitment to his duties as a police officer , therefore elevated him appropriately to the rank of Assistant Commissioner of Police (ACP).
It would be recalled that ACP Eburuaja Nwachukwu's gallantry came to public notice following his rare display of courage during the 2020 #ENDSARS protest when as the Divisional Police Officer in charge of Elemoro in Ibeju-Lekki Local Government Area of Lagos State, he had to contend with the rampaging hoodlums who attacked his station.
The hoodlums were said to have invaded the station  in buses and trucks in their numbers, and armed with deadly weapons, they jumped over barricades and launched attacks with bottles, stones, firecrackers and other dangerous weapons on the station. Some of the hoodlums reportedly fired gunshots as they made efforts to break through the locked gate.
According to the report, despite the danger he faced with his officers when the hoodlums stormed the station, ACP Nwachukwu was able to bravely manage the deadly situation while at the same time obeying the rules of engagement with his men as they tactically repelled the invaders with teargas and warning shots only. They did not aim to kill any of the protesters even though opportunity to do so offered itself.
He was praised for ensuring that there was no casualty as they resisted and turned back the protesters who were determined  to destroy the police station.
Reliable source said that the attack lasted for almost a whole day and when it became glaring that the attackers were not giving up and ACP Nwachukwu having noticed that his men were running out of smoke shells and ammunition, decided to retreat into a nearby forest after making distress calls to the authorities at the Lagos State Police Command headquarters, Ikeja.
The hoodlums were said to had mobilized reinforcement from neighbouring communities and the station was eventually vandalized and set on fire, with Nwachukwu's vehicle, refrigerator and other valuables destroyed before help could come to them. Many policemen were injured, though no life was lost.
To aggravate their situations, ACP  Eburuaja Nwachukwu, then DPO and his men reportedly were pushed into the forest where they  stayed without food and water for three days before they were eventually rescued by the Area 'J' Commander, ACP Gbolahan Olugbem.
The then Area 'J' Commander was reported to had embarked on the rescue mission with about five patrol vehicles at about 4pm on October 23, 2020.
Unlike many of his colleagues who suffered one loss or the other during the #END SARS protest and were eventually rewarded by police authorities with promotion or special commendation, Eburuaja Nwachukwu's name was missing when the reward came in form of promotions in 2021. 
The Abutu Yaro led visitation panel and police authorities had earlier promised to reward officers who suffered during the End SARS protests.
ACP Eburuaja Nwachukwu had enlisted in the Nigeria Police Force on 1st March, 1991. He holds a Bachelor of Science degree from the University of Nigeria and Master of Science in Administration and Management from the University of Lagos.
In addition, he has Advance Diploma in Security Operations Management and Specialist Certificate in Investigation and Intelligence.
ACP Nwachukwu had served in several locations in various capacities. Prior to his deployment as the DPO in charge of Elemoro, he had served as Acting DPO, Ketu Division, DPO Iju Division all in Lagos State Police Command.
He had also served as Area Crime Officer, Area Lima and Area Kilo Commands in Borno State, Staff Officer DFA, Admin Officer, Police Airwing Command, Team Leader Anti Fraud Unit Force CID, Annex Alagbon Close, Ikoyi Lagos. Before his recent promotion, he has been in charge of Conflict Resolution, Area 'E' Command (FESTAC), Lagos State Police Command.
Share this Post