Ohanaeze Ndigbo General Assembly Celebrates New Yam Festival, Canvasses Igbo Unity , As Eze Sunday Ojukwu Harps On Love, Togetherness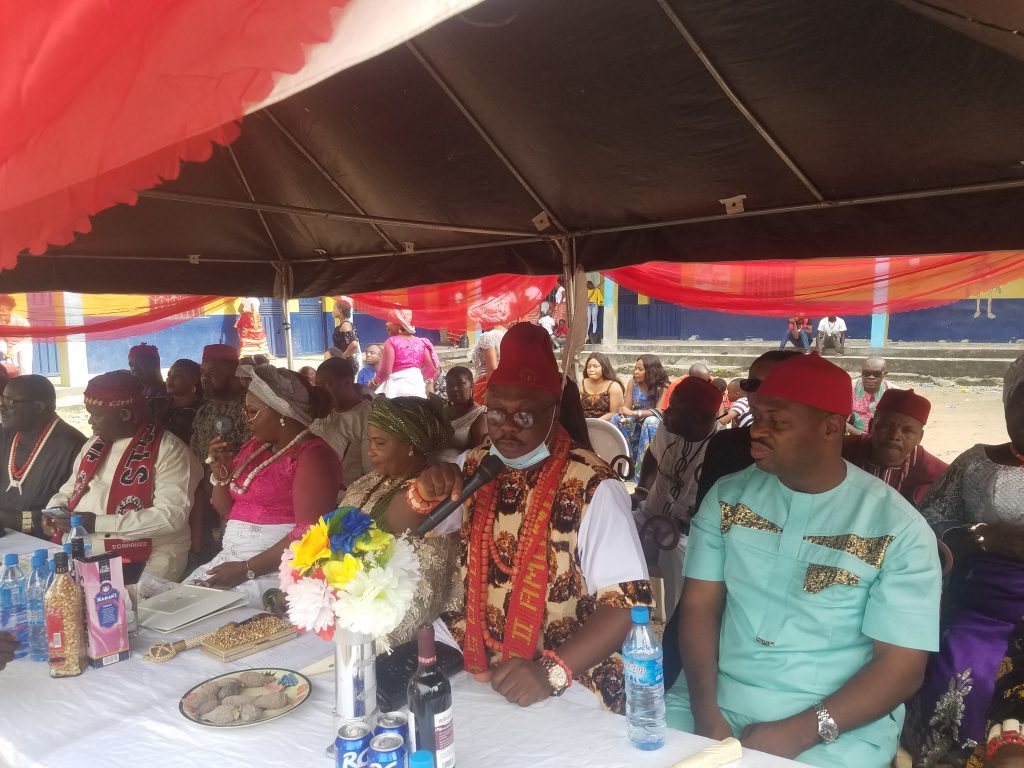 Share this Post
In its bid to make an indelible statement and show critics that it has come to stay, The Ohanaeze Ndigbo General Assembly world wide, last week celebrated its New Yam Festival in a grand style.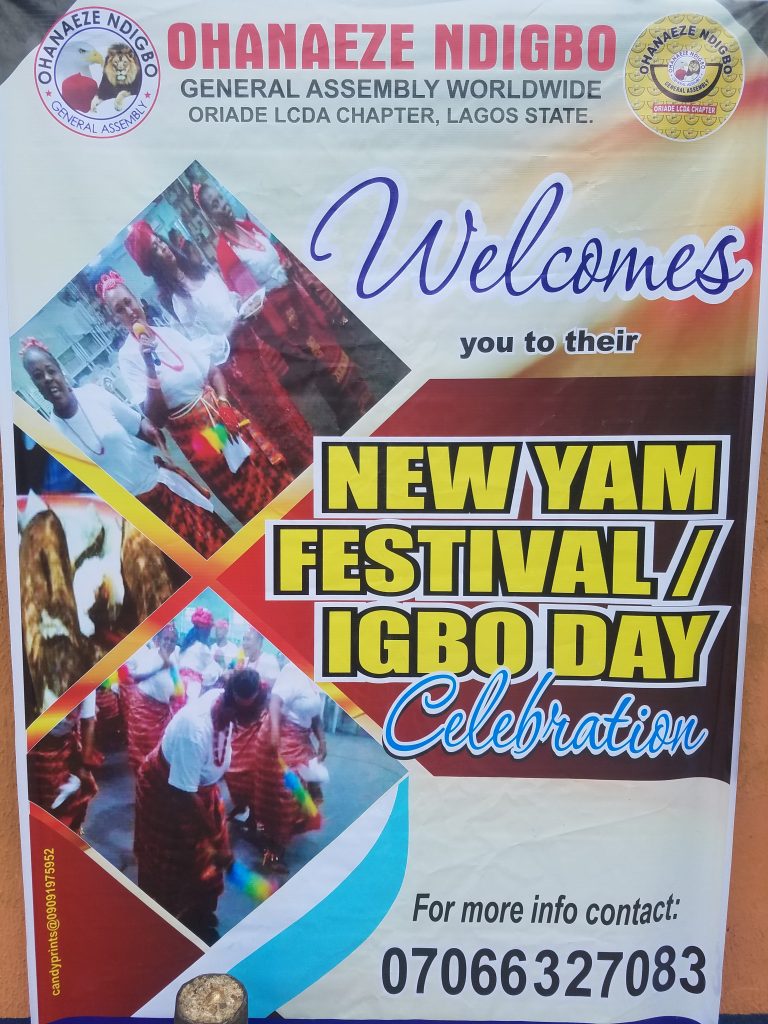 The Igbo group ,which claims to be the authentic and legitimate Ohanaeze Ndigbo group that has the backing of the law, having been duly registered and recognized by the corporate Affairs commission, gathered its numerous supporters at HopeBay College compound, opposite Festac gate, Maza Maza area of Lagos, in a land mark event.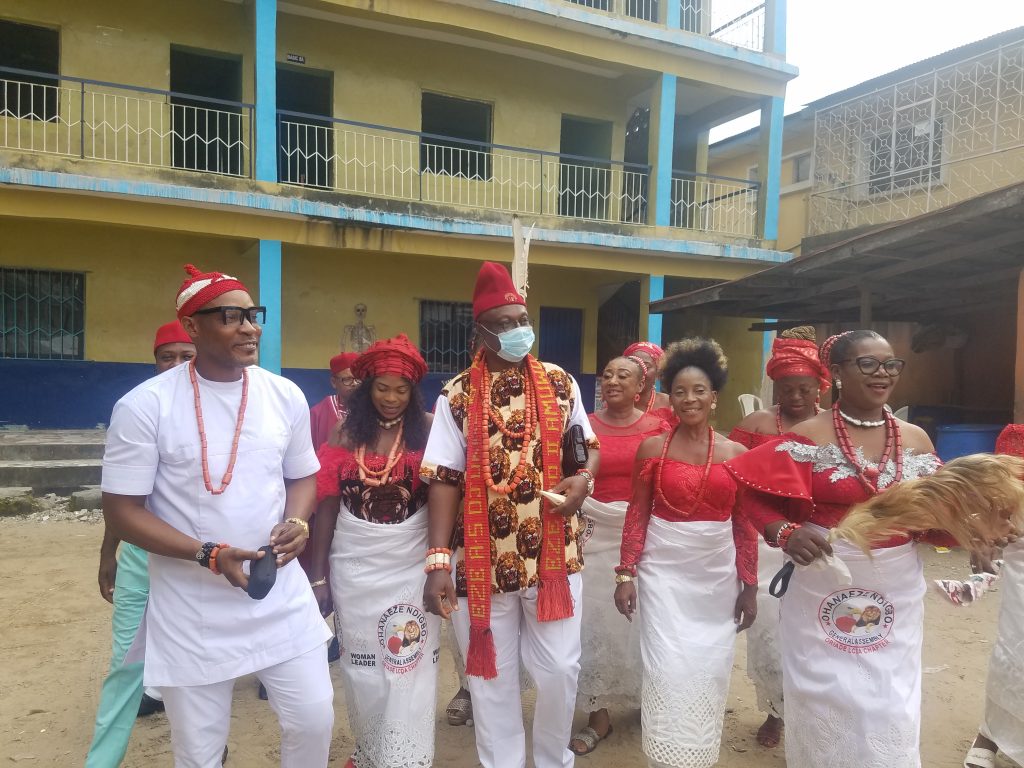 It was indeed a gathering of Igbo sons and daughters in a display of their unique cultural heritage and bringing into limelight ,the new yam Festival ( iri-ji ), which has remained symbol of unity holding and cementing Ndigbo bond of brotherhood.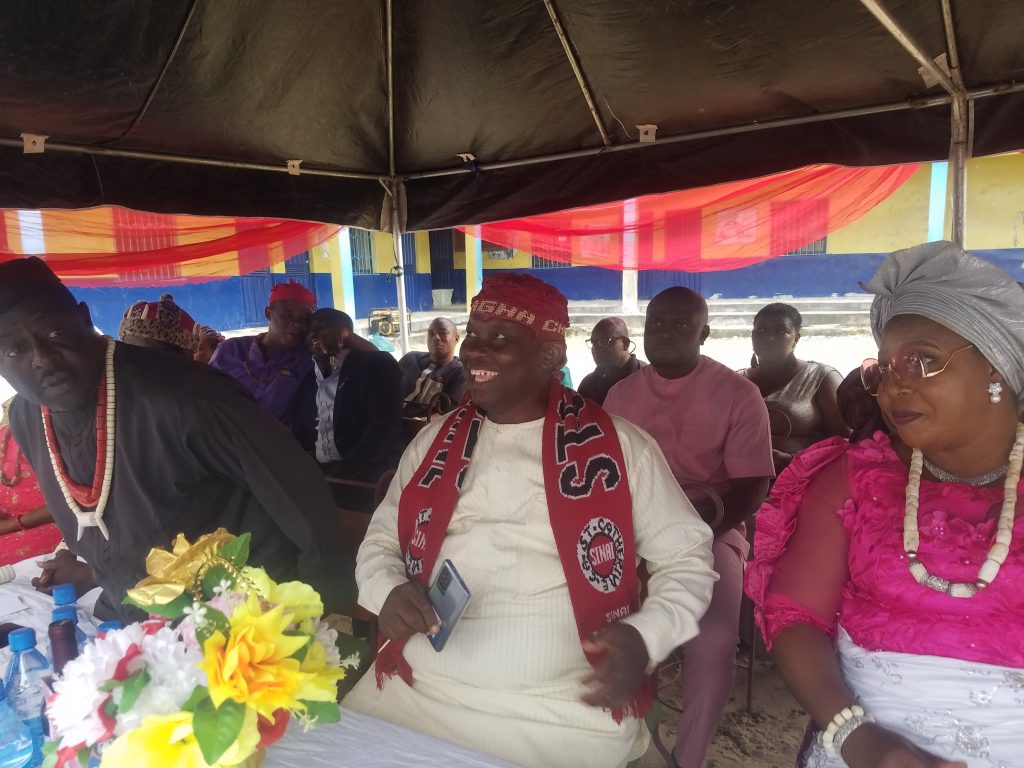 Prominent at the event which was celebrated in an atmosphere of harmony, fanfare ,funfair , pomp and pageantry in Oriade LCDA area of Lagos state , were Eze Ndigbo in Amuwo Odofin, His Royal Highness, Eze udo 11, Eze Sunday Augustine Ojukwu, Balogun Business Association (BBA) President, Chief Tony Obih, BBA Chief Security Officer and Chairman of the Occasion, Prince Chuks Emechebe, Honourable Chris Nzomiwu, Chief Emeka Obi , Chief Chuks Gab Nwosu, (Nze Nwajiugo ), Chief Alfred Nwoye and Mazi Mike Osuji (Ojemba).
Others are Ohanaeze Ndigbo General Assembly President, Chief Sir Eric Eze ( Ochiagha ), Eze Ndigbo in Oriade, Eze Chimereze, Eze Emmanuel Chukwuakalika,Oriade LCDA Chairman, Hon. Ramotalaia Hassan, Royal Mother of the day, Chief Dr. (Mrs) Tochi Ntodonke, Ohanaeze Ndigbo General Secretary, Christy Chukwueke ,Eze Akam II of Etiti,Orsu, LGA , Imo State, His Royal Highness Eze I.O . Okafor, Eze Ndigbo Na Riverine, Eze Chinedu Mozie, Mr. Okechukwu Ugochukwu, Chairman, Planning Committee and Youth Leader, Mr. Promise Lezieanya amongst others.
At the center of it all was the speech by the indefatigable and amiable Royal Father Of the day, Eze Ndigbo of Amuwo Odofin, Eze Udo 11, Eze Augustine Sunday Ojukwu, who harped on the need for Igbo sons and daughters to come together and express true love to one another.
Earlier, the Chairman of the Occasion, Prince Chuks Emechebe, had in his speech expressed profound appreciation to all the guests that honored the invitation by the Igbo group.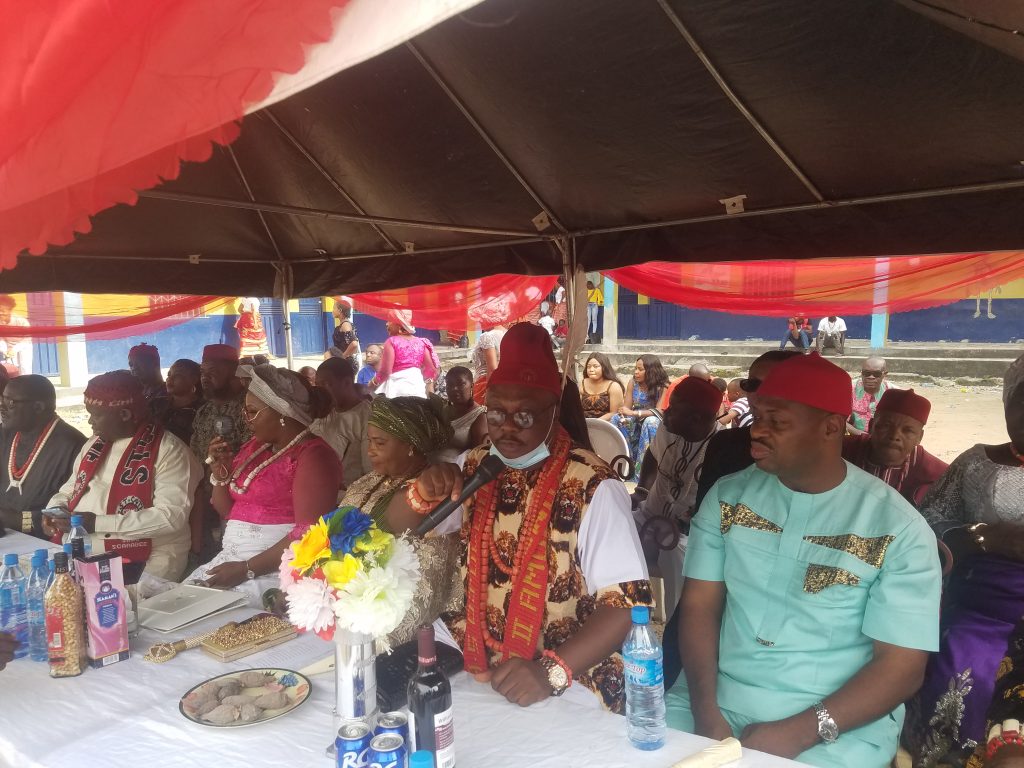 Prince Emechebe also enjoined all Igbo sons and daughters to come together under one umbrella, in an exhibition of togetherness and brotherhood.
Indeed, the event was indicative that new yam Festival remains integral part of all Igbo indigenes residing in Oriade local government area of Lagos State.
Precisely on Sunday November 14th, 2021, Ohanaeze Ndigbo leaders, residents, their Yoruba host and their entertaining cultural dance troupes and Masquerades, gathered at HopeBay College, Lagos State and celebrated New Yam Festival in remembrance of their cultural heritage.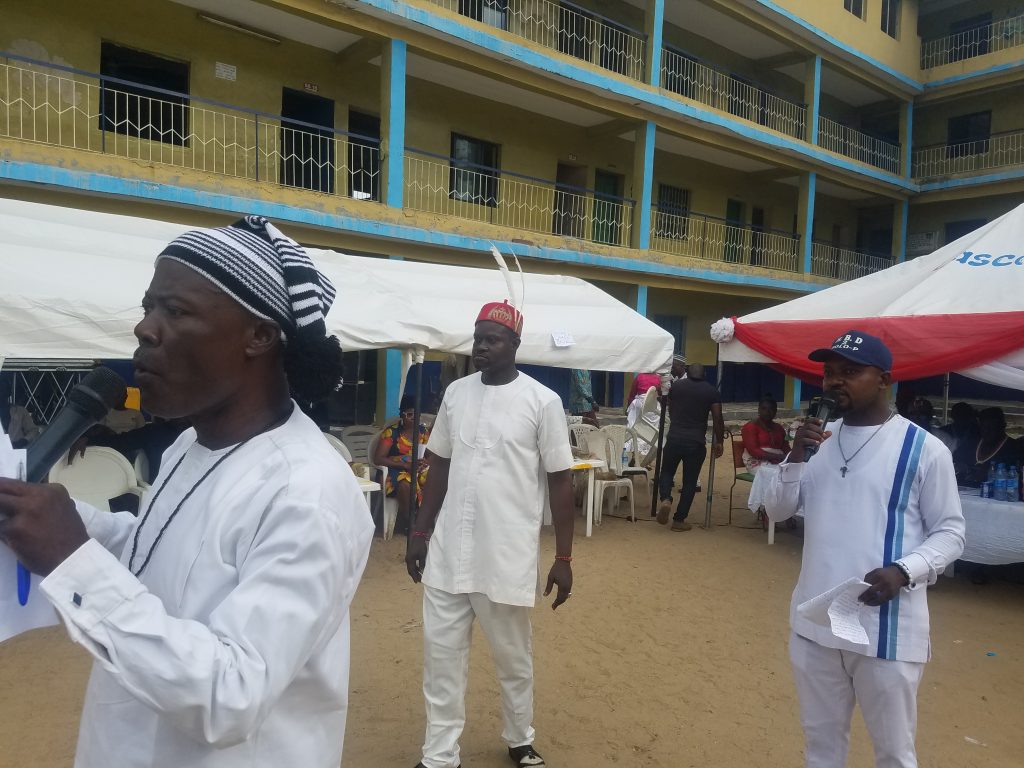 According to Eze Ojukwu , who offered royal blessings at the occasion while breaking the traditional kola nuts ,said the remembrance of yam festival in Igbo land remains significant and symbol of unity among the people.
In his own speech, Chief host and the group's Chairman in Oriade LCDA, Nze Edwin Egboka,expressed gratitude to God that made the event possible and thanked all the guests that thronged to the venue to identify and celebrate with him and his Committee.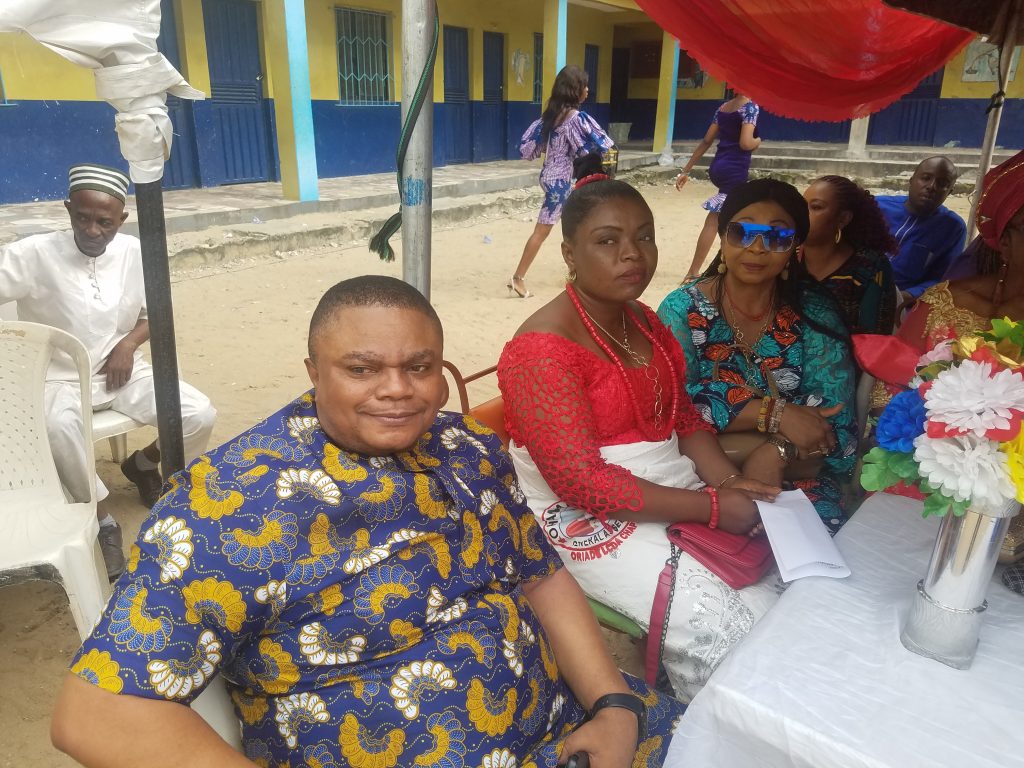 " This year 2021 New Yam Festival and Igbo Day Celebration has been fashioned to show case the culture and unity of Ndigbo in Oriade LCDA Lagos state, we have also decided to use the occasion of this great gathering to give awards  deserving to very special individuals. We are humbly soliciting for supports in every area that it requires to keep Ndigbo United and in peace with other tribes in Oriade LCDA and Lagos state at large, Nze Egboka Stated. "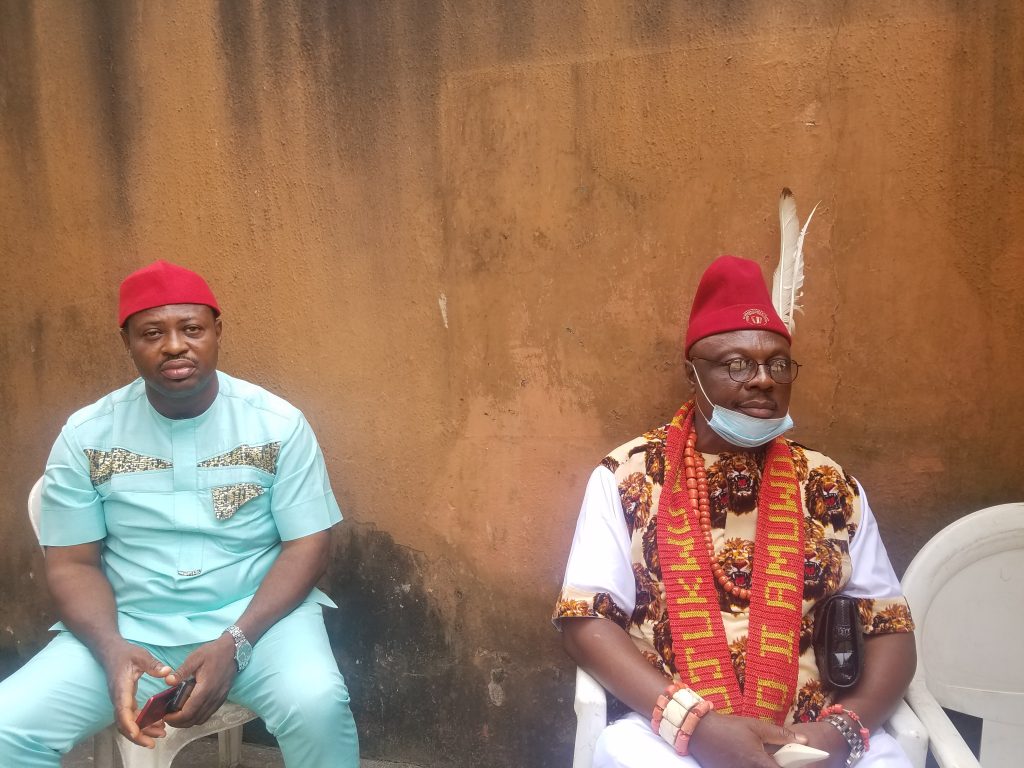 All the Traditional  Leaders and  Eze Ndigbos took turn in blessing the new yam , before slicing a portion which they publicly ate, to signify and kick start general consumption of yams by igbo residents in Oriade.                                                    
The event witnessed colourful cultural displays , Masquerades , various women and youth associations under Ohanaeze Ndigbo General Assembly world wide in Lagos, including exhibition of  Igbo dishes and Yam eating among others.
Share this Post