Quadrant MSL, High-Stakes PR and GLG Communications, Partner to Host Africa Communications Week 2023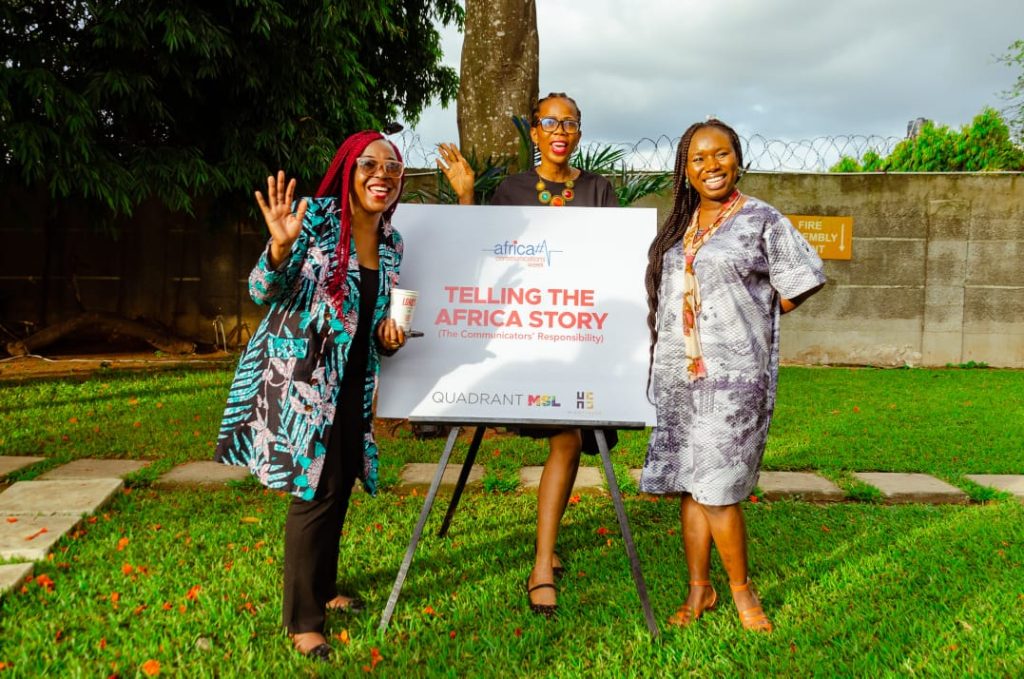 Share this Post
Members of the Africa Communications Week (ACW) on Thursday, May 25 2023, hosted communications professionals across Lagos to a conversations-and-cocktails event, to commemorate Africa Day and Africa Communications Week 2023.

The event, themed 'Telling the Africa Story: The Communicators' Responsibility', was hosted by Quadrant MSL on the grounds of the Insight Redefini Campus, the integrated marketing communications group of Troyka Holdings, and member of Publicis Groupe.
The event and dialogue which was spearheaded by ACW host, Victoria Uwadoka, Corporate Communications Manager, Nestle Nigeria, was designed to promote intentional and responsible communications practices for a strong African narrative.
On why Africa Communications Week is important, ACW host in Lagos, Victoria Uwadoka disclosed that dialogues like 'Telling the Africa Story' are instrumental in shaping and amplifying the dynamic narratives of Africa. She said, "As African communicators, we have a responsibility to represent and reflect the realities, challenges, and opportunities of our continent.
As we engage, it is my hope that we will all embrace our responsibility as communicators and make a positive impact on Africa's narrative." Uwadoka praised members of the Africa Communications Week (ACW) for focussing on the important job of advancing a borderless Africa.
Seyi Layade, Account Management Director, Insight publicis, during her opening remarks, highlighted the importance of great campaigns and strategy carefully delivered in garnering support, using the example of late Mrs Dora Akunyili's 'Great People, Great Nation' campaign. She welcomed the dialogue and implored communication professionals to proffer solutions on how Africa's stories can be best told.
During the event, professionals were involved in critical thought-provoking questions about the African story, with some focus on the Nigerian perspective, as well as a panel discussion with speakers from communications and media, including Victoria Uwadoka, ACW host and Corporate Communications and Public Affairs Manager at Nestle; Dr. Ogho Okiti, Chief Product Officer, Think Business Africa, and former Managing Director of BusinessDay Newspaper; Anthony Osae-Brown, Nigerian Bureau Chief, Bloomberg; and Oluwarantimi Olaniyan, Co-host and Business Lead of Quadrant MSL who also moderated the panel discussion.
Both Dr Okiti and Mr Osage-Brown agreed that the African story was about its diversity and uniqueness, stressing the roles that internal competence and history play in the collective narrative.
In her statement, the event host, Oluwarantimi Olaniyan, stressed the importance of getting Africa's story right. She said, "Africa's development is dependent on the perception of its activities by both dwellers and continental colleagues.
This perception of Africa determines the volumes of trade and investment, patriotism, and hope. For this reason, the African story must be apt to deliver the positive outcomes Africans desire. We must look beyond ourselves to collaborate across sectoral and specialisation borders in order to enhance the true story of our diversity, bringing in content creators, media and non-communicators into the mix."
Oluwarantimi who is quite keen about responsible communications reiterated that what communicators say and how they say it, have an impact on Africa's reputation.
Sharing their excitement about the dialogue, attendees referred to the event as perhaps the most impactful dialogue on responsible communications, in recent years.
Other public relations doyens present at the event included CMC Connect Group's CEO and immediate past President, African Public Relations Association (APRA), Yomi Badejo-Okusanya, who encouraged communicators to take the conversations to other stakeholders and encourage the dialogue in other spheres of society, as well as Assistant General Manager Operations of Channels Television, Kingsley D. Uranta, who encouraged partnerships and sponsorships of amazing African and Nigerian storytelling platforms.
About Africa Communications Week (ACW)
Africa Communications Week is a global movement building bridges between communications professionals committed to Africa's transformation.
AfricaCommsWeek hosts a series of global conferences, workshops, and events to encourage Africa-focused communication professionals to connect, engage, and impact Africa's transformation through strategic communication.
Share this Post