Renowned Nigerian Born International Art Collector, Chief Solomon Ogbonna Aguene, Says Africa Still Has Stock Of Ancient Bronze, Copper ,Wooden Artifacts. watch video below.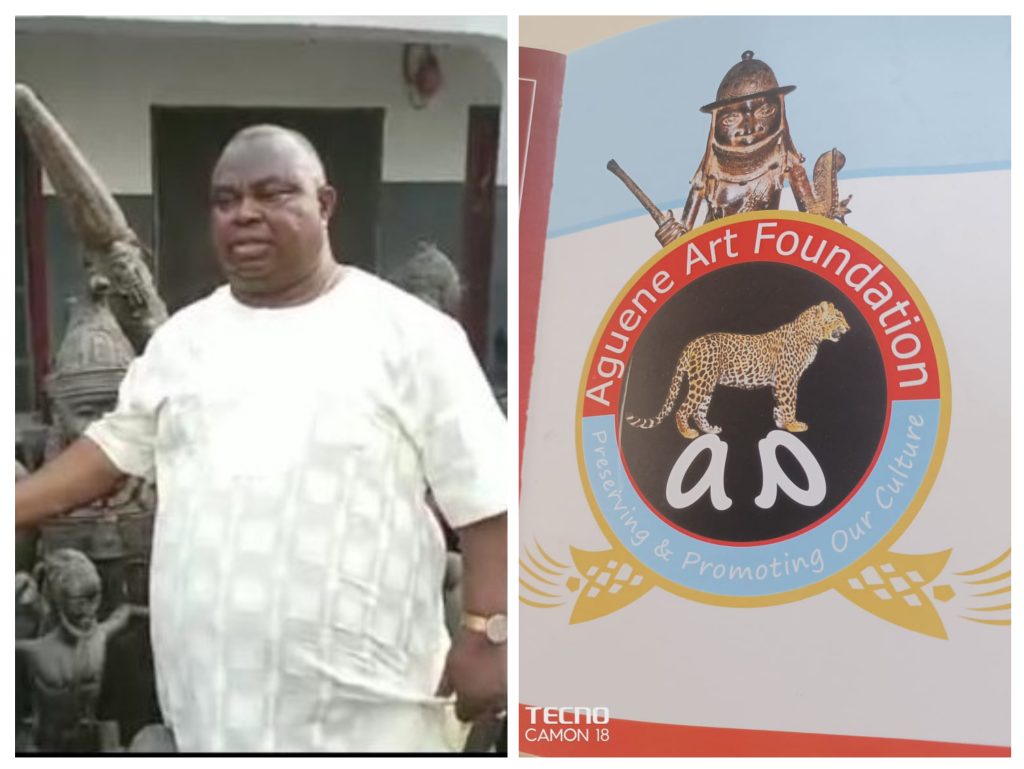 Share this Post
Renowned Nigerian Born International Arts Collector and Curator,Chief Solomon Ogbonna Aguene, popularly known as "Udochia Ndigbo" ,has debunked the erroneous impression in the international Art Market, that there is depletion of ancient artifacts and art works ,dating back to two and three hundred years old in Africa , especially in Nigeria .

Chief Aguene, who is the Chairman Board Of Trustees,BOT, Aguene Art Foundation ,Nigeria,made the assertion on the heels of recent return of some Benin ancient artifacts from Europe and America.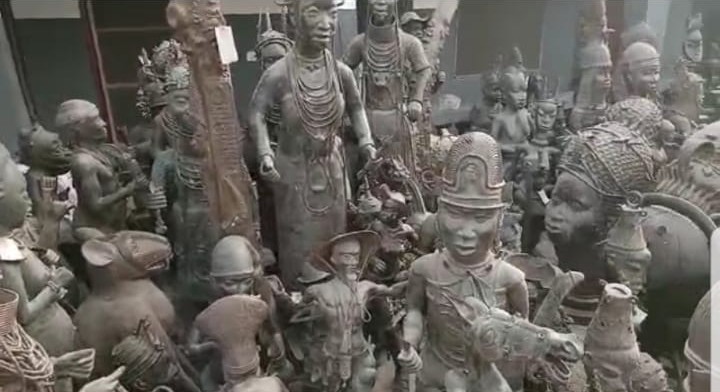 The Creative Art and Popular Collector Aguene ,stated that despite the unquantifiable numbers of African Arts and Artifacts stolen and or carted away to Europe and America, Africa , Nigeria in particularly ,including himself, still has in his custody reservoir of thousands of beautiful bronze, wooden and Copper ancient artifacts that dates back to over two hundred years in his family museum in Lagos and Ebonyi States.
Besides numerous National and International endorsements , such as the ones by former Nigerian president, Olusegun Obasanjo in 2003 in Japan, former Arts and Culture Minister, Edem Duke, Aguene Art Foundation had conducted several high profile exhibitions in Ohio, USA, Europe,Japan, and an ongoing exhibition in Malta, which are testaments of Chief Solomon Ogbonna Aguenes' ingenuity.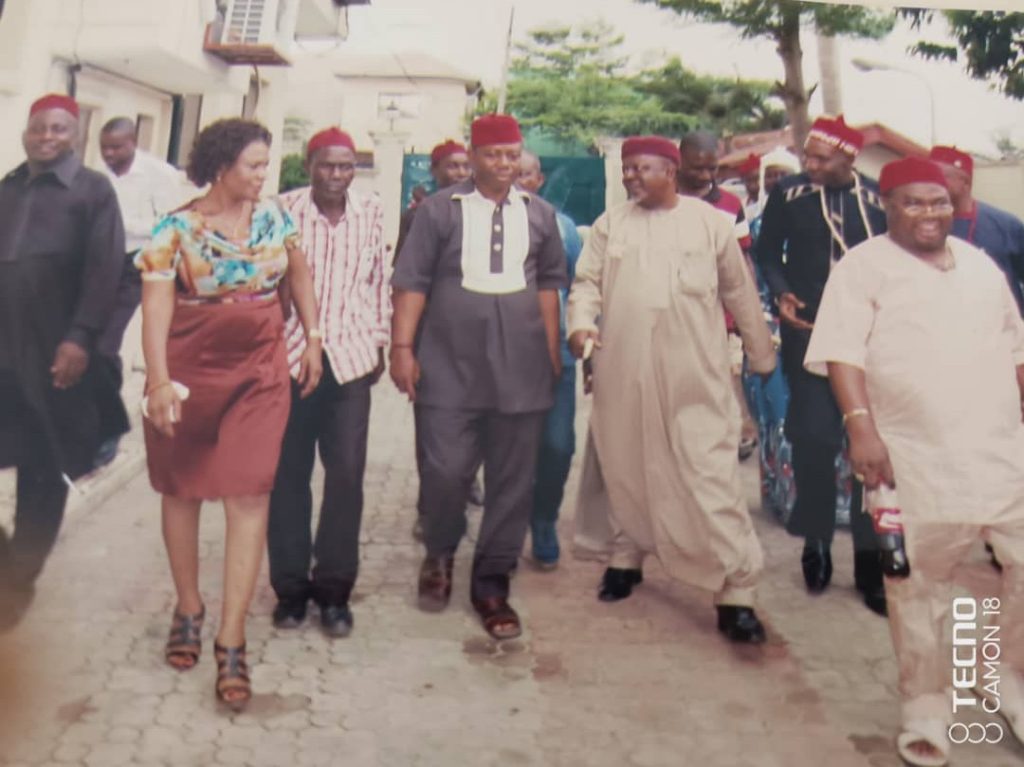 Caption: Chief Aguene in front with Everest Ozonweke his Aide at his back, taking former Ohanaeze Ndigbo President,Barrister Fabian Onwughara and other dignitaries on tour of his Arts collection in Lagos
This is even as more encomiums have continued to pour like Torrents in praise of Chief Aguene,who is also the President of Ohanaeze Ndigbo, Lagos state,for his resilience in preserving African Arts , Artifacts and cultural heritage.
From Gambia to United States Of America, many Arts collectors have acknowledged Chief Aguenes' efforts in putting Nigerian bronze, wood and Copper artifacts on global Map.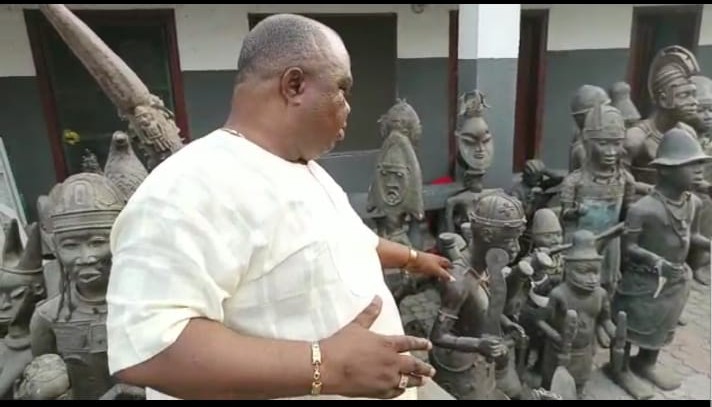 Presently, Aguene Foundation has the highest numbers of the prestigious and most valuable bronze in Africa, called Igboikwu bronze, which was found in 1938 in Mr. Isaiah Anoziem,s Compound.
Igboikwu bronze was found nine feet below the earth crust, when a retired Coal man hired by Isaiah Anoziem to dig a system for him, stumbled on the precious artifacts.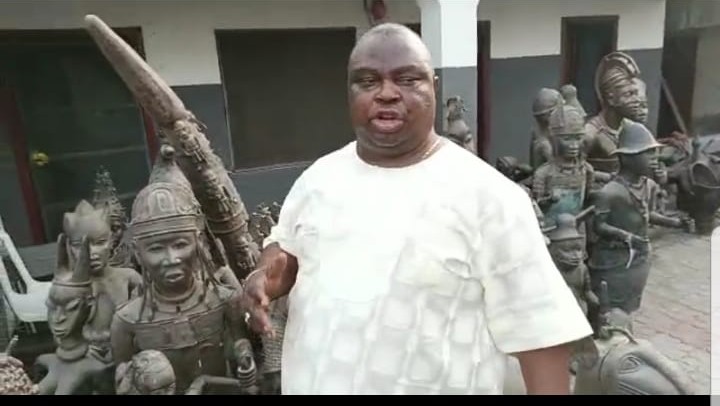 It is on record that Aguenes' family in Ebonyi State, are reputed to be one of the greatest custodians of ancient wooden , Copper and bronze Artifacts in Africa , dating back to Chief Solomon Ogbonna Aguenes' father known as Pa Okorie Aguene and great fathers, who themselves are reverred Royal priesthood, who with 'Okakwo 'were renowned in Ebonyi State for 75 years then to have the power to chastise evil spirits.
Internationally,Pa Okorie Aguenes' wooden Pepper tray known as "Okwa Oji" in Igbo language, is rated after undergoing international test as the purest and oldest in the whole of Igbo land and by extension in the world.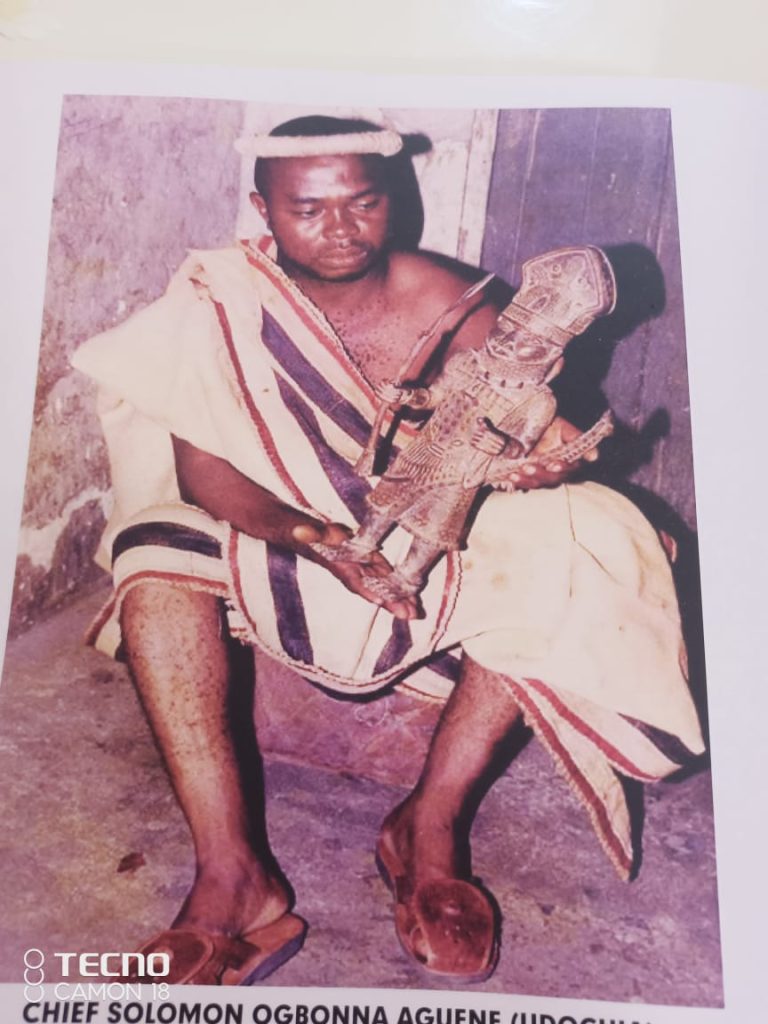 Indeed,Art collection seems to run in Aguenes' family blood as Chief Solomon Ogbonna Aguene learnt and took after his father,Pa Okorie Aguene, who was a major Art Collector but died in 2004,at the ripe age of 103 years.
Aguene,who acknowledged exporting several truck loads of ancient bronze Artifacts to Gambia and the USA Arts dealers in the last few years, fully started his Arts collection in 1988, with the 19 century Warrior figure artifact called " Okakwo bronze from Benin, Nigeria .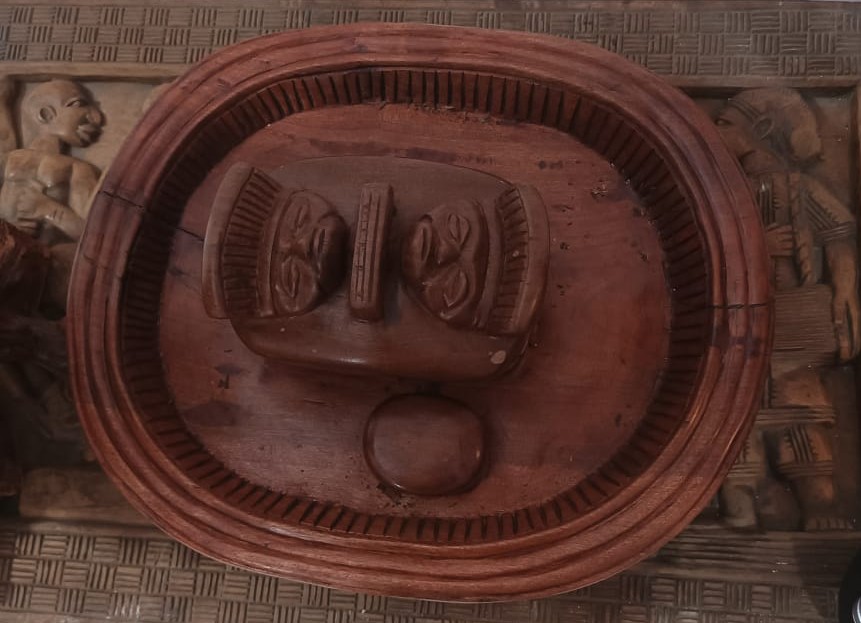 Infact, Provenance is an acquired art work from Chief Osaze Oviahon, which was his first external art collection in bronze in 1988.
In a trending photograph, Chief Solomon Aguene is seen in a complete ceremonial attire of the Ogbo-Ukwa traditional festival in Onicha Igbo-eze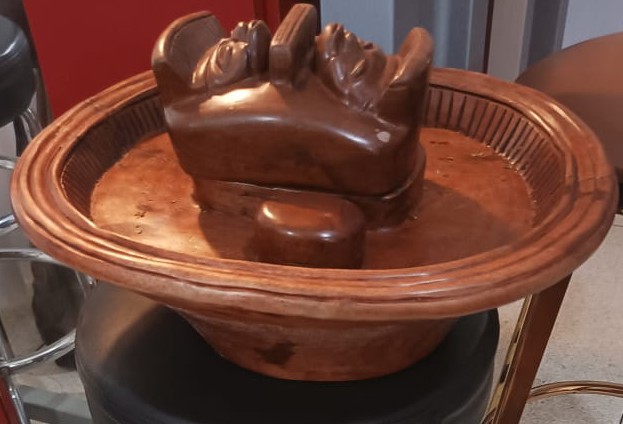 Speaking at a forum, Chief Solomon Aguene also known as Master of Creative and Collector,denounced the unsuccessful attempts by rumor peddlers and detractors, like one Onowu Everest Ozonweke, who he said has out of envy over his successful business in Art and artifacts , has continued to spread falsehood regarding Aguene family's ownership of the numerous ancient bronze Artifacts.
Chief Aguene recalled engaging Onowu Everest Ozonweke to haulage ten truck loads of ancient bronze Artifacts to and from Delta State, which Ozonweke charged N220, 000 per each truck, against the prevailing haulage cost of N180,000.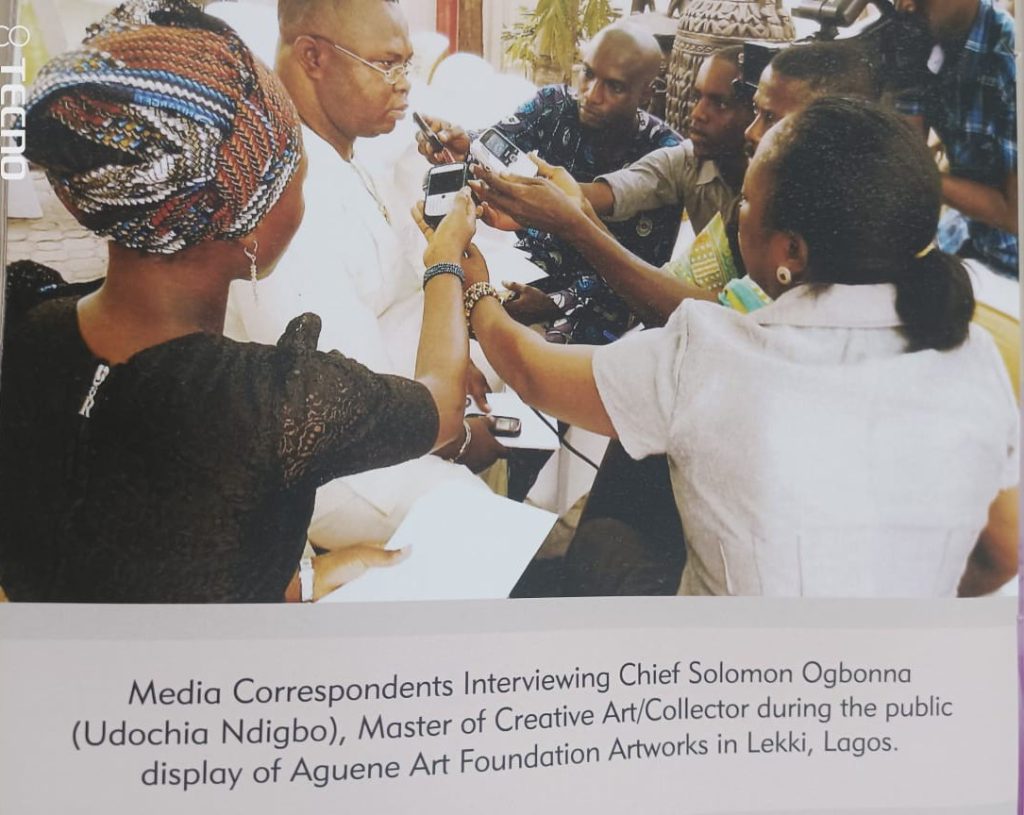 Despite refusing to prosecute Ozonweke for the fraud and cheating he perpetuated against him by criminally bloating the cost of the ten trucks which Chief Aguene hired to convey his artifacts for exhibition programmed in Delta State through a Commissioner during Governor Okowa led Administration .
Regrettably,Chief Aguene narrated how Ozonweke has been "bitting the hands that fed him", by trying unsuccessfully to dent the Art Collector's image before his friends, through lying that the artifacts were not his property.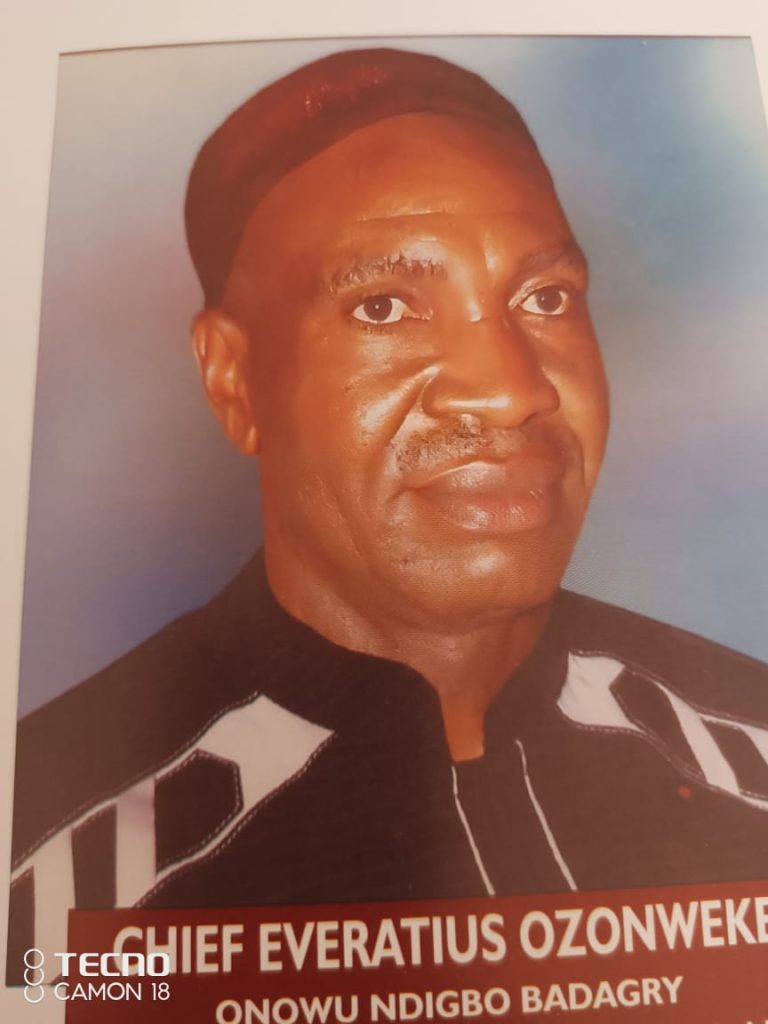 Onowu Everest Ozonweke
Recall that Chief Aguene has been acknowledged to be one of the biggest bronze Artifacts and Arts collector in Nigeria and Africa, dating back to when he was exhibiting his collections at Lekki phase 1, partnering with another specialist and Collector of paint in canvass, Chief Mike Oodua and various exhibitions at his former Admiralty Way office ,Lagos State.
Share this Post