Rivers State Police Command Rescues Kidnap Victims, Nab Notorious Cultists, Pipeline Vandals, Harvests Teenage Drug Users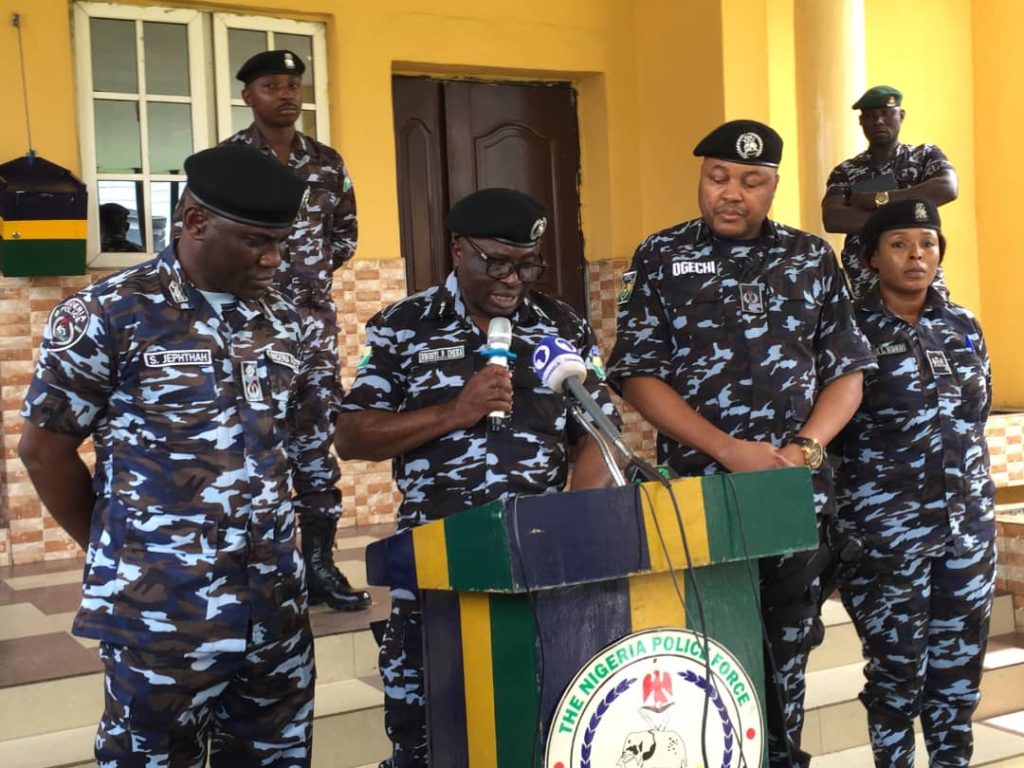 Share this Post
Rivers State Police Command said it has recorded feats in its fight against crime and criminality.

The Commissioner of Police CP, Nwonyi Polycarp Emeka,at a press briefing at the Command headquarters on July 7th, 2023, said that his leadership has recorded yet another laudable and worthy achievements in the fight against crime and criminality.
The text of his press statement reads thus : "On Friday, 30/06/2023, at about 2310hrs while on Metro Patrol along King Perekule Junction/Play House GRA, Port Harcourt, following a tip-off, my operatives intercepted and rescued victim (name withheld) of a kidnapping case reported to the Command.
"The victims narrated that one of their friends was kidnapped and taken away by the hoodlums who were operating in a carton-coloured Lexus RX 350 jeep after shooting at their vehicle's tyre.
"Pieces of 7.62mm empty shell and one iPhone belonging to the victim were recovered."
"On Thursday, 06/07/2023, at about 1800hrs, acting on credible information, operatives trailed and tracked down the kidnappers at their hideout along King Perekule GRA, Port Harcourt. The victim was rescued unhurt in a bush at Ozuoha in Ikwere LGA."
"One suspect Buchi David "m" 20yrs old, a native of Aka Community Oguta LGA in Imo State was arrested. "
"Exhibits recovered from them include: One locally fabricated, cut-to-size gun, six cartridges, and Army camouflage.
Effort is being made to arrest the fleeing suspects while investigation is ongoing".
Also, on "Friday, 30/06/2023 at about 1500hrs, acting on credible information that there was cult-related activities going on along Hospital Road, Bonny, a patrol team from Bonny Division tactically moved to the scene.
The cultists, on sighting the police, took to their heels".
"Exhibits recovered from the scene include an English-made Pistol, a bag, and one Tecno Phone.An investigation has commenced with a view to arresting the fleeing suspects".
In another operation on "Friday 28/06/03, between 0700hrs and 1200hrs, police operatives attached to Special Area Division, Eagle Monitoring Unit, other Tactical teams and local Vigilante men of Obio-Akpor embarked on a joint rigorous and intensive raiding of criminal hide-outs and illicit drug sale outlets within Obio-Akpor L.G.A."
"The outcome of the joint operation was a harvest of suspects comprising of young boys/girls between the ages of 15 and 28yr and assorted exhibits."
"Exhibits recovered include different hard drugs suspected to be Ice, marijuana (Indian hemp), cannabis, cocaine, and heroine.
"Also recovered from the premises of the Slaughter behind Rumuokoro Market were; three (3) PMF uniforms without name tags, one Army camouflage scarf, a green army raincoat, cult-related accouterments such as cutlass, a small axe, daggers, one locally fabricated revolver pistol with one live cartridge, and four (4) expended cartridges.
The suspects have been professionally interrogated and profiled".
In a related development, "On Sunday 02/07/2023, at about 1300hrs, following the incident of Store-breaking and Stealing reported by one Tobbins Soye 'm', the Manager, Paldos Investment Nigeria Ltd located along East-West Road, Choba, Port Harcourt, that on Saturday, 01/07/2023 at about 0800hrs, he discovered that the company's warehouse was broken into and many cartons of their branded products were carted away by unknown thieves, police operatives swung into action and arrested one Grace Ebere 'f,' aged 24yrs".
" The suspect was the company's Sales Representative and a native of Arochukwu, Abia State but resident at Elder Kingsley Street, Ada George, Port Harcourt."
"She conspired with one Silas Johnny Udom 'm,' aged 30yrs of Mkpat-eni LGA, Akwa-Ibom State but resident at Chinda Street, off Ada George Road, Port Harcourt and broke into the warehouse by damaging the padlocks with corrosive substance suspected to be acid".
"Both suspects confessed to the crime and led police operatives to the house of the third suspect at Chinda Street, Port Harcourt".
"The following stolen goods were recovered from them; eleven cartons of three-crown milk; Eleven cartons of refilled powdered Three Crown milk; Fifteen cartons of 400mg Peak milk; twenty-five cartons of Three Crown evaporated milk; four cartons of 800mg Peak milk, four cartons of Baby Peak milk; five cartons of Frisco rice; one carton of 900mg Peak milk and eight cartons of 14mg Peak milk, all valued two million, six hundred and thirty-six thousand naira (N2,636,000)".
The Operatives also "recovered is a Blue coloured Toyota Camry saloon car with Reg No. ABC 473 GY, property of the second suspect which was used to cart away the stolen goods.Investigation has been activated to arrest other culprits".
Again," Operatives of Anti-Cultism Unit Bori Annex, on Wednesday, 05/072023, at 1000hrs, while on patrol at Yonkuru Community in Khana LGA, arrested one Baridakara Baridam, a.k.a Ojukwu, who has been on the wanted list of the State Police Command".
On interrogation, "he confessed to being one of a three-man gang comprising Mali from Bere Community and Lekian, a.k.a Tall Man, both from Khana LGA.
The suspect confessed to owning two AK-47 rifles, which they use in their criminal activities, the two AK47 riffles as been recovered.Investigation is ongoing".
However, sequel to the criminal activities of a gang of wanted criminals terrorizing the East-West Road axis in Emohua LGA, "Operatives attached to the Anti-Cultism Unit, in conjunction with other Tactical Teams, invaded the hideout of one Uchechukwu Daniel Okana a.k.a Hunhman at Obele in Emohua LGA".
"On sighting the police operatives, the hoodlums in their numbers opened fire on them. A quick response by the operatives neutralized and dislodged the miscreants as they scampered for safety and bowed to superior fire-power (Six neutralized, Six arrested)".
" The six arrested suspects are helping the detectives in further investigation.
While thanking the good people of Rivers State for their understanding and cooperation, I wish to use this medium to solicit for more support by availing the Police with useful information for more exploits", he concluded.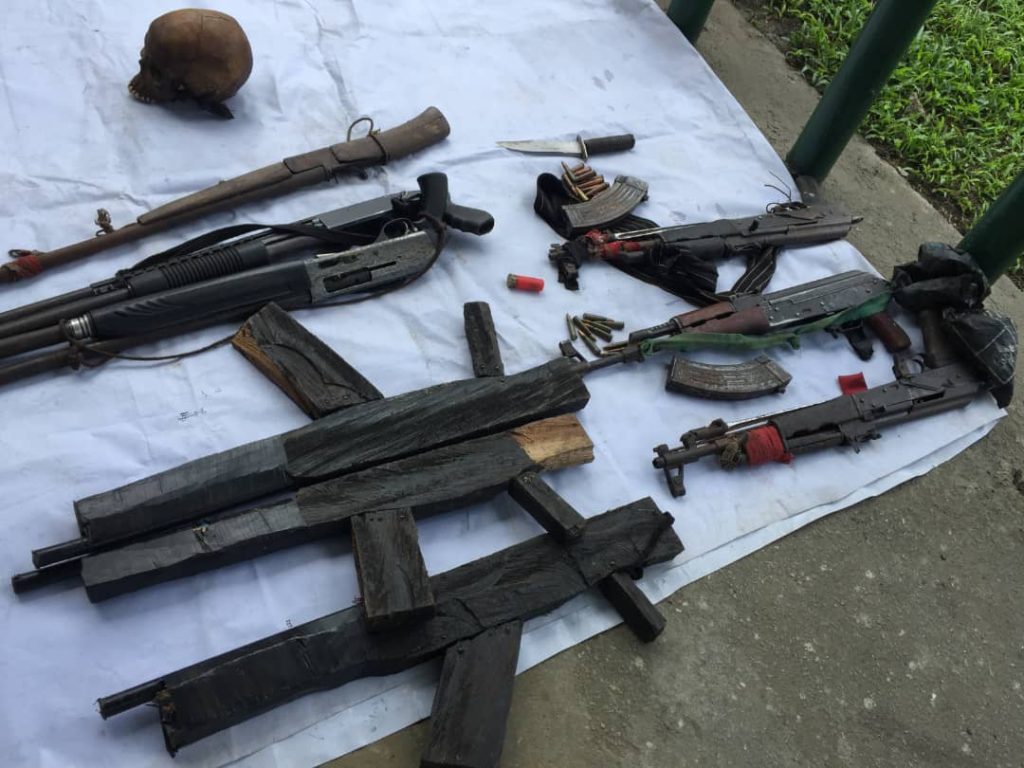 Share this Post