Send Money Across Africa in Seconds Using Ecobank Mobile and Omnilite Apps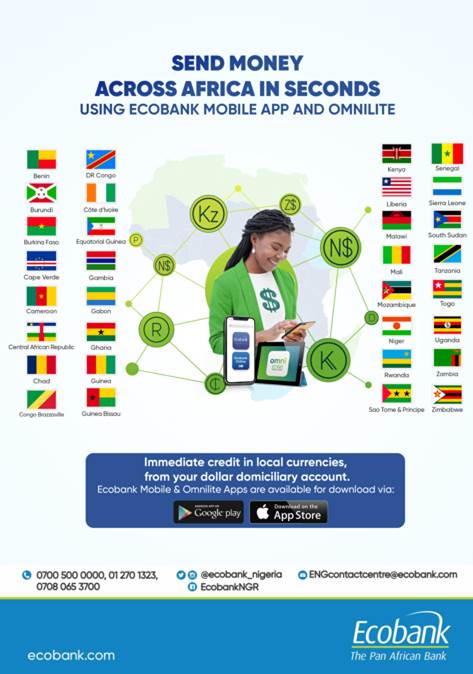 Share this Post
Ecobank customers can now transfer money in seconds to 33 African countries where Ecobank Group operates using Ecobank Mobile and Omnilite apps and the recipient gets immediate credit in the target country's local currency. 

Announcing this new development in Lagos, Head, Consumer Banking, Ecobank Nigeria, Korede Demola- Adeniyi, said domiciliary account holders of the bank can easily send up to $10,000 dollars at a time without hindrance.
Ecobank currently operates in countries in West, Central, East and Southern Africa, which includes Benin, Burkina Faso, Burundi, Cape Verde, Cameroon, Central African Republic, Chad, Congo Brazzaville, Democratic Republic of Congo, Côte d'Ivoire, Equatorial Guinea, South Sudan, Gabon, Ghana, The Gambia, Guinea, Guinea Bissau, Kenya, Liberia, Malawi, Mali, Mozambique, Niger, Nigeria, Rwanda, Sao Tome & Principe, Senegal, Sierra Leone, Tanzania, Togo, Uganda, Zambia and Zimbabwe amongst others.
Demola- Adeniyi explained that the introduction of Foreign Currency transfer on Ecobank Mobile and Omnilite app is in line with innovations in the banking industry, adding that it would also promote and facilitate ease of cross border business and financial transactions.
She urged those that are yet to commence a business relationship with the bank to open an account online via www.ecobank.com or visit any of its branches to open an account, noting that Ecobank Mobile App is available to all customers for their 24/7 digital banking needs while Omnilite is principally for business owners.
She listed the steps to access the Ecobank Mobile app to include the following;
Once logged in, navigate to the menu and locate the "Transfer" option.
Select the "Ecobank Africa" transfer option and specify the destination country for the transfer.
Choose the appropriate mode of delivery for the transfer, ranging from CASH, WALLET, INTERBANK, ECOBANK ACCOUNT, or XPRESS ACCOUNT.
Provide accurate recipient details and indicate the reason for the transfer.
Enter the desired transfer amount and finalize the transaction by pressing the "Send" button.
Also to access Omni Lite below:
Visit www.ecobank.com, Select Omni Lite and provide username and password to log in OR log in via the Omni Lite mobile app.
Click on the toggle menu button at the top left of the home page. Select transaction and then Select "Ecobank Africa."
Select the account to debit(USD).
Select the destination country.
Input the beneficiary account, confirm details, and click on next.
Input the OTP sent to his/her registered mobile number and or email address.
Inputs the token generated on the Ecobank authenticator app for amounts above 1,000,000 Naira or its equivalent FCY.
While cash transfers are restricted to $10,000 per day, there are no such restrictions for international transfers that are not funded by foreign currency cash. Let the boundaries of your finances be effortlessly broadened with Ecobank". She stated.
Ecobank Nigeria is an affiliate of the Ecobank Group, the leading private pan-African banking group.
Ecobank Nigeria offers a comprehensive suite of financial services and solutions to Consumer, Commercial, Corporate and Investment Banking clients at over 200 branches, numerous ATMs and 50,000 Xpress Point agencies.
The Ecobank Group was established in 1985 to drive financial integration and socio-economic development in Africa.
With a presence in 35 sub-Saharan African countries as well as in France, the UK, UAE and China, we have unrivalled expertise and experience across Africa. 
Our pan-African platform provides a single gateway for payments, cash management, trade and investment across Africa and beyond.

Share this Post