Condemnation Trails Reckless Commercialisation Of Eze Ndigbo Titles *Eze's Council Moves To Sanitise Membership *Sanctions Erring Eze Umenwekwe Chukwukadibia, Others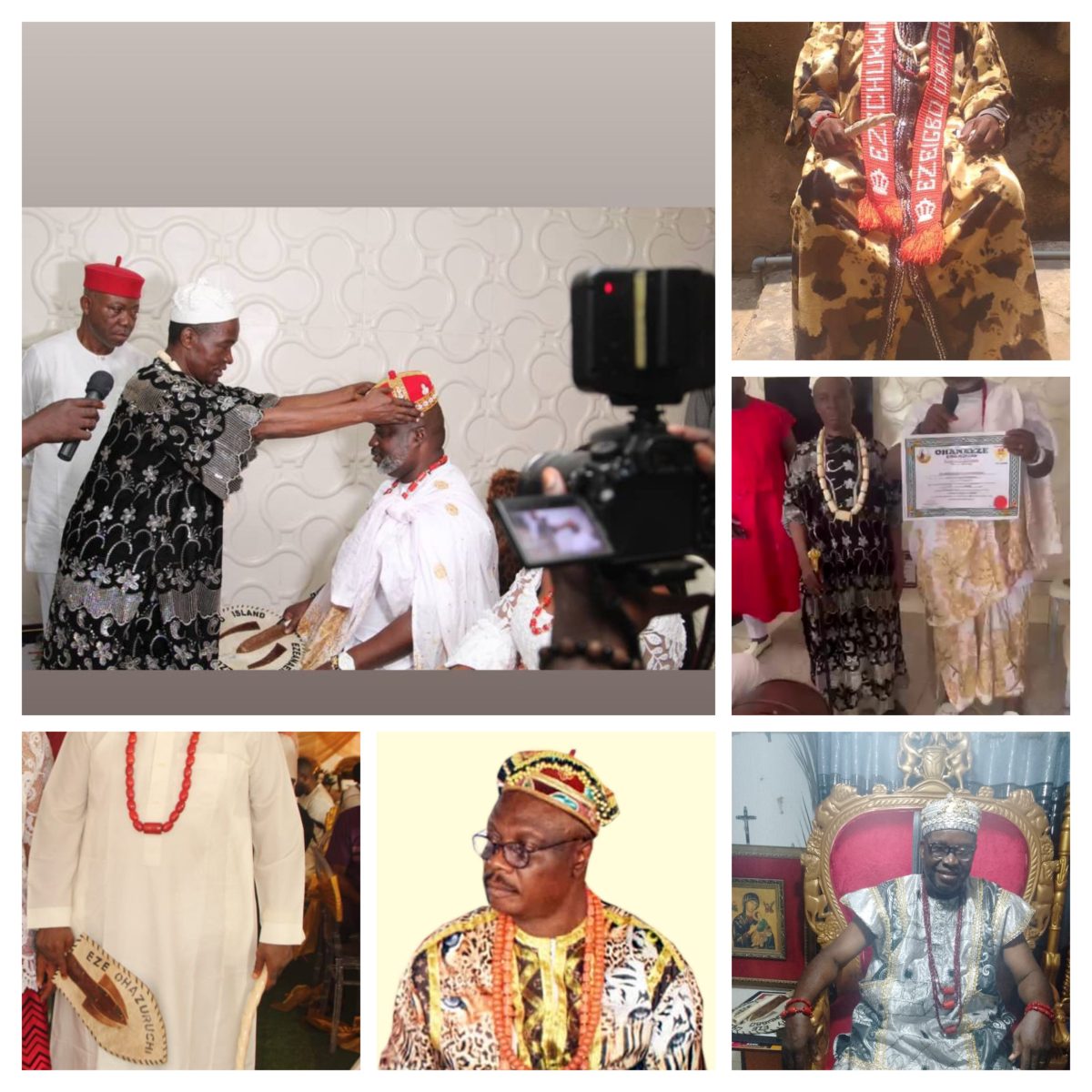 Share this Post
Irked by what they described as shameful,degrading and dis royal manner some hitherto respected Igbo leaders are undermining the integrity of the Ezeship institution in diaspora, especially in Lagos State, a group of Ndieze in Lagos, appears to have decided to weed out bad eggs and sanction some erring members.

This proposed action to sanction erring members, the concerned Ezes argued, is aimed at check mating alleged ongoing abuse and demeaning of the Ezeship royal institution.
Impeccable sources in the group, revealed that the decision was arrived at, after a viral video clip, exposed an alleged clandestine home and private installation of Eze Onyeka Ifekandu , as Eze Ndigbo Lagos Island by Chief John Uche, popularly known as "Akpatinsiegbe ",in alleged partnership with Eze Umenwekwe Chukwukadibia and Eze Odumodu Agaga Jude Arinze.
Worried and irritated over what many of the Ezes termed betrayal of trust , double standard and dealings, which is working against their Association, the group belonging to Ndieze Council, according to some Ezes, who pleaded anonymity, have vowed to penalize and sanction Eze Chukwukadibia and his cohorts,
According to the Ezes who spoke on the grounds of anonymity, they revealed that already Eze Chukwukadibia has been deleted from their council's platforms and records, pending a proposed emergency meeting where his membership status would be X-rayed and be re-examined.
Credible Sources from the Council of Ndieze camp, revealed that already, Eze Chukwukadibia may have been fined a life cow for his alleged 'sacrilegious' action .
One of the respected Eze Ndigbo in Lagos state, who is also a traditional Royal Father in his community in the South East, (names withheld), whispered to News Planet International ,that many aggrieved Ezes are routing for Eze Chukwukadibia's suspension from membership for a period not less than 6 months.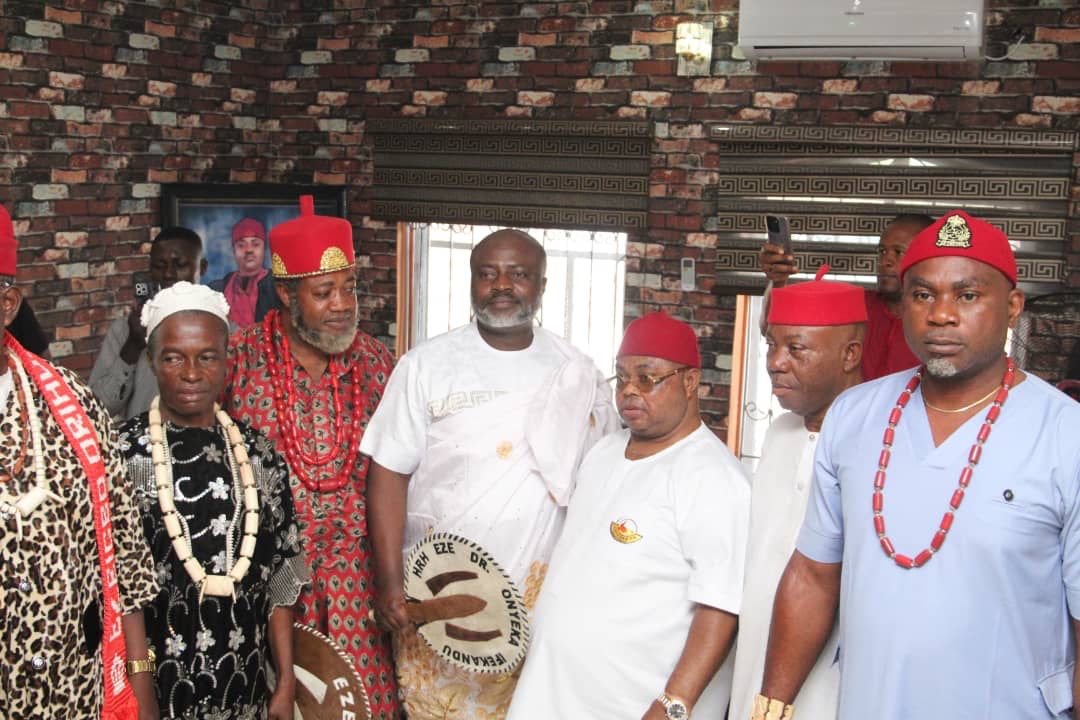 While others who spoke with our Correspondent in confidence , hinted that considering Eze Chukwukadibia's alleged antecedents, they will be asking for a total excommunication , immediate withdrawal, de-robing of his Ezeship title, as according to them, "he is a fake and 419 Eze , who was never originally, formally, traditionally ordained or installed as Eze Ndigbo in Oriade LCDA, Lagos state.
They Challenged him or any person vouching for his Ezeship title, to produce "evidence of Eze Chukwukadibia's public coronation, be it Videos, photographs with his family, wife, children, Oriade LCDA Igbo community, king makers, other than the controversial photograph he took with Chief John Uche recently before two Ezes (Names withheld)", which they argued was taken to deceive Ndigbo in Lagos.
When Chief John Uche was contacted to comment alleged bastardation of Eze titles in diaspora, especially in Lagos state, he lambasted those he said are maligning his name.He challenged them to come out open and confront him.
Chief Uche warned those fanning the embers of problems to desist, as he revealed that plans are in the pipe line with Ohanaeze Ndigbo Worldwide,to deal with some people he called fake and 419 Ezes,who he said were coronated by other Ezes , contrary to Igbo culture .
He said: " Iam a genuine and principal King Maker, Leader of King Makers, licensed and recognized by Ohanaeze Ndigbo Worldwide, Enugu. And I have authentic and verifiable documents to show for it. An Eze can't coronate another Eze in Igbo Culture and tradition.Let those Critics come out and face me and I will unmask some of them who are questionable characters, 419 people masquerading as Ezes, whose stock in trade is to defraud unsuspecting, unwary Igbo sons of N2.5 and above to coronate them as Ezes".
Continued he, " On the issues of Eze Chukwukadibia, if he has issues with some Ezes, I don't know and it doesn't concern me. What right does any Eze have to sanction another Eze for being a guest or attending an event?. Chukwukadibia was just invited to the event and had no partnership or anything to do with the coronation"
In an interview with Eze Umenwekwe Chukwukadibia, he exonerated himself of an wrong doing.
Eze Chukwukadibia, denied any wrong doing against Ndieze.He frowned at the manners he was selected as an escape goat, despite that there were about three Ezes at the controversial installation event.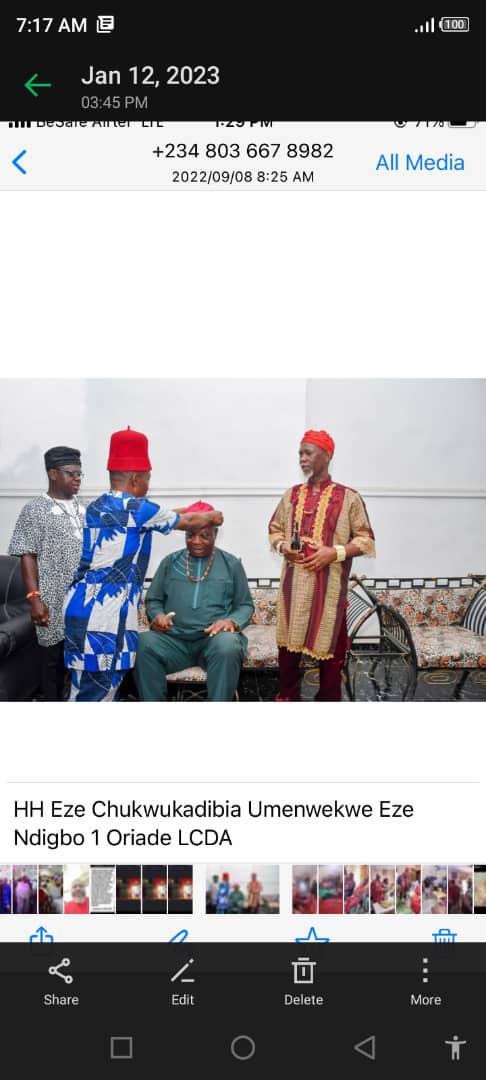 Eze Chukwukadibia who confirmed that his telephone number was removed from the Ezes Council platform but later reinstated, questioned the rationale behind the rumoured information that he will be fined a life cow , suspension or sanctions between two to six months.
He maintained that he never erred or contravened any laws, principles constitution or convention binding Eze Ndigbo in Lagos, just by attending an event he was invited as a guest.
"I didn't nominate the Man in question for Ezeship, I was not part of the organizers and did not benefit any financial or monetary compensation from the King Makers. So, why would anyone select me out for criticisms and condemnation?, Just because a friend of one of my Cabinet Chiefs, invited me to his event and people took my photographs and videos and circulated it for some devious reasons".
"Let it be known to all that Iam entitled to have my fundamental rights to life, freedom of speech, association and movement" ,Eze Chukwukadibia explained.
Speaking on his involvement in the coronation of Eze Ifekandu also known as Ozonkpu, Eze Odumodu Agaga Jude Arinze, surprisingly contradicted Eze Chukwukadibia, accusing him of having initiated the nomination and coronation process in his palace through one of his Cabinet Chiefs.
Contrary to the allegation that Eze Odumodu cleverly but unjustly collected Over N750, 000 as fees and or compensation from Eze Ifekandu before the coronation, Eze Odumodu in an interview feigned ignorance about the existence of Eze Ndigbo in Lagos Island.
While denying ever introducing or nominating the new Lagos Island Eze Ndigbo, Eze Odumodu said thus " Eze can't coronate another Eze.Are you saying Eze Ndigbo Lagos Island or Eze Ndigbo Idumota?, before you talk about Ezeship, you must talk about areas of coverage, domain or jurisdiction..Well, I didn't introduce, nominate or coronate the Man you are talking about as Eze, he started the process with Eze Umenwekwe Chukwukadibia before they came to me and I directed and counseled them to follow the right path through the Igbo Speaking Community President General, Chief Sunday Udeh.I even called Chief Udeh on their behalf.The man later told me that he could not meet up with their conditions before they went to Chief John Uche, who you know was the person that coronated Eze Chukwukadibia as Eze Ndigbo", Eze Odumodu stated.
However, in what was seen as exonerating Eze Chukwukadibia of any involvement in his nomination and coronation,the newly coronated Eze Ndigbo Lagos Island , Eze Dr. Onyeka Ifekandu, explained that he personally invited Eze Chukwukadibia and Eze Sunday Ojukwu as his guests and that it was not Eze Chukwukadibia that nominated him for installation as Eze Lagos Island.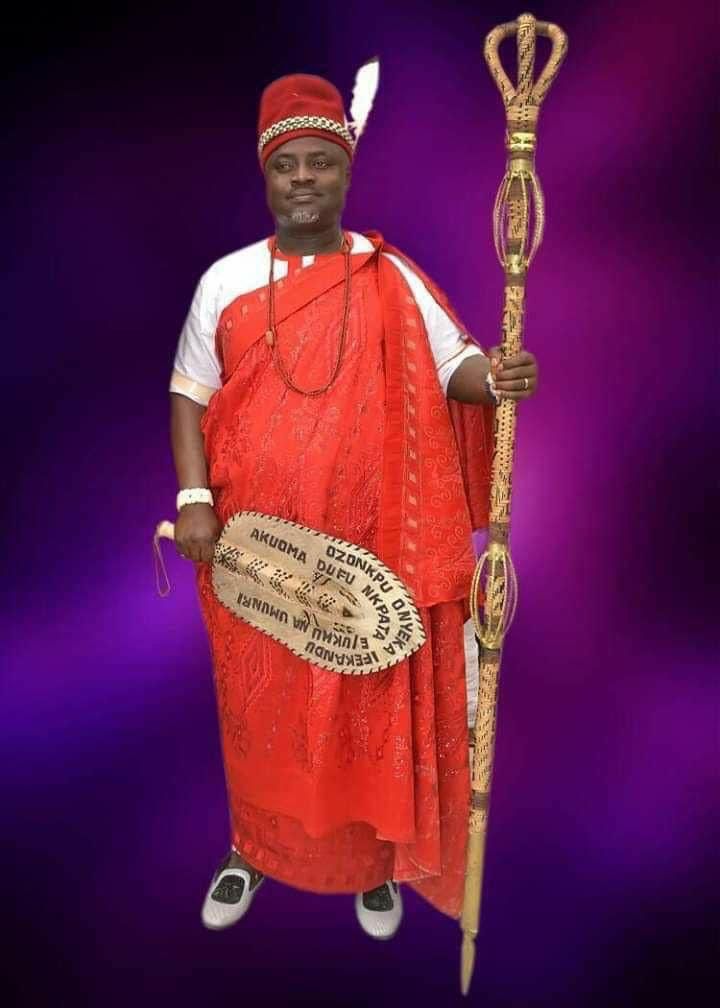 He confirmed that he was actually nominated by Eze Odumodu Agaga Jude Arinze of Green Field and coronated by a known king maker, Chief John Uche .
Eze Ifekandu, who said that he has been briefed on divisions amongst different Eze Councils, vowed to initiate reconciliation with all the groups, to ensure that peace reigns.
In a chat with Eze Sunday Ojukwu, Eze Ndigbo of Amuwo Odofin , he confirmed that he attended the event as an invited guest by the celebrant but denied benefiting financially or playing any role in the coronation.
Efforts by our Correspondent to get an official reaction of the leadership of Igbo Council of Ndieze, was declined .
But when our Correspondent sought for the reaction of Eze Chimereze Emmanuel Chukwuakalikamadu of Oriade LCDA, Lagos state, he was philosophical in his response.
Eze Chukwuakalikamadu who recounted the ugly experiences he had in the hands of Eze Chukwukadibia, bemoaned some certain behavior such as impersonation,which he frowned at, as very uncharacteristic of anyone claiming to be an Eze in diaspora.
He enjoined credible and genuinely coronated Eze Ndigbo in Lagos, especially the Igbo council of Ndieze, to seriously investigate on going allegations against "Chief Umenwekwe Chukwukadibia with a view of sanctioning him if found guilty"
Igbo Leaders, stakeholders and residents in Lagos are earnestly and anxiously awaiting the action the Igbo Council of Ndieze would take in the ongoing alleged show of shame that was said to have ridicled Eze Ndigbo Title in diaspora, especially Lagos state, where it is fast becoming a caricature and child's play.
Indeed, some Igbo residents recounted that it was similar scenarios and ridiculous abuse of privileges,that led to the scrapping of Eze Ndigbo titles in Abuja, Federal Capital territory recently.
Share this Post