England Manager Sarina Wiegman Reacts to Lauren James' Red Card Against Nigeria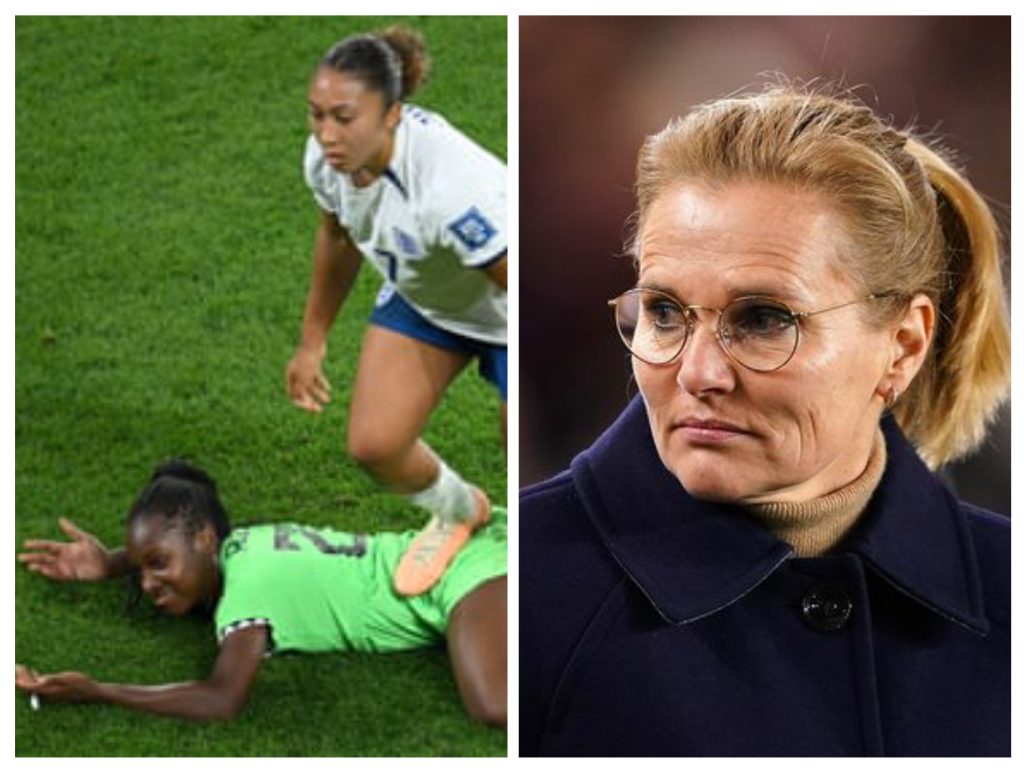 Share this Post
Sarina Wiegman, the manager of England, has responded to Lauren James' red card incident against Nigeria

James moved from hero to zero after she seemingly walked on her opponent's back
This makes the Chelsea W star the fourth English player to be sent off at a senior World Cup after David Beckham, Wayne Rooney, and Millie Bright
Following the red card incident involving Lauren James during England's round of 16 FIFA Women's World Cup clash on Monday, August 7, the team's manager, Sarina Wiegman, has responded to the situation.
Despite the high expectations for Lauren to be a crucial factor in guiding her nation to the quarter-finals, the Chelsea W forward encountered difficulties breaking through the determined Nigerian defence throughout the match.
The resolute defensive performance by the Super Falcons and the effective marking by Michelle Alozie left the 21-year-old forward feeling frustrated.
Unfortunately, her emotions got the better of her, leading to an inappropriate action as she stamped on her marker, GOAL reports.
However, James's unfortunate outburst of emotions did not ultimately impact England's chances of reaching the last eight.
The match went into extra time and, subsequently, penalty shootouts, where Wiegman's charges prevailed with a 4-2 victory over the West Africans.
After her team's triumph, the Dutch tactician addressed her star forward's 'moment of madness,' emphasizing that Lauren James's inappropriate action does not define her true character.
"It was a moment of a split second. It was later in the game, so players got tired. She's inexperienced on this stage and had done well but lost her emotions.
She doesn't want to hurt anyone. She's the sweetest person I know," the 51-year-old told the press, as quoted by Chelsea Women.Wiegman added: "Things happen like that, and you can't change it anymore. It's a huge lesson to learn, but it's not something she really did on purpose. I've spoken to her.
I just said, 'That happens sometimes with human beings.'"You're in such an intense game, such an emotional game and in a split second, she lost her emotions. Of course, she apologised and feels really, really bad. She doesn't want to hurt anyone."In a related publication, Sports Brief reported that England women's team superstar Lauren James was sent off during the World Cup round of 16 clash against Nigeria.
Lauren, who was expected to help steer her nation to the last 8 of the Women's World Cup, found it difficult to get past a resolute Nigerian defence for most of the match as the game ended 0-0 after 90 minutes.
Late in the game, frustration had started to creep in among the Lionesses. Lauren James was on the spot in the 86th minute after appearing to walk on the back of Nigerian star, Michelle Alozie.
Share this Post