Real Estate Mogul, Engineer Abiodun Akeem Ariori, Kick Against Money Politics, Urge Governor Babajide Sanwo Olu To Bring Governance Closer To Grass Roots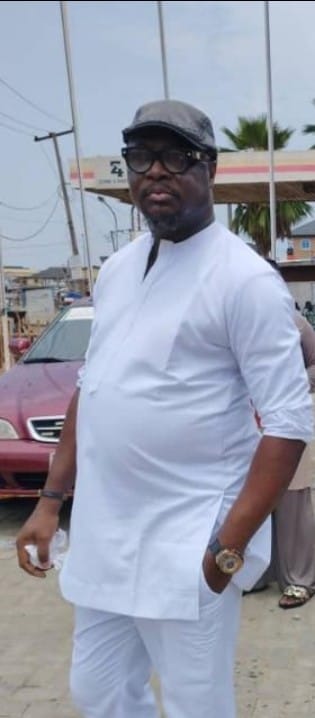 Share this Post
A Popular Lagos Real Estate Mogul and Top player in the Hospitality Sector of the Economy, Engineer Abiodun Akeem Ariori, has cautioned politicians against money Politics, to avoid derailing Democracy in the country.

Engineer Ariori in an interview with News Planet International last Saturday, March 18,2023 ,at his newly constructed Ultra Modern hotel located inside Gowon Estate, Lagos State, also advised Governor Babajide Sanwo Olu to increase his infrastructural development strides at the grass roots.
Ariori, who is also a philanthropist, rose from a humble beginning as a tenant in Gowon Estate, to become a major real estate investor in Alimosho local government Area, Lagos State.
" Let me start by telling you how I came to Gowon Estate, I came as a tenant to Alimosho, but I thank God where I am today and where God has kept me now" On why despite his popularity and philanthropy, he has refused to contest for elective position in Lagos, he said thus : " Since I have paid my dues in Alimosho, nobody can push me back but my calling is not to take any political position in Alimosho, some people will say God called them, I am not that kind of person, let me say that my calling is to help people".
As a pioneer member of the exclusive club tagged Alimosho pillars that gave birth to the popular Alimosho Day festival, he was one of the clubs financier, who also brought Prince Idris aka Oluomo and Tolani aka (Danger) and other important people in Alimosho into the Club.
" we started Alimosho day ,before all these people that are working together now were invited and they will sit on the high table and the people will be worshipping them and we that contributed the money will be looking and Juju Music menstro, Wasiu, will come and be singing for them, praising them and we will be looking, that's how I started to withdraw from them gradually."
On his assessment of March 18, gubernatorial election In Lagos, he said : "I think our Governor has learnt a lesson, I think we are getting to a level where nobody can dictate to you whom you should vote for, there is a Yoruba proverb that says that when you are Frying groundnut for a blind man you have to try, either to be singing or blowing Whistle, so that he will not think that you have eaten all the groundnut, because when you are doing that, he will believe that you are not eating his groundnut. Our Governor do so much believe in all these our leaders, if our Governors are performing very well, doing roads, providing employment, doing what the people wants, do they need to be given money to all these our leaders, they don't need it. This monetary aspect of it should be eradicated they don't need it".
"The Governor should be very close to the grassroots, he should not put the assignment in the hand of these useless leaders , he should be very close to the people. why I said that he should be very close, look at what just happened, thank God they extended the election, the Journey he could have made in 4 years, he made it in two weeks. why should he be sending people? why should he be giving money to people to vote the same people?, how many civil servants are in Ikeja, they are up to 2 million people, they could not have money come out and vote during presidency election. The number of people who came out to vote was not up to 1.5m . All those useless workers that you have at Ikeja, why are they expecting government to give them money for transportation before coming out to vote?, what are they talking about ?. All the people that are coming out in Alimosho, are just looking for Post , not because they love the party. Go and watch my first video, I don't make videos in the past, but go and watch this one. I said there that all the people that are coming out now ,who have scattered Alimosho are the ones who should go and fix it".
Speaking on his Philanthropy, he said "I don't think that i must joined politics or have political opposition before I can help people .My brother have it at the back of your mind that if I eventually joined politics that I will not be close to my people, let it just be like this".
While giving insight into his businesses, he said " I'm into real estate and the same time a hotelier .
Predicting the outcome of the Governorship election, he said : " Sanwo Olu will surely win the election because of continuity. But there is most important area of governance which they have not touched, which I will advise them to touch , is to stop giving people money. The money they are giving out is enough to do a lot of things in this our Alimosho. My brother it is because we have not put it into practice and it has to stop, what are you talking about, let us start from the local government chairman , they are the closest to the grassroots , do the government even give the power to the local government to perform even in their territory?, no funding , even where the local government chairman has his polling unit , the roads are not tared?. How can you convince people then to vote?, but when you approach them, they say they don't have money where are those money going into?."
" Even the local government Chairman that iam talking about, how do you expect them to perform when the material are not available for them to perform".
Proffering solutions on hash business environment and excessive taxes on hotels and private businesses, he said : "
My brother let us start with the light issue. Many hotel today are bankrupt. some of the hotels are running without lights because it is not easy even the solar we are all talking about is not easy because without lights the solar can't work. "
Making his Contribution on the pre – election, election and post election hate attacks unleashed against non Yoruba people, especially the Igbos in Lagos, he said, " there is a saying that says when you are in Rome, you behavior like like them, that's my advice to the other tribe and the tribe in question are the Igbos, I think we have accommodated you people (Igbos), I really want to know what is the problem between Igbos and Yoruba?, why Igbos can not Flow freely with Yorubas despite that we accommodated you people?. My brother let forget inter marriage, you can see what it has caused the labour party Governorship Candidate, the same thing can happen to you and me because my two wives are not Yoruba, one is from Edo, the other from Delta State, even you that your wife is the North( referring to one of the Journalists interviewing him), when they want to context for Governorship of anywhere, you will hear that they are not Yoruba." " Between you and me, we know that the Labour party Governorship Candidate is a Lagosian, but because we give much powers to our wives, and they teach our children only their own language. We all need to understand one thing, that we should make the three major languages a must requirements for everyone to pass before you get admission into University."
Blaming Journalists for all the problems bedeviling the Country, he said : "The only way out is that we should love one another, the major problem of Nigeria today is caused by you Journalists, because many are not telling the Truth, because you Journalists are the ones carrying fake news, there is no government that will not love to work for the people".
Share this Post