WORLD WATER DAY: Nestlé  Host Over  400 Stakeholders In Partnership With  Ogun State Ministry Of Environment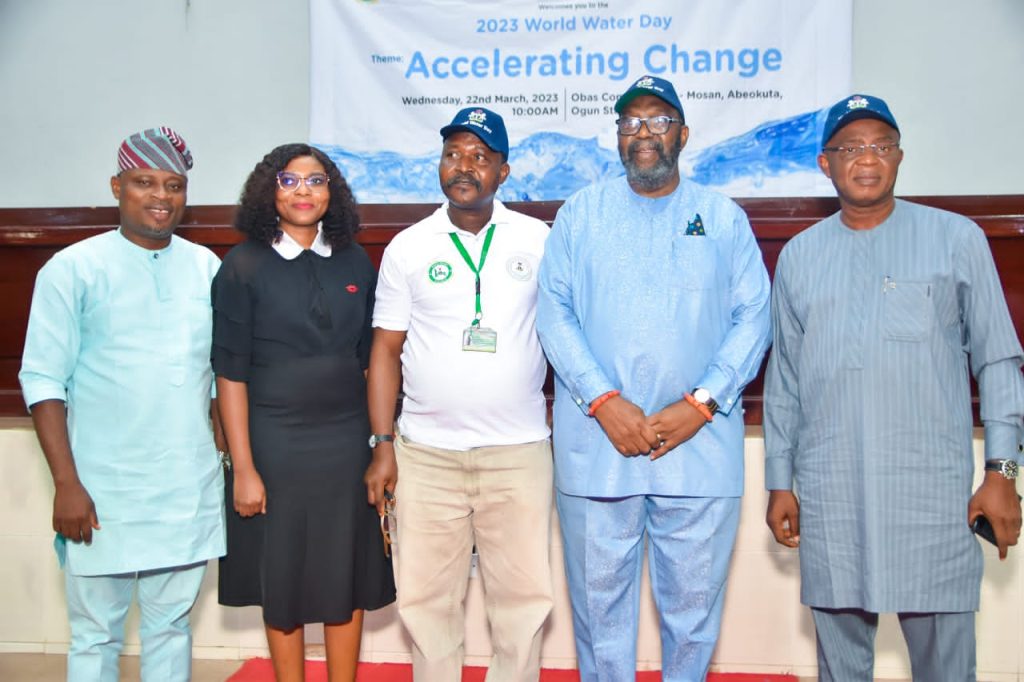 Share this Post
Nestlé Nigeria and Ogun State Ministry of Environment hosted a stakeholders' forum on 22nd March to commemorate World Water Day 2023. 

Aimed at promoting sustainable water stewardship practices, the forum had over 400 stakeholders drawn from the public and private sectors across Ogun State.World Water Day is a United Nations' observance day to raise awareness about the inaccessibility of water for billions of people globally and to advocate the sustainable management of freshwater resources.
Without access to water resources, communities are faced with higher risk of disease, food insecurity, environmental degradation, and economic decline.The theme for this year's event, "Accelerating Change", draws attention to the need for fast-tracking actions to solve the global water and sanitation crisis.
Oladimeji Oresanya, Ogun State Commissioner for Environment, said, "The event today is not just another talk show, but an opportunity for productive engagement with all stakeholders to undertake a critical diagnosis of issues affecting the sector to proffer practical and sustainable solutions.
Be assured that the Ministry is committed to accelerating positive change in the water sector to ensure water and sanitation for all in line with Sustainable Development Goal 6. I commend companies who have embraced water stewardship and are executing initiatives and projects, towards sustainable water management and governance in the state".
Wassim Elhusseini, MD/CEO Nestlé Nigeria PLC, represented by Category and Marketing Manager Nestlé Waters, Joy Abdullahi-Johnson, said, "We are delighted to have this opportunity to celebrate World Water Day 2023 in collaboration with the Ogun State Ministry of Environment.
The theme for this year, "Accelerating Change" is very significant in view of our shared commitment to increase access to clean, safe water, sanitation, and hygiene facilities (WASH) within our communities. Nestlé Nigeria is committed to protecting the environment for future generations and caring for water is one of the ways we do this.
In line with this commitment, we work together with key stakeholders to address shared watershed challenges. We also continuously improve water efficiency across our operations and reduce water withdrawals in our factories by managing and reusing water".
Delivering the keynote lecture, the Managing Director, Ogun Oshun River Basin Development Authority, Otunba Olufemi Odumosu said, "Water is essential to life, but water stress threatens supplies. Providing access to safe water is one of the most effective instruments for poverty alleviation and reduction.This year's theme emphasizes the need to speed up action towards sustainable management of this limited resource, with only 7 years left to achieve the SDG's.
According to Sola Ogunbor, the Program Manager, Ogun State Rural Water Supply and Sanitation Agency, "Mismanagement of water resources today will cost everyone a lot more in the future. Accelerating change entails making a difference by taking small steps in the right direction, being the change we want to see in the world. Our Agency is committed to ensuring that more people in our rural communities in Ogun State have unrestricted access to safely managed water and sanitation facilities ".
World Water Day 2023 celebration included the second edition of the roundtable discourse on "Water Governance in Ogun State – Progress so far, Challenges and roadmap".
Panelists from the private and public sectors in Agbara and Sagamu comprised Nestlé Nigeria PLC, Apple and Pears, Ogun State Ministry of Environment, Ogun State Rural Water Supply and Sanitation Agency, Ogun Oshun River Basin Development Authority and the Nigerian Institute of Water Engineers.
Water is a shared and precious resource that affects everyone. It is the most critical natural resource for human survival, after air. Yet, globally, billions of people do not have access to clean and safe water.
An estimated 100 million Nigerians still lack basic sanitation facilities and 63 million do not have access to improved sources of drinking-water.With the increasing pressure on our water resources, we all need to work together to preserve this vital resource we all depend on. Consistent multi-stakeholder action is required to accelerate change in how we manage this resource to improve access and quality for today while preserving it for future generations.
It will interest you to know that Nestlé Nigeria is one of the largest food and beverage companies in Africa. For over 59 years, the Company has been delighting consumers around Nigeria by consistently delivering high quality nutritious food.
With a staff strength of over 2,200 direct employees, 3 manufacturing sites, 7 branch offices and a head office located in Lagos, the company produces and markets several iconic brands including NESTLÉ PURELIFE, GOLDEN MORN, MILO, MAGGI and NESCAFÉ.
Nestlé's purpose is to unlock the power of food to enhance quality of life for everyone today and for generations to come.
Share this Post