COURT GRANTS MURDERED LASU FEMALE STUDENT JUSTICE,  SENTENCES WHITE GARMENT CHURCH SHEPHERD, SEGUN PHILLIP, SCHOOL MATE LOVER, OWOLABI ADEEKO,TO DEATH OVER MONEY RITUAL KILLING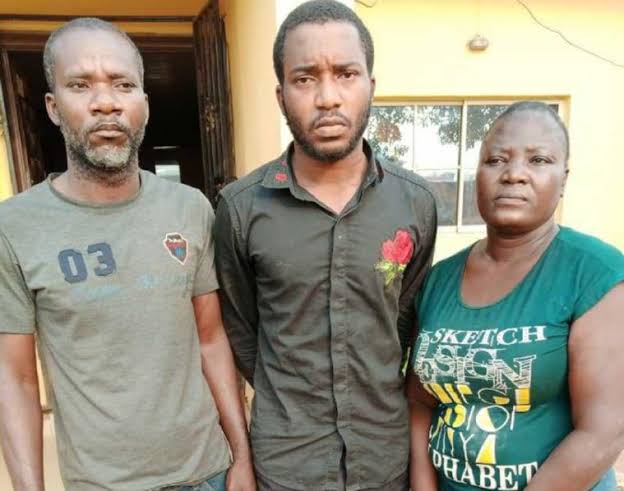 Share this Post
Nemesis has finally caught up with a 23-year old Ex-student of Lagos State University, LASU,Owolabi Adeeko, who heartlessly plotted with a white garment Shepherd,Pastor Segun Phillip to lure and murder his School Mate girl friend , Favour Daley-Oladele, for money ritual.

purposes will now spend the life of his live in prison custody in Osun State.
The Osun State High Court sitting in Ikire, has sentenced both the 42-year old Shepherd and Owolabi , to death by hanging for killing Favour Daley-Oladele, who was before her sudden death a final year student of Lagos State University .
Presiding Judge, Justice Christiana Obadina, while delivering judgement on the case in Ikire on Monday,17th July, 2023, also sentenced Owolabi's mother, Bola Adeeko, 46, to two years jail term for eating the deceased flesh.
Owolabi and Favour met in LASU and were dating before he invited her over to Ikoyi, Osun State in December 2019. While on the visit, Favour was lured to Philip's church also in Ikoyi, where she was drugged and killed with a pestle.
After harvesting some organs from her, Favour's remains were buried in a shallow grave within the church premises by both men.
The organs harvested from the deceased were reportedly used to prepare concoctions for Owolabi's mother to improve her business fortune, which had nosedived at the time.
The dastardly act was exposed and the three convicted persons were arrested and charged before the Magistrate Court in Apomu in January 2020, but were later re-arraigned before High Court, Ikire, in November 2021, after the DPP found them culpable.
They were charged for conspiracy and murder punishable under Section 324 and 319(1) of the Criminal Code Cap. 34 Laws of Osun State, 2002.
At the trial of the celebrated case, the prosecution team, led by the Solicitor General and Permanent Secretary, Osun State Ministry of Justice, Mrs. Adekemi Bello, who appeared with Ajibola Alade, told the Court that the defendants committed the offence on 8 December, 2019.
Bello also told the Court that the Ogun State Police Command arrested Philip alongside Owolabi, adding that under interrogation, Owolabi confessed to the Police that he used his girlfriend to prepare meals for a money ritual for his mother.
The prosecution team in the course of the trial, called the Police Investigating officer that worked on the case and eight other witnesses and tendered several exhibits before the Court.The defendants did not call any witnesses but entered the witness box to testify in defence of their different roles in the matter.
Counsel to the defendants, Adeshina Olaniyan, had pleaded for leniency while addressing the Court.
Delivering her judgement, Justice Obadina declared that the prosecution proved its case beyond reasonable doubt and pronounced Philip and Owolabi guilty of conspiracy and murder.
She sentenced them to death by hanging for murder and 14 years imprisonment for conspiracy, while Owolabi's mother, Bola, found guilty of consumption of human flesh, was sentenced to two years imprisonment.
They were remanded in custody at the Correctional Centre, where they will stay pending their execution while Owolabi's mother will serve her prison term.
Share this Post