Eze Dr. Chika Nwokedi Celebrates First Anniversary , Preaches Peace, Enjoin Igbos, Yorubas To Live In Harmony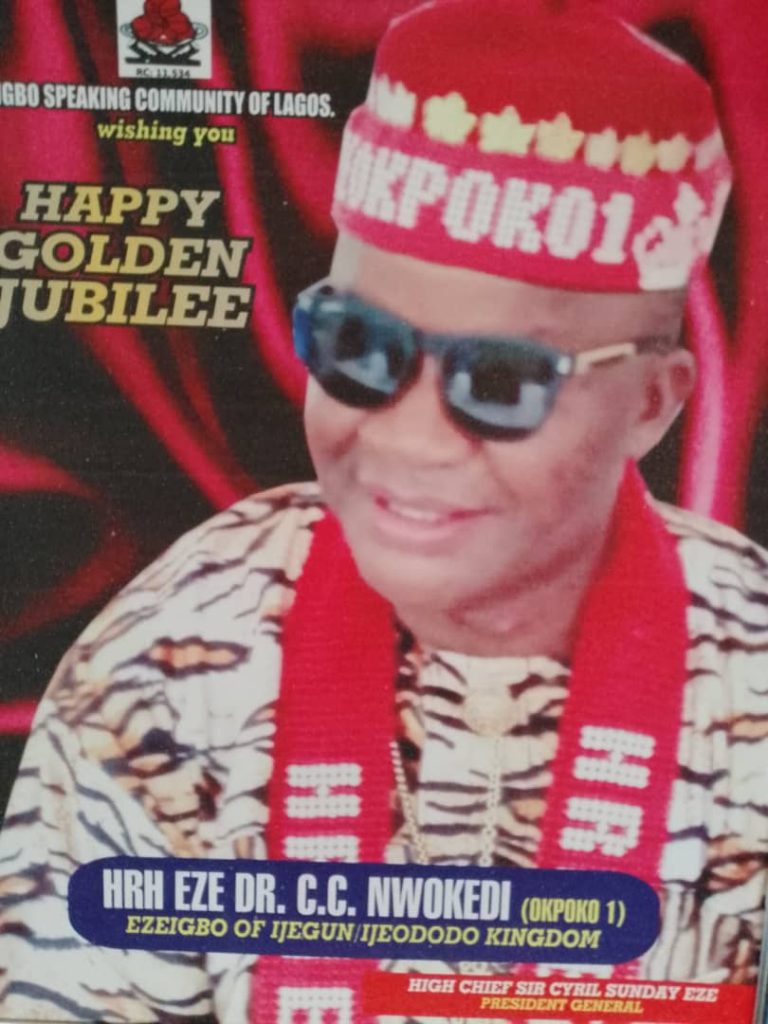 Share this Post
There is an age long maxim that Kings are born and not made. Because they are said to have blue blood, it becomes imperetive that any King that dies before his one year anniversary, Clearly Shows that he was not ordained by God. In this interview with Eze Okpoko 1, Eze Ndigbo in Ijegun and Ijadodo Kingdoms, Eze Dr. Chika C Nwokedi bares his mind on many tropical issues, Excerpts:

ON ONE ANNIVERSARY : This is my one year as Eze and every King must perform his Offala by the end of his first year in office as king, it's to thank God that I did not die, every King that stay one year, it's chosen by God and the people.
Looking at what happened during Saturday Governorship election, I am not supposed to do Offala, but it's a must that I do the Offala this March because this March will be one year I was made King. It just to say thank you Lord, that I did not die within one year.
For me, After this Offala, the next celebration will be in five years time and the other will be in ten years also, I want to thank God that the people choose me and my cabinet members to over see them. Offala is like going to church to do thanks giving, that's just what we are doing on tomorrow being Sunday.
EXPERIENCES AS KING : My brothers I have had so many experience since I became king one year ago, it has made me know that there are a lot of people who can not eat three times a day, for example I met a woman who gives drugs to her children in the morning so that they sleep for the day and before they wake up she will be able to get something for them to eat, another woman came to my Palace and she was well dressed and said we do have anything at home eat, my husband is out of job, she was crying. I had to go inside, got some rice, indomie pasta, tomatoes and ten thousand naira for her and her family to eat.
I know all this because I was made King, if I was not, nobody will come and tell me these things, then since I become king I have helped widow and widowers four times and the big one was in December when I helped 70 widows, both Igbos and Yoruba about 15 or 30 non Igbos, my own King is that I must find something for you to eat, not just because Iam looking at big men, there was a time I was going to Abuja and my flight was 6.30 am, when I came out of my gate I met two women there, I ask what is the problem, they told me that they don't have something to eat, I came down and went back to get something and money, how do I leave them and travel to Abuja when they say they have nothing to eat, I attended to them before I move on. I must not level them there, so that's what we are passing through.
UNPROVOKED ATTACKS UNLEASHED AGAINST IGBOS : What happened on 26th of February at Ijadodo was that somebody called me and say you are king of animals, they are killing your people and you did nothing about it, some people say I am not a king because I didn't give them a million naira or pay their house rent, that they are having problem with their landlord, one came here and ask me for Two Hundred and Twenty Thousand for rent and I said I don't have it but I will do something about it, he said but they say you are a king that I should come here, you will give me the money, he doesn't even know me and has not been at my palace before, please let the people know that king is not a millionaire or a billionaire. sometime I do not have something to eat and when I do not have how can I give you . Many times I don't have money to buy fuel into my car but once people come and I have, I will give them. my brother these are the things that we are passing through being the King. Some of them don't even have house or land in Lagos, they talk to me anyhow because I am king, if I wasn't king someone who cannot afford my shoe or the tyres on my car will talk to me like that because I am king.
RELATIONSHIP WITH STATE GOVERNMENT : The governor has promised to be of an assistant to us following the letter we sent to him the last time. So, we believer and hope the government will support us very soon. We use what we are making in our shops and companies to run this kingdom. My brothers Igbos don't support, only when they have problem with the police or landlord, their container is having issues, they will come to me that I should help them, but some comes on their own and give me something, some rice and other things, which I give to people who comes to me when they have challenges, especially Widows, I have been helping people since 1994. I been helped people even my cabinet members. I gave them support of N100.000 each then, about 20 of them, without interested and they should pay in one year, today, they are big men, with houses and cars today, so it's what God has put in me since so many years back, is like a football you choose the wing you know best to play, choose were God call you, I have given land to people in Lagos free of charge, three people in my cabinets benefited from it.
ADVICE TO IGBOS AND YORUBAS :My advice to Igbos is to always trust God in all they are doing and making Peace, do their business in a peaceful way, my advice to Yoruba Is we are their tenant and they are our landlords, everybody must go, we all are going to die one-day, whether Igbos or Yoruba, let us live together in peace, Yoruba can't live in this land alone and like wise Igbos.
I know that I have people who don't love me, some that hate me, likewise you, but it's better for you to love me because, if you don't, you are the one that will have High blood pressure and not me, love is the greatest of them all, let love ourselves.
Share this Post