Fuji Star , Saheed Osupa Gets N70 Million Landcruiser Jeep From Governor Seyi Makinde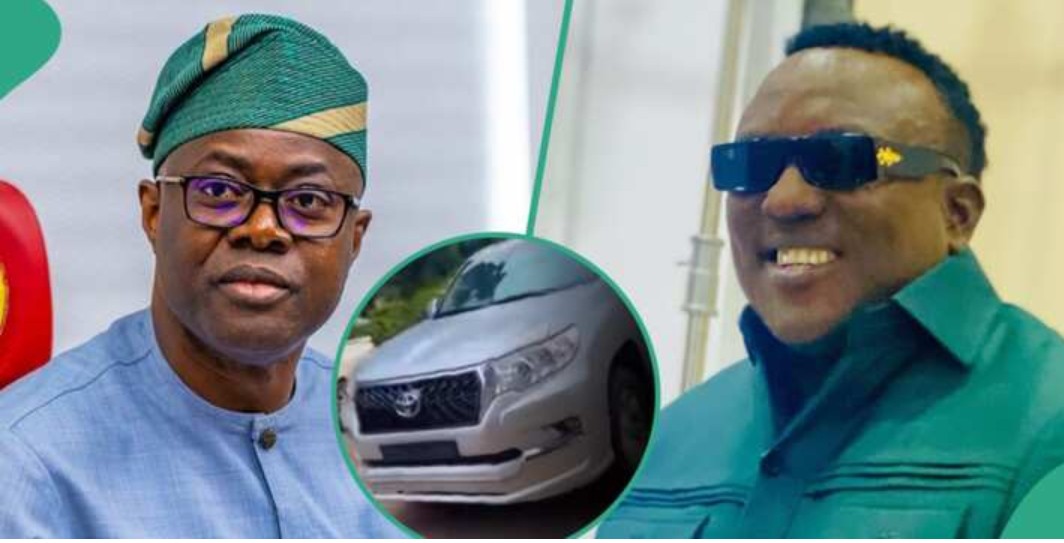 Share this Post
In a viral video clip posted by popular Yoruba Fuji star, Saheed Osupa, he confirmed receiving a brand new Toyota Land cruiser Prado jeep from the Oyo State Governor, Seyi Makinde.

According to the video making the rounds on social media, Osupa was seen singing the governor's praises after fulfilling his promise to him
Seyi Makinde's SUV jeep gift to the Fuji musician has sparked a series of mixed reactions on social media
Osupa took to his official Instagram page to share a video of himself singing the praises of Seyi Makinde as he sat inside his new SUV.
The Fuji star sang about how Seyi Makinde had done a good thing for him and he needed to tell the world about it.
According to him, the governor made a promise to him and he fulfilled it exactly as he said.
Osupa also took a ride in the silver coloured Toyota Landcruiser Prado jeep said to be worth N70 million.
In his caption, he also wrote: "Promise made and fulfilled! Thank you, Governor Oluseyi Makinde Of Oyo State."
According to reports from Goldmyne TV, the jeep was presented to Saheed Osupa on Monday, August 21, 2023, as part of Governor Seyi Makinde's reward system for creativity and recognition for indigenes of Oyo state who are doing well in the entertainment industry and other spheres.
The news of Governor Seyi Makinde's generous gesture to Saheed Osupa soon made the rounds on social media and it was trailed by mixed reactions.
While some netizens commended him, others wondered if the jeep was bought with taxpayers money.
Read some of their comments below: iam_brightobi: "Using public funds to appreciate someone… This is what LP wants to eradicate." iam_degold: "And some Oyo citizens still suffering while rich are getting richer ."
ssunday_mustapha: "Make una no reason say na Oyo state money he take buy car for Osupa oooo, Sheyi Makinde is made even before he became the Governor of Oyo state, God bless Mr Governor." poshest_hope: "Which work he do for am? Make I know where to start from." l.tobiloba: "As long as it's not bought with Taxpayer's funds."
aduraaa___: "Celebrate Legends when they are alive not until they die ." ita_attah: "Imagine a government official buying a personal vehicle for a musician in any other part of the world..that Nigeria aspires to be like.." king_zyler: "He worth it.. if he easy make una run m too… na him state governor so the governor can do anything for him as long he make him happy.
You self make ur governor happy. Congrats @kingsaheedosupa." hardewunmii__: "What for exactly ??? For praising him in his songs ?
Share this Post