Motor Dealers In Trouble As Lagos Taskforce Set To Prosecute Unapproved Car Lots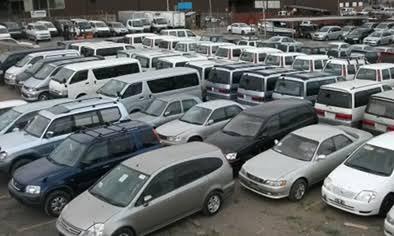 Share this Post
Motor Dealers who operates unapproved Car Lots May soon face prosecution as the Lagos State Taskforce frowns at the spate and manner in which car dealers have converted Road setbacks, walkways, lay-by's, gardens and other unapproved space to car-lots which are not in the original Master-Plan of the State Government.

This position was made known by the Chairman of the Agency, CSP Shola Jejeloye at the Headquarters of the Agency at Bolade Oshodi where he described the action of some Motor Dealers and transport operators as inconsiderate for jeopardizing the safety, serenity, beautification exercise and greener Lagos initiative of Lagos State Government for their selfish gains.
He stated that the practice of these individuals have been going on for a long while now, but the time to put an end to it had finally come.
"it is high time we put a stop to this unruly behavior and environmental impunity of converting every available public space to personal use by some car dealers. Walkways, road setback, lay-bys were meant and created to cater for pedestrians movement and other public use, but nowadays you see cars parked on them with kegs placed on top indicating they are for sale. This is totally wrong and we are here to put a final stop to it. Cars for sale should be parked at an approved car lots and not by the road side or walkways." Jejeloye stated.
The Chairman also stated that indiscriminate use of motor-dealers' registered number plates is worrisome now.
"We have it on good authority that car dealers are now fond of using one registered number plate for private use simply to evade other vehicle particulars. Some unscrupulous elements in the society use car dealer number plates to perpatrate criminal acts in the State which they believe would not be traced to them as the vehicle used during the criminal act could different from the vehicle its placed on the following day."
The Chairman sounded a note of warning to car dealers who are still in the habit of parking their vehicles for sale on the walkways to either move them to proper car lots or have them impounded and their owners made to face the full wrath of the law.
He warned them not to take Lagosians for granted by denying them their right to make use of public amenities built with tax payers money. 
He urged well meaning residents to report any infractions by car dealers to the Agency through the dedicated lines or social media handles for prompt actions.
"The quest to maintain sanity, serenity and habitability in our environment must be the collective effort of all". He concluded
Share this Post