NDLEA Uncovers Another Skuchies Factory In Ogun, Intercepts UK, Oman, Dubai-bound Drugs Hidden in body cream bottles, vehicle engine, Nab Artistes' Manager, Business Man. Watch video below.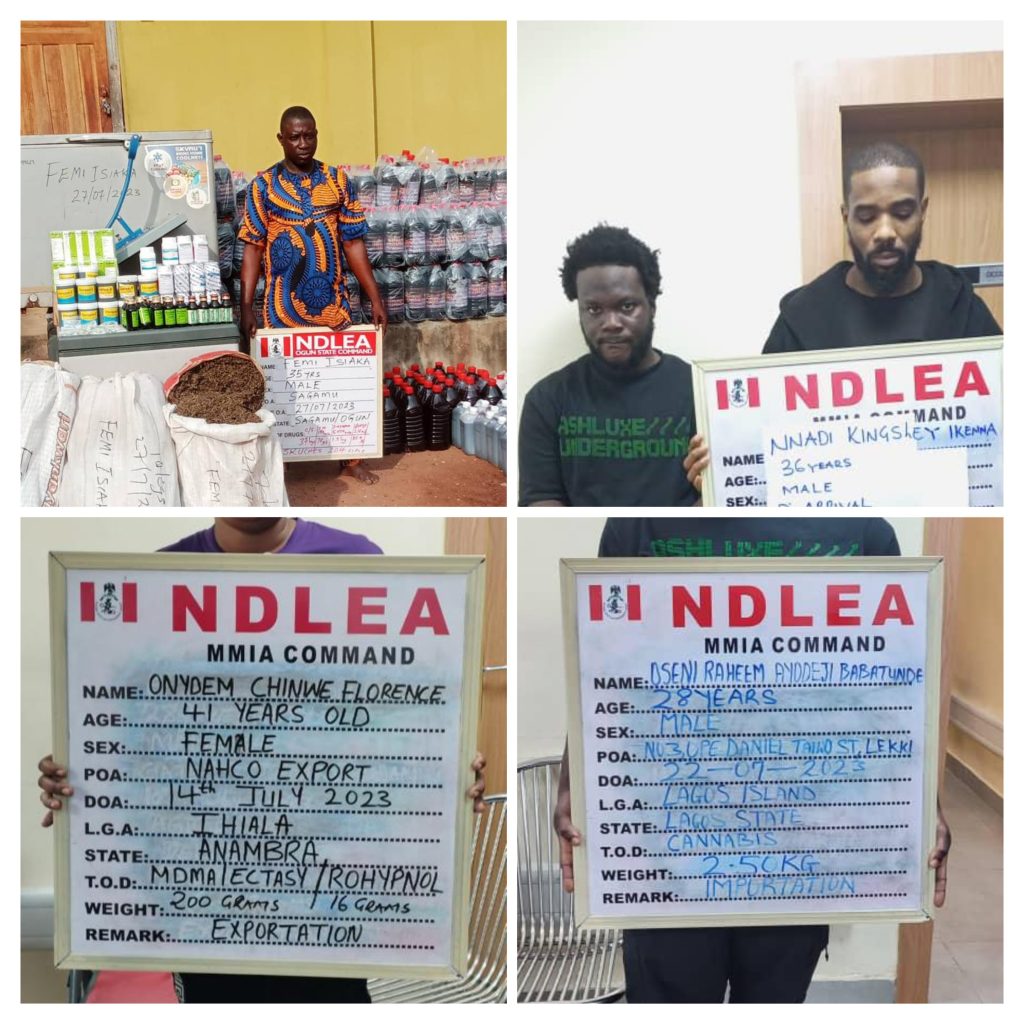 Share this Post
Operatives of the National Drug Law Enforcement Agency, NDLEA, have arrested a Lekki-based artistes' manager and his Ikoyi businessman accomplice who specialize in distributing illicit drugs to fun seekers at VIP night clubs and lounges in Lekki and Island axis of Lagos state.

Their arrest followed an intelligence about a shipment of Colorado, a synthetic strong strain of cannabis coming to them from Los Angeles, United States.
Oseni Abdulraheem Ayodeji Babatunde (aka Papalampa) was the first to be arrested in his house at No. 3 Ope Daniel Taiwo Street, off Chisco Bus-Stop, Lekki area of Lagos when the consignment arrived on Sunday 23rd July, 2023.
During preliminary interview with the suspect, he confessed he started the illicit trade three years ago and has been selling to patrons of clubs and lounges in Lekki and Lagos Island, some of which he identified as Quilox, Silver Fox, DNA and Hot box.
Oseni said beside the drug business, he also organizes shows for artistes around Lagos and outside Nigeria.
A total of ten parcels of Colorado weighing 2.50kg concealed inside large tins of coffee and duvets linked to Oseni were intercepted by NDLEA operatives at the Murtala Muhammed International Airport, MMIA, Ikeja.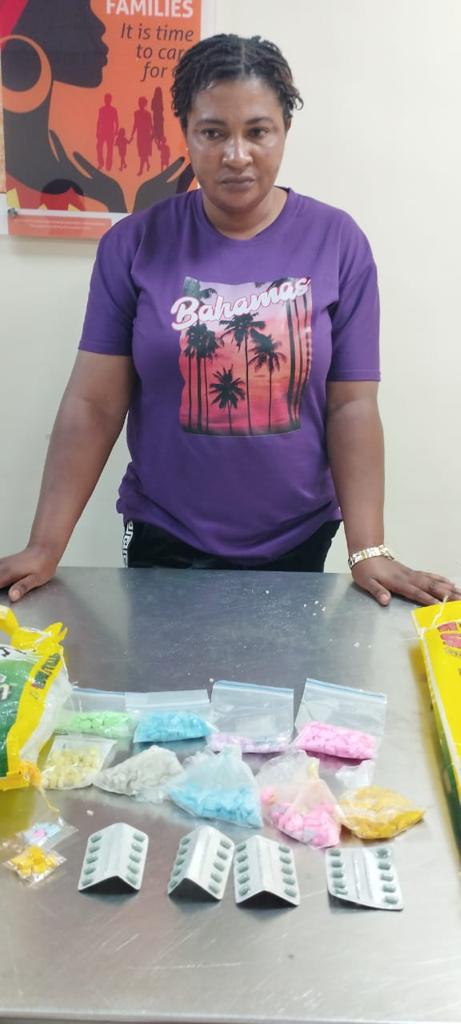 During a follow up search of his residence, operatives recovered some quantities of the same substance, a digital weighing scale and other paraphernalia.
An Ikoyi based businessman, Nnadi Kingsley Ikenna also linked to the shipment was away in South Africa when the consignment arrived.
While operatives maintained surveillance around his 18 Okotie Eboh Close, Ikoyi residence, they also set their dragnet for him at the airport. 
He eventually arrived into the waiting arms of NDLEA officers on Thursday 27th July when he returned to the country on a Kenya Airlines flight at the Lagos airport.
Kingsley, in his statement accepted ownership of a part of the consignment.
In the same vein, NDLEA operatives attached to the NAHCO export shed of the MMIA intercepted a cargo going to Nairobi, Kenya.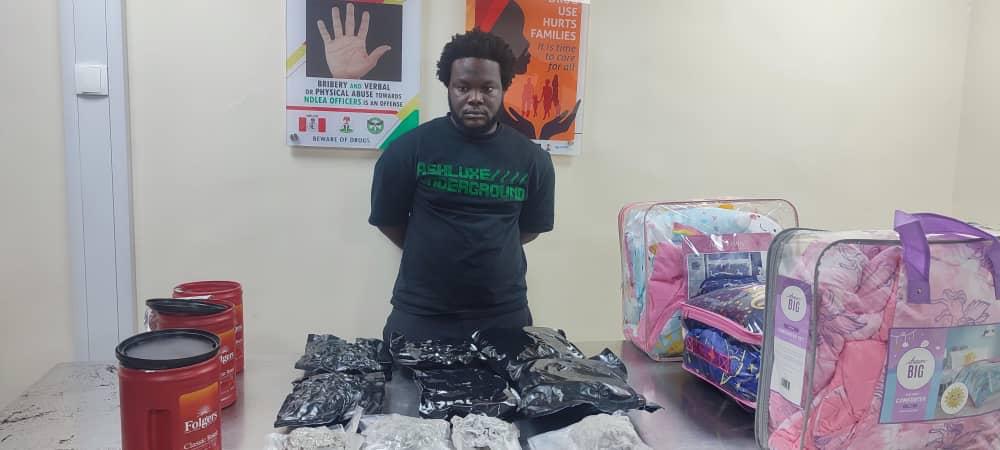 A search of the consignment revealed that various quantities of MDMA (Ecstasy) popularly known as 'Molly' and Rohypnol were concealed in a bag consisting of foodstuff.
An agent, Onydem Chinwe Florence who presented it for export was arrested.
Also, an attempt by another suspect, Igboma Ifeanyi to export quantities of Loud, a variant of Cannabis, Tramadol and Rohypnol all weighing 7.8kg concealed in 66 bottles of skin lightening lotion was thwarted by vigilant operatives who intercepted him while preparing to board an Ethiopian airline flight to Muscat, Oman at the Lagos airport.
Another suspect, Ekpenisi Wisdom Pious was equally arrested while trying to board an Ethiopian airline flight to Oman with 6.00kg skunk hidden in a bag of food stuff.
A follow up operation led to the arrest of a staff of Toprano Hotel, Ikeja, Ibigbami Temitope Oluwatobi who was fingered in the drug trafficking scheme.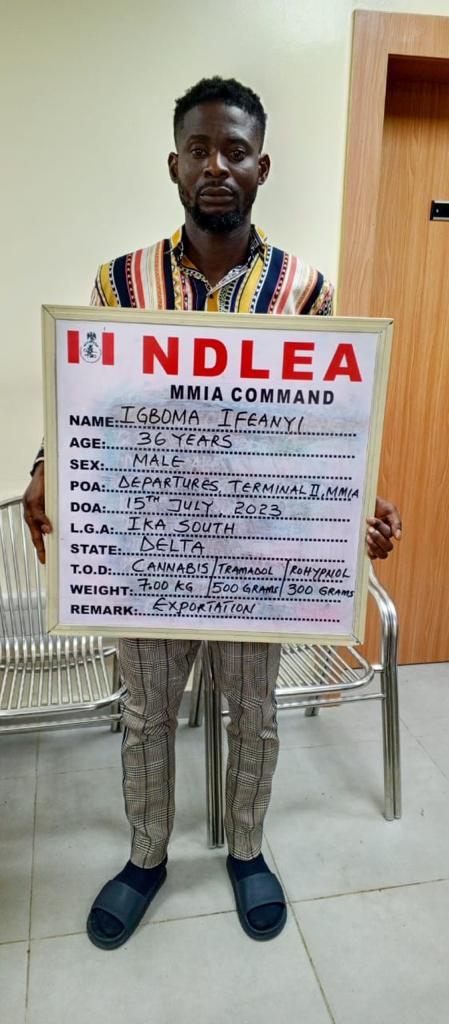 A consignment of 5.70kg codeine syrup going to the United Kingdom was on Thursday 27th July seized from a 51-year-old widow, Adewunmi Taiwo Atinuke by NDLEA operatives at the SAHCO export shed of the MMIA Ikeja.
Equally, a consignment of 8.5kg skunk well concealed in a vehicle engine block going to Dubai, UAE was on Tuesday 18th July intercepted by NDLEA officers of the Directorate of Operations and General Investigation, DOGI, attached to courier companies in Lagos.
At the Apapa seaport in Lagos, another container load of nitrous oxide popularly known as laughing gas, linked to a 30-year-old businessman, Stephen Eze, was seized on Tuesday 25th July.
Two containers of the same substance imported from China by the suspect was earlier seized on 13th July at the Apapa port. 
The third shipment was intercepted during a joint examination of the container marked SUDU7431605 containing 8,336 cannisters of Nitrous Oxide and pressure release Nozzles.
In Ondo state, two suspects: Francis Diamond, 26, and Adekunle Damilola, 26, were arrested in Ita Ogbolu forest with 247.5kg cannabis while a Golf Car conveying the same substance weighing 308kg was intercepted at Airport Junction along Akure-Ogbese Road on Wednesday 26th July with a suspect Farouk Umar, 38, arrested. A 32-year-old suspect, Chukwuma Nnaji was also arrested with 47kg skunk in a warehouse at Onuogba Eke, Ishielu LGA, Enugu state on Saturday 29th July, while 12kg of the same substance was recovered from a lock up shop during the raid.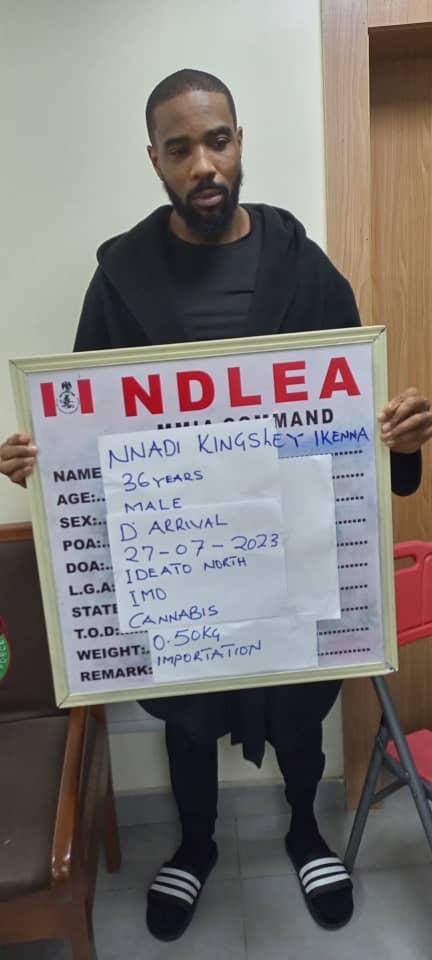 A grandpa, Boniface Ogwurlobi, 62, and Chimezie Onyenjuru were arrested at Uli town Ihila LGA, Anambra state with a total of 49.415kg cannabis sativa, 127.7grams of methamphetamine and 15grams of cocaine during a raid operation on Friday 28th July, while men of 9th Brigade, Nigerian Army transferred three suspects: Olasande Olutosin, Oleh Chiagozie and Obamuro Baiyeri arrested with 2,608.3kg cannabis sativa and the truck conveying the substance to the Lagos state.
Command of NDLEA on Tuesday 25th July.
In Ogun state, operatives on Thursday 26th July uncovered another skuchies factory in Sagamu where a suspect Femi Isiaka was arrested. 
Recovered from the factory include:
37kg Cannabis; 195 pills of Tramadol; 5,000 tabs of Diazepam; 216 tabs of Rophynol 216;204 litres of skuchies; four fridges; four gas cylinders and one industrial cooker among other items.
No fewer than 156,380 pills of Tramadol and other opioids were seized from two suspects: Abdulrazak Bala and Lawal Salisu when they were arrested along Gwagwalada – Abaji road in the Federal Capital Territory, FCT, on Saturday 29th July.
Chairman/Chief Executive Officer of the Agency, Brig. Gen. Mohamed Buba Marwa (Retd) commended the officers and men of the MMIA, Apapa, Enugu, Anambra, Ondo, Lagos, FCT and Ogun Commands as well as those of DOGI for their resilience and commitment.
He charged them and their counterparts in other Commands to remain undaunted by the various machinations of drug cartels and barons who are daily frustrated and desperate due to the continued heat on them and their criminal trade.
Femi Babafemi, Director, Media and Advocacy NDLEA Headquarters Abuja related this to the press on Sunday 30th July 2023.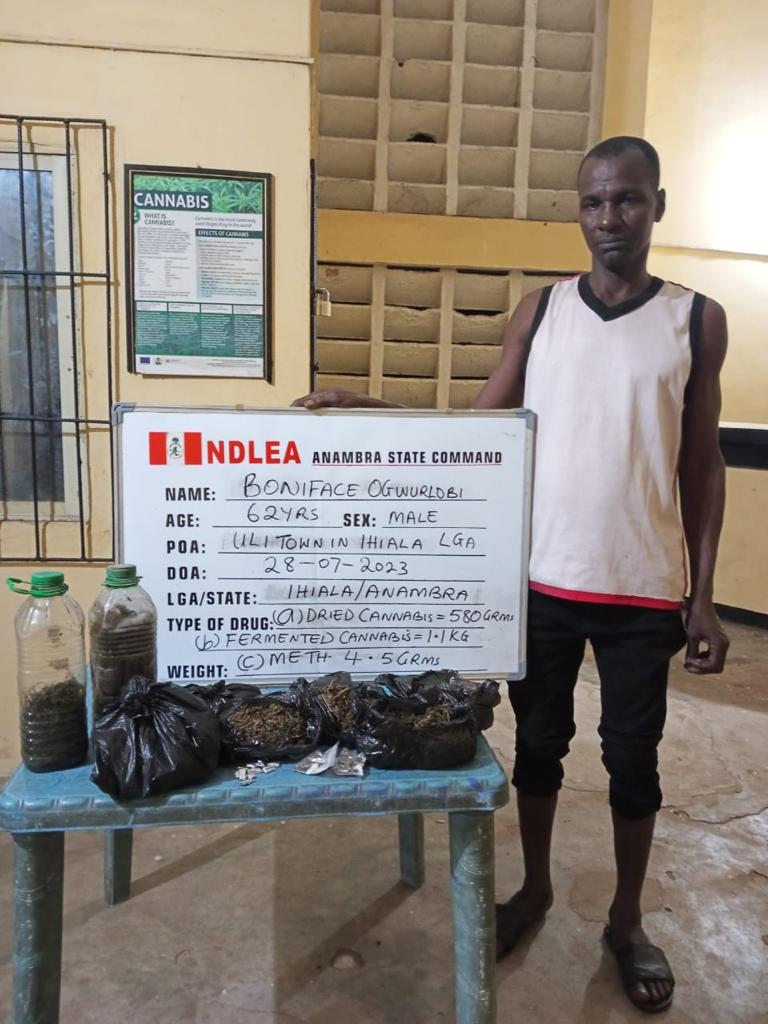 Share this Post